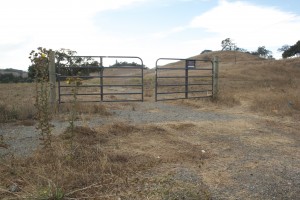 Tomorrow a group of Muslims in and around south Santa Clara County expects to receive the County Board of Supervisors' permission to build a mosque, cultural center and cemetery in San Martin, about 25 miles south of San Jose.
The supporters of the South Valley Islamic Center bought the land several years ago and recently gained the county Planning Commission's approval to develop the site. The County Board of Supervisors plans to give final approval for the use permit Tuesday, which will pave the way for the South Valley Islamic Center to obtain a building permit.
The proposal has faced significant opposition from several groups in San Martin and the surrounding cities of Morgan Hill and Gilroy. One group, called the Gilroy-Morgan Hill Patriots, says the county government mishandled the application process and disregarded residents' environmental concerns.
In the audio story above, you can listen to voices supporting and opposing the South Valley Islamic Center's proposed project. You can also hear from Planning Commissioner John Vidovich, who voted to approve the project, along with his six colleagues on the commission.
Below are copies of documents that groups such as the Gilroy-Morgan Hill Patriots and the San Martin Neighborhood Alliance are using in their arguments against the county. County officials say the project met the requirements and the process was handled properly.
County approval documents: Use permit conditions of approval; and staff recommendation to approve project
Appeals: Summary of appeals and recommendations from county staff; appeal by San Martin Neighborhood Alliance and appeal by the People's Coalition for Government Accountability.
Modifications to Planning Commission approval proposed by the South Valley Islamic Center
Environmental evaluations: Department of Environmental Health soil report; Planning Commission environmental assessment; septic system evaluation; site and septic map; soil percolation tests; soil assessment; and water quality evaluation