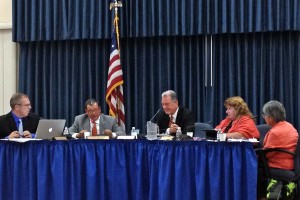 After struggling with debt for years, the city of Half Moon Bay now faces a refreshing question: How should it spend $10 million?
The money comes from an arbitrator's ruling in favor of the city, which sought reimbursement from an insurance company for the cost of buying 24 acres to settle a lawsuit. Landowner Charles "Chop" Keenan of Palo Alto sued the city in 2000 after drainage problems led to the emergence of wetlands that made his property off Highway 1 — known as the Beachwood site — unfit for development.
The $10 million awarded last month by arbitrator Edward Panelli, a retired state Supreme Court justice, amounts to roughly half of the city's annual budget. It is unclear when Half Moon Bay will receive the money, but the City Council has begun to discuss options for spending it.
At an Oct. 4 council meeting, some members pushed for moving ahead with capital projects that were deferred while the city took steps to avoid bankruptcy.
"If we could get back on track [financially], it would be so nice to have the streets paved even every four years, rather than every seven years," Councilwoman Naomi Patridge said.
Vice Mayor Rick Kowalczyk said, "We have a major bridge in town that is seismically unsafe. We don't have money to repair it." In addition to bolstering the Main Street Bridge, Kowalczyk listed a series of projects that are underfunded, including streetlight improvements on Main Street and highway safety enhancements.
Another option is to pay down the city's bond obligations. Half Moon Bay issued a series of bonds to fulfill terms of the $18 million Beachwood settlement. (The city also recovered $5 million from a liability plan run by the Association of Bay Area Governments.) One type of bonds, known as Series A, total $5.8 million; the other, Series B, amount to  $10.9 million.
These bonds were approved after a court hearing in July 2009, and each has a distinct payback structure.
Half Moon Bay will owe principal and interest on the bonds until they are fully paid off in 2040. If not paid off by then, the city will have to pay just over $8.3 million, after interest, on the Series A bonds. The Series B bonds will require $34 million in payments.
There are some options to save money through earlier payment methods, however. Paying back the Series A bonds by 2014 would save the city an estimated $1.5 million. Another option is to pay back the Series B bonds in full by 2019, saving an estimated $14 million from interest payments.
Using the $10 million arbitration award to pay off the bonds sooner rather than later saves millions of dollars in the long run, City Manager Laura Snideman said.
There also have been legal issues with the bonds. Earlier this year, Half Moon Bay ran into trouble with the IRS for using the Series B bonds, issued by Build  America, to purchase the Beachwood land. The IRS ordered Half Moon Bay to pay an extra $1.38 million on the bond issue.
Half Moon Bay resident Harvey Rarback, a retired physicist who is running for a City Council seat next month, told the panel at the Oct. 4 meeting, "I think the only intelligent use of this windfall is to pay down the bonds as soon as possible in any way that makes sense."
Councilman John Mueller, who is seeking re-election, said the decision is not so clearcut. "I think we will be reducing the load of this deficit over time," Mueller said. "If the public has a fear we're going to waste [the $10 million] maybe we could put it in an escrow account and see how we can manage it."
Also on the Half Moon Bay ballot on Nov. 6  is Measure J, which seeks to raise the city's sales tax by half a cent for three years. If approved, the extra annual revenue, estimated to be $867,000, could help fund needed capital projects, according to city officials. "It is important to us that people who visit Half Moon Bay leave a little bit of their pocketbook with us," Kowalczyk said. "We benefit from tourism. A half-cent sales tax will allow us to capture some of those tourist dollars. We need to recoup some of those dollars to pay off things in our community."