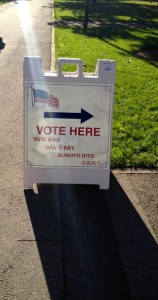 The Peninsula Press hosted its election coverage with a live blog, which began minutes after California polls closed at 8 p.m. Among the issues facing the state's voters was the fate of the death penalty and the "three strikes" law, whether to raise taxes to fund education, and if genetically modified foods should be labeled.
In Palo Alto, the community defeated Measure C: if approved, the proposition would have allowed for the opening of three medical marijuana dispensaries in the city. And recent Stanford graduate Michael Tubbs won a City Council seat in his hometown of Stockton.
In addition to the live blog, the Peninsula Press coverage featured in-depth articles on local and statewide races and ballot measures; multimedia packages including photo galleries, videos and audio reports; and updates on Twitter. The Bay Area community followed the discussion on Twitter at @PeninsuPress and Instagram with the hashtag #PeninsulaVotes.
About 800,000 Bay Area residents voted early as of Monday. More than 278,000 early ballots were been returned to Santa Clara County, according to the San Jose Mercury News.