Hear more about this story and how it developed on the Peninsula Report podcast.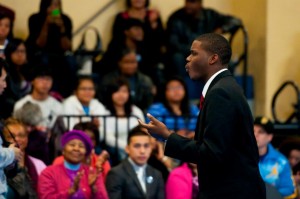 Michael Tubbs, a 22-year-old recent Stanford graduate, handily won a seat on the Stockton City Council, according to an unofficial final tally from the San Joaquin County Registrar of Voters.
Tubbs, whose campaign featured celebrity endorsements from figures such as Oprah Winfrey, took 60 percent of the vote in his hometown to prevail against incumbent Dale Fritchen. "Fired up. Ready to go," Tubbs tweeted early this morning in response to his victory, borrowing a slogan from President Obama.
Born to a teenage mother and incarcerated father and raised in Stockton's District 6, Tubbs grounded his campaign in the narrative that he is no stranger to the area's hardships. He was educated entirely in Stockton public schools, and his campaign focused on youth and public safety issues.
Fritchen, 52, was first elected to the City Council in 2008. As the chairman of the budget and finance committee, he is best known for being the lone council member to vote against declaring bankruptcy. Despite his vehement opposition, Stockton became the most populous U.S. city to file for Chapter 9 bankruptcy when it did so in late June.
Earlier that month, Tubbs and Fritchen faced off in a district-only primary, with 55 percent of voters favoring Tubbs to 45 percent for the incumbent. Under Stockton law, the top two candidates from a district go head-to-head in the general election — this time running citywide. Tubbs and Fritchen were the only District 6 candidates in the primary.
In the general election campaign, Fritchen emphasized  the importance of staying in office to see the bankruptcy process through to the end.
Bill Maxwell, a Stockton resident who voted for Tubbs, cautioned that "he's got a tough road ahead of him." Maxwell added, "Hopefully he will bring some fresh ideas and be willing to think outside the box and not succumb to the pressures put on him by the traditional forces which have directed City Councils in the past — you know, the developers and the large business concerns."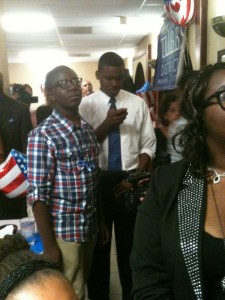 Tubbs left Stockton to attend Stanford, where a university program that allows students to simultaneously pursue bachelor's and master's degrees gave him the opportunity to graduate last June with a bachelor's degree in Comparative Studies in Race and Ethnicity and a master's in Policy, Organization and Leadership Studies.
While at Stanford, Tubbs often visited his hometown, where he now works in the coordinator of community involvement programs at the University of the Pacific.
Tubbs received national attention in April when Winfrey donated to his campaign. Winfrey, who met Tubbs during a visit to Stanford's campus, sent him a check for $10,000 after learning that he was heading back to his hometown after graduation to run for City Council. The two other political candidates that Winfrey has contributed to are President Obama and Newark Mayor Cory Booker, also a Stanford graduate.
Tubbs received the endorsement of several San Joaquin County politicians, including Congressman Jerry McNerney, and The Stockton Record, the city's daily newspaper. According to The Record's editorial endorsement, "Stockton native Michael Tubbs brings not the cerebral horsepower that got him a Stanford education but also a street-level understanding of the south city district."
After winning the primary, Tubbs expanded his outreach efforts citywide by hiring a full-time field manager, 22-year-old Stockton resident and Harvard graduate Lange Luntao, and hosting two meet-and-greet house parties and one town hall meeting in every district.
He also hosted a final "Get Out The Vote" canvass kickoff on Monday featuring MC Hammer, who has relatives living in Stockton's District 6.
Winfrey also checked in with Tubbs via Twitter on Oct. 20 by sending him a tweet that asked "How goes it with you?" To which Tubbs responded, "Going well! 17 more days to #ReinventStockton."
"I've been getting emails and Facebook message from all over the country from people who are just really excited about reinventing Stockton,"  Tubbs said in a recent interview. "People from MC Hammer to Mayor Kevin Johnson of Sacramento have been really supportive…People are really excited and essentially really proud of me."
Peninsula Press staff writer Erica Evans contributed to this report.