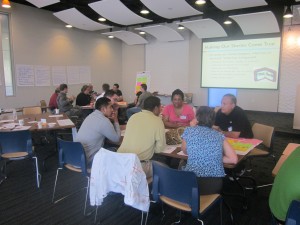 In anticipation of East Palo Alto's 30th anniversary, residents are being asked to give the one thing that officials believe will best help shape the city's future — their life stories.
In February, city planners hope to kickstart an effort to draft a new Comprehensive General Plan that will guide East Palo Alto through at least the next decade. As a precursor to this project, they've joined with the city's Community Service department to compile an oral history to better understand what residents would like to see happen in the future.
"We find it really important that, before we start the process of moving forward, we understand where we've come from," Planning Manager Brent Butler said.
A group of officials and volunteers are working together to conduct interviews during which residents are encouraged to incorporate their personal thoughts on life in East Palo Alto by answering questions such as "Which public improvement projects have you been the most fond of?" and "How do you make use of the city's parks?"
While project administrators have pinpointed several longtime residents they believe can make meaningful contributions, anyone who would like to provide the city with constructive criticism is being encouraged to do so. "We're looking for what makes [residents] desirous of living here, and to the contrary, we want to know what they don't like so we can learn from those lessons and carry them forward," Butler said.
The new general plan will provide the legal basis for all zoning and subdivision ordinances, as well as for the initiation and authorization of public improvement projects. It will include the seven required sections — land use, traffic circulation, housing, open space, conservation, safety and noise — along with an optional eighth section concentrating on economic development.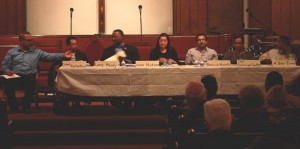 The city received a $1 million grant from California's Strategic Growth Council to help revamp its general plan. In addition, city officials will get free training from Pepperdine University's Davenport Institute for Public Engagement and Civic Leadership as a reward for receiving an honorable mention from the Institute's Public Engagement Grant Program.
Pete Peterson, executive director of the Davenport Institute, said East Palo Alto's oral history project caught the attention of the grant program because of its approach to civic engagement.
"All cities need to be able to check off the box for public engagement when creating their General Plan, but doing so through the use of personal stories is a new and upcoming idea," Peterson said. "East Palo Alto's oral history project is on the front end of what will probably become a trend amongst local governments soon."
The idea of collecting oral histories was inspired by the 1997 documentary "Dreams of a City: Creating East Palo Alto," the first in-depth history of the community, according to Butler, the planning manager.
Similar to the documentary, which was co-produced by Stanford University Libraries, the oral history project is working closely with Stanford faculty, particularly Carol McKibben, the university's coordinator for public service and a professor in the history department. "I use my classes as a forum for getting students into the community, and one of the things that I've done over the years is work closely with the city of East Palo Alto and with Brett Butler on projects that are appropriate for the class I happen to be teaching," McKibben said.
During her fall course, "Introduction to Public History in the U.S., 19th Century to Present," McKibben assigned students to help with the interviewing of East Palo Alto residents. As a part of their final class project, students prepared presentations for city officials and provided transcripts of all interviews to Butler for inclusion in the oral history project.
East Palo Alto has seen a drastic shift in demographics since its incorporation. The African-American population has decreased from nearly 60 percent in the 1980s to 16.7 percent as of the 2010 census.  Latinos are the new majority, representing about 65 percent of city residents.
Butler plans on having Stanford researchers such as McKibben, whose winter quarter class focuses on immigration, continue to be involved to ensure that the voices of the newer immigrant population are accounted for in the creation of the city's guiding plan. However, the focus of the oral history project will remain on people who have lived in the city for extended periods of time, regardless of ethnicity, Butler said.
"We really want to make sure we reach those who have seen different styles of leadership, different people in office, and different projects having been completed so we can make sure we don't repeat mistakes from the past," he said.
Once the oral history project has been completed, copies will be available for checkout at the East Palo Alto Library.