With President Obama's re-election to a second term, Silicon Valley bet on the winning candidate.
In contrast to most of the East Coast business elite, who put their money behind Republican Mitt Romney, Silicon Valley was overwhelmingly supportive of the president's campaign, backing Obama on key issues such as immigration reform, research and development, trade and education.
"I think that the trend [of donating to Obama] is indicative of Silicon Valley in the sense that a lot of what we do here seems to be more supported by President Obama and his technology and energy agenda than by the GOP's or Mr. Romney's agenda," said Duffy Jennings, spokesman for Joint Venture Silicon Valley, a local association of public and private sector groups.
In a state that's known for its blue streak, and one that donated to Obama over Romney at a two-to-one ratio (approximately $80 million to $39 million), individual contributions from employees among the Valley's top tech companies ran seven-to-one in favor of the president. At Google the ratio was 31-to-one in favor of Obama, according to the U.S. Federal Election Commission data.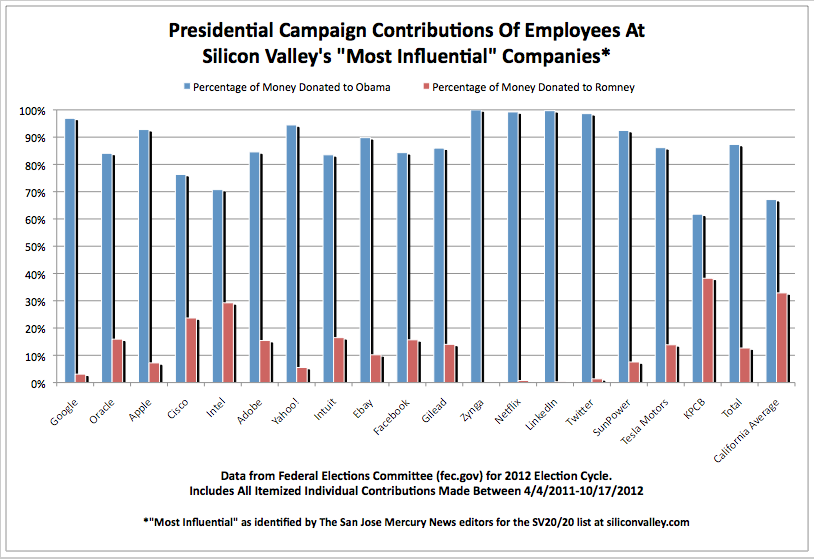 An analysis of contributions by employees at 18 of the 20 most influential technology companies, as defined by editors at The San Jose Mercury News, indicates that Google's employees contributed the most to the Obama campaign. At the tech titan's shop, 708 employees out of a workforce of over 53,000 donated a total of $727,702 between April 4, 2011 and Oct. 17, 2012, according to the FEC. That's an average of $1,028 per employee donor.
This put Google, which is currently under investigation by the U.S. Federal Trade Commission regarding potential violation of anti-trust laws, squarely in the president's corner.
Other big donors to the Obama campaign included 466 Apple employees, out of a workforce of some 72,800, who contributed a total of $338,752, or $727 per employee donor. At Oracle, 577 employees, out of the software giant's 115,000 strong workforce, pitched in $334,940, according to the FEC's website.
In addition to those three companies, another 3, 299 employees at Zynga, LinkedIn, Netflix, Twitter, Yahoo!, SunPower, Ebay, Tesla Motors, Gilead, Adobe, Facebook, Intuit, Cisco, Intel, and KPBC, contributed $2,462,038 to the Obama campaign.
By comparison, 528 employees at the same 18 companies brought in a total of $357,438 for Gov. Mitt Romney's campaign.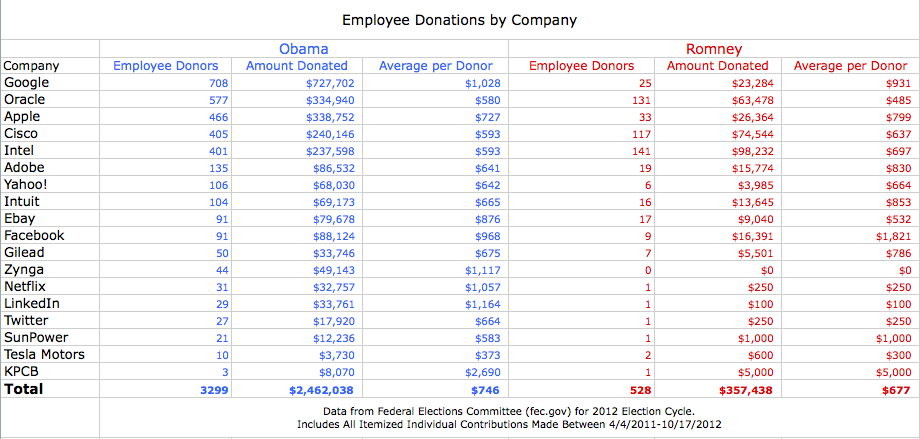 Silicon Valley's support for Obama is no surprise considering the president's positions on immigration reform and increased federal support for research and development. The Valley has long been concerned about education reform, which the president supports. Obama also has spoken about granting more H1B visas and loosening the policies that would allow foreign graduates to stay on and work in the U.S., decisions that will directly affect the vast number of immigrants working in the Valley's tech companies.
That position sits well with Valley pundits like Vivek Wadhwa, author of the newly published book "The Immigrant Exodus." Wadhwa argues that stricter immigration regulations could prove detrimental to the Valley, causing America to lose "the global race to capture entrepreneurial talent."
"Scores of the people who live here, at least of our scientists and engineers and entrepreneurs, are Indian or Chinese or Asian, and the truth is, we encourage that and we want people to come here," said JVSV's Jennings. "[Immigration] makes us stronger and feeds our entrepreneurial spirit."
In addition to the rank and file, many well-known Valley figures put their money behind the President.  These include Yahoo Chief Executive Officer Marissa Mayer, who donated $5,000 to Obama in the form of two $2,500 donations made in the same day, a donation format used by most contributing executives in order to comply with campaign contribution laws that limit individualcontributions to $2,500 per election to a federal candidate. Since the primary and general election are considered separate elections, donating twice allows individuals to contribute a total of $5,000. Mayer also donated $5000 to Google's political action committee. She donated another $2,500 to  the GOP's Olympia Snowe of Maine who retired from the Senate.
Mayer's husband,  Zachary Bogue, Co-Managing Partner at Data Collective, a San Francisco venture capital firm, also gave two $2,500 donations, bringing their household contribution to a total of $10,000.
Other influential donors who gave $5,000 straight to Obama include: venture capitalist John Doerr of Kleiner Perkins Caufield & Byers, venture capitalist Vinod Khosla of Khosla Ventures, angel investor Ron Conway, Netflix CEO Reed Hastings, Tesla Motors CEO Elon Musk, Google co-founder Sergey Brin, LinkedIn co-founder Reid Hoffman, Facebook COO Sheryl Sandberg, and Google's Executive Chairman Eric Schmidt. On the GOP side, Marc Andreessen, venture capitalist and founder of Netscape Communications Corp., gave $2,500 to Romney while Intel Chief Executive Officer Paul Otellini and Oracle CEO Larry Ellison both gave $5,000  to Romney.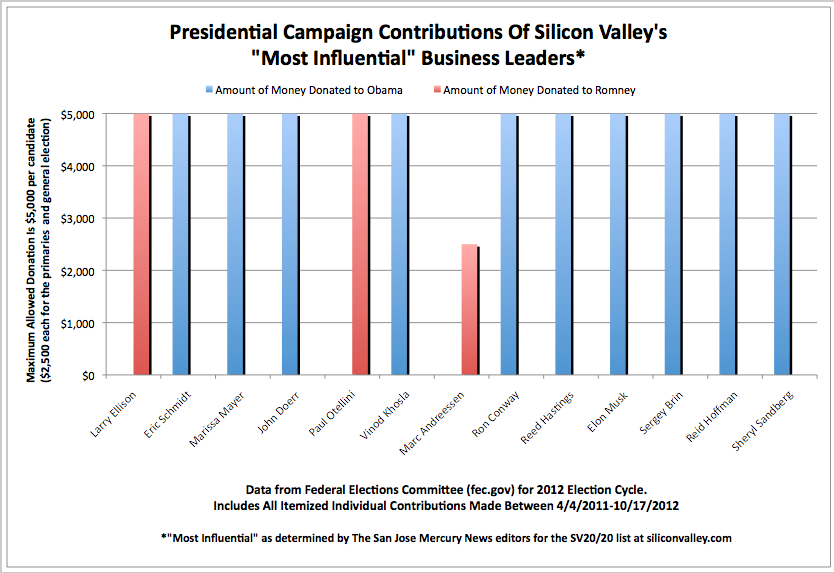 But the donations don't stop there.
In addition to direct candidate contributions, Mayer, Schmidt and Doerr have all donated the allowed maximum of $30,800 to the Democratic National Committee, according to the Center for Responsive Politics, a nonpartisan research group that tracks campaign contributions in Washington, D.C. Doerr gave another another $30,800 to the Democratic Senatorial Campaign Committee plus $8,500 to six other Democratic candidates for Congress.
While their numbers may be fewer, Republican supporters in Silicon Valley have made significant contributions to the GOP. Andreessen contributed $30,800 to the Republican Senatorial Committee and Otellini donated $7,500 this year to the National Republican Congressional Committee and $30,800 to the Republican National Committee, according to the Center for Responsive Politics.
Andreessen and Hewlett-Packard Chief Executive Officer Meg Whitman also have made donations totaling $100,000 each to the pro-Romney super PAC, Restore Our Future. Cisco Chief Executive Officer John Chambers has given $50,000.
These donations are on a par with the contributions made to Romney from Wall Street, where direct contributions to the Republican candidate have reached $11.4 million according to the Center for Responsive Politics.
Several executives covered their bases by donating to both sides. Schmidt has contributed $10,500 to five other Democratic candidates in addition to his support for Obama. He gave another $5,000 to the Democratic Congressional Campaign Committee and $5,000 to the Google PAC.
He also has given $15,000 to the Republican Senatorial Committee and an additional $12,500 to five Republican candidates, including Representative Darrell Issa from California's 49th congressional district, near San Diego. Issa is a prominent opponent of the Stop Online Piracy Act (SOPA), the proposed legislation that would restrict access to sites  that facilitate the trading of pirated content.
Tech companies such as Google, Facebook and YouTube, are concerned that the passage of SOPA would result in unrealistic expectations, such as constant content monitoring, on their part that could expose them to new liabilities.
Despite his Republican party affiliation, Issa's strong stance against SOPA has brought him significant support from the tech world, with contributions from the Google, Facebook, HP, Yahoo, Ebay, and Oracle PACs totaling $21,500, as reported by the FEC. Other Silicon Valley PACs that have contributed to Issa include the American Council of Engineering Companies with $5,000 and the National Venture Capital Association with $3,000.
Regardless of which side Silicon Valley individuals donated to, however, it is clear that the Valley is an emerging presence in national elections, and locals are hoping that this financial power will prompt future candidates to spend more time in the area.
"There ought to be more attention paid here," said Jennings. "While both [presidential] candidates came here for private fundraisers and certainly were able to raise significant amount of money on both sides, the general public doesn't really see either party doing as much as we'd like them to do to make Silicon Valley a key part of their plan for the future."
Sam Fisher contributed database reporting to this article.