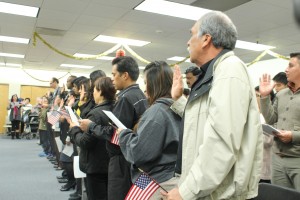 Imagine scrolling through your e-mail inbox this week and between advertisements for deals from department stores, you see this message: "This holiday season, give the gift of citizenship."
The offer is from a San Jose-based nonprofit, which is partnering with other agencies around the country to launch a "naturalization drive" backed by a group of philanthropic foundations.
They are trying to reverse a recent trend which has seen fewer green card holders apply for naturalization. In 2007, nearly 1.4 million people filed applications across the country. In 2011, only 750,000.
Vanessa Sandoval is legal director for the San Jose group, called Services Immigrant Rights and Education Network, or SIREN. "We are pushing for people to naturalize, and we're trying to make this as easy as possible. And so we decided, well let's take advantage of the holidays and try to do a theme. We decided that for the holiday season we were gonna do gift certificates… and discount our prices 50 percent."
But the sale hasn't gotten the response SIREN imagined, demonstrating some of the obstacles to raising naturalization numbers.
Listen to the story below for more.
[soundcloud url="http://api.soundcloud.com/tracks/72210377″ params="" width=" 100%" height="166″ iframe="true" /]