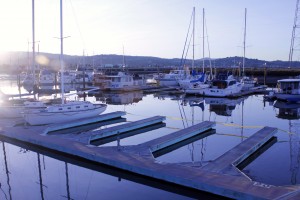 Buckley and Wendy Stone have lived aboard their 41-foot ocean cruiser in Pete's Harbor, a Redwood City marina, for 20 years. They distill their own water, tend to a small vegetable garden and recycle.
"It's not like you're camping, but you have to learn that you can't have stuff," Wendy said. "You kind of get rid of everything when you come here." On a recent Sunday evening, her husband strung Christmas lights from the boat's mast and occasionally shouted greetings to neighbors.
"We follow the wind and the tides, because our living space is outside," Buckley said.
Now, the couple's lifestyle, like that of some 60 others who call the marina home, is threatened by an eviction notice. A Denver-based developer plans to build a 411-unit apartment complex on the bayfront property and make the boat slips exclusively available to new, on-shore residents.
Pete's Harbor is east of the 101 freeway, nestled below an auto dealership and an unrelated housing development under construction. The marina is made up of two segments: a privately owned inner harbor and a state-controlled outer harbor. Combined, they hosts 263 boat slips that rent for $200 to $500 a month (plus a living fee).
Paula Uccelli, 70, a prominent Redwood City resident, is selling the property that she inherited from her late husband Pete. The Stones and their fellow "liveaboards" received a lease termination letter in early November, alerting them that they would no longer be welcome in the marina come Jan. 15.
"The owner of Pete's Harbor [intends] to retire and take the steps the owner feels are necessary to prepare to sell the property," the letter stated.
Members of a group calling itself Save Pete's Harbor — who say they don't oppose development of the land, but wonder why the two lifestyles can't coexist — have appealed to the Redwood City Council and the State Lands Commission in a last-ditch effort. So far, according to Buckley Stone, the developer and the city have paid them little respect.
"They've made us seem like we're just a bunch of bums," he said. "Redwood City is where I get my mail, where I buy my groceries, where I go to vote….I can drive through that town and I know it like the back of my hand, and I've just been told 'go away.' But I didn't do anything wrong."
The city Planning Commission voted unanimously in October to approve the Pauls Corp.'s development plans, launching a months-long battle. Save Pete's Harbor asked the council to overturn that decision and a tentative hearing date has been set for Jan. 28, after the scheduled eviction date.
Currently, the only sign of the change to come is yellow caution tape sectioning off each empty slip. When a boater moves out, the slip is taped off to prevent a new tenant from dropping anchor. Nearly 25 residents have moved since they learned of the sale in September. The Waterfront Restaurant, hand built by Pete Uccelli but sold 15 years ago, is scheduled to close permanently this weekend.
Uccelli's attorney, Ted Hannig, told the San Francisco Chronicle that the boaters' complaints about lack of sufficient notice are unfounded. "Everybody has been on a month-to-month lease since 2002, so this should not have been a surprise," he told the Chronicle. Hannig could not be reached by the Peninsula Press for comment.
Attorney Alison Madden, a leader of Save Peter's Harbor, signed a lease in May and was not told of the possible sale, she said. "We don't know what, or if, or when they want to build here and yet they want to kick out the liveaboards," said Madden, who described her allies as current slip tenants, some Redwood City residents and members of Occupy Redwood City.
City Planning Manager Blake Lyon said his department received development plans from the Pauls Corp. in July. The plans underwent  review throughout the summer, he said.
Opponents of the development accuse planning officials of putting it on a fast track, but Lyon said that is not the case."There's a certain amount of work that is done when a project is submitted to make sure that the city staff has a comprehensive understanding of what the requests are and how to analyze the project," he said. "That duration of time can vary depending on the complexity of the project."
The Planning Commission held a public meeting in September, which is when many Pete's Harbor residents say they first received word.
"There are a lot of private property and tenant issues that have been raised in the course of public hearings that aren't in the purview of the Planning Commission," Lyon said. "As empathetic as [commissioners] may want to be on a personal note, their role…is confined to land-use issues and environmental issues."
 If the development plans go forward, the commercial marina will cease to exist and slips will only be available to apartment residents. Construction of the "One Marina" complex a mile up the road is ongoing, a project that saw the closing of 300 boat slips.
Pete's Harbor boaters say they bear no ill will toward Uccelli – "she deserves to retire," Buckley said – and aim much of their anger at the Pauls Corp. Representatives of the Pauls Corp. did not return phone calls and emails seeking comment.
The parties recently faced off before the State Lands Commission. "These folks aren't fighting your development," Alan Gordon, the state's deputy controller for environmental policy, told Hannig at a Dec. 5 public hearing. "They're actually acknowledging that the development should go forward."
Gordon added, "The Bay Area is an extremely expensive area for people to live, but we've gentrified the entire coast. These are what I believe are affordable-to-middle class rents, so why is it necessary in building the development to remove these slips from the public? It strikes me that there is a compromise to be reached somewhere."
While Gordon's comments give Buckley Stone some hope, he and his wife are making contingency plans for January. Buckley has a medical condition that requires he remain close to Palo Alto.
"My family said, 'sell the boat and get an apartment,'" Buckley said. "And I said no way! I wont live with carpet under my feet, who knows where the water comes from, and I don't know my village. That's just not happening."

[youtube]LNT3SKXotZI[/youtube]