OpenTable, Inc. (NASDAQ: OPEN) exceeded analysts' expectations in its fourth quarter earnings announcement Thursday, with increased revenues from growth in restaurant reservations through the company's web and mobile platforms.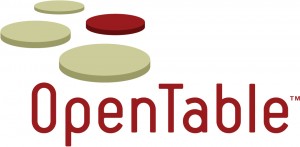 The San Francisco-based online restaurant reservation provider reported a fourth quarter net income of $7.5 million, or 32 cents per diluted share, up from $7 million or 29 cents per share for the same period in 2011.
Excluding acquisition-related charges, net income was $10.7 million, or 46 cents per share, compared to $8.9 million, or 37 cents per share, for the same period a year ago. Earnings exceeded analysts' estimates by 3 cents.
Quarterly revenues were $43 million in line with company expectations, rising 15.6 percent from $37.1 million in the same quarter for 2011. Analysts anticipated revenues would be $42.5 million.
OpenTable generates revenues from seated diner reservations as well as monthly subscription fees from restaurant clients.
In a phone call with analysts, OpenTable's President and Chief Executive Officer Matt Roberts said these figures would have been higher without Hurricane Sandy, which cost the company approximately $400,000 in lost revenues this quarter from reservations on the East Coast.
"There were a few positive developments, including ongoing traction with its mobile platforms and better-than-expected international revenue growth trends," said R. J. Hottovy, Global Director of Consumer Equity Research at Morningstar. "But the fact that average revenue per seated diner metric has been flat suggests that the company may be facing increased competition from free-based reservation websites and diners booking on the restaurant's websites themselves."
For the full year, the company reported $161.6 million in revenues and a net income of $24 million, or $1.03 per share. In 2011, the company's revenues were $139.5 million with a net income of $21.6 million or 88 cents per share.
Revenues exceeded analysts' expectations of $161.2 million.
Company executives said that mobile reservations now account for a third of their seated diners, a figure which they expect to continue to grow as customers move away from traditional reservation methods.
The company hopes to accelerate mobile growth by offering its restaurant clients free services to improve their mobile sites.
In the fourth quarter, operating expenses in international markets were up primarily due to heavy investment in marketing activities in the United Kingdom.
The company has invested heavily in UK operations following its purchase of TopTable.
In the earnings call, analyst Stephen Ju from Credit Suisse said he was surprised to see "the addressable market for the U.K. in terms of restaurants be double what I thought it might have been."
OpenTable executives said they would also increase direct marketing efforts in North America in the coming year.
Looking forward, the company predicted first quarter revenue of $44.7 to $46.1 million with adjusted earnings between 39 cents and 44 cents per share.
For the year 2013, the company said it expects revenues of $186.1 million to $193.1 million.
Roberts said the company plans to continueto expand its market share in both American and foreign markets, with a "heavy, heavy focus on mobile" given the shift in traffic to the mobile platform.
Around the third quarter of 2013, the company said it hopes to expand its cloud-based offerings for restaurant clients. "This is our largest upgrade we'll have ever done," Roberts said. "What's exciting about this is that once we have the cloud-based architecture in place, we're able to put new features out to our restaurant customers on a much more frequent basis."
Outside of North America, analysts say the company faces greater competition from a variety of smaller companies. On the earnings call, Jason S. Helfstein of Oppenheimer & Co. expressed concern about competitors with lower priced products.
In response, Roberts did not say that OpenTable would lower its price when it develops new cloud-based offerings to restaurant clients, but that it would instead remain competitive by offering "richer" and "deeper" hospitality services to both restaurants and clients.
To this end, he said, the company is investing in an independent design team for the first time.
In late January, the company announced its plans to buy FoodSpotting, an application for finding restaurant menu items, for roughly $10 million. Roberts said the acquisition could help the company add "more visually compelling content" which would allow customers to view and share photos of individual dishes.
At the closing of the NASDAQ, before the earnings were announced, the stock traded at $49.31. In after-hours trading, it went up to $50. Friday shares closed up 6 percent to $53.