Last June, an independent consulting agency's study effectively quashed hopes for any prospect of a user-financed Fiber To The Premises project in Palo Alto, which would bring residents super high-speed internet through a fiber cable. The Tellus Venture Associates study, which was presented to Palo Alto's Utilities Advisory Commission, concluded that a fully user-financed citywide fiber-to-the-premises system was "not possible" to achieve in Palo Alto due to cost-related concerns. So why, in his speech on Feb. 27, did Mayor Greg Scharff decide to recommit to expanding the city's fiber network?
In his State of the City Speech at Tesla Motors, the newly appointed mayor suggested that Palo Alto needs to invest in fiber in order to become the "Leading Digital City of the Future." "Ultra-high speed internet has been a Palo Alto vision for a long time," he said. "Now is the time to fulfill that vision."
Scharff said the city should expand its fiber network, which it now leases primarily to large businesses, as well as build on free public WiFi so that residents and businesses can access ultra-fast internet in their homes and on-the-go.
Supported by a number of local community-based pro-fiber and pro-WiFi groups, the mayor has decided to put internet projects back onto the agenda, and prominently so, for the year 2013.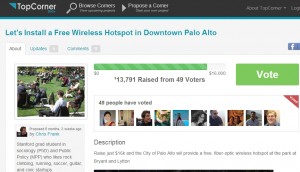 With fiber-based utilities, internet access is carried by a fiber optic cable that runs directly from an internet service provider to a residence or business. The city has had a dark optical fiber ring since it started building its fiber network in 1996. Until now, the network has been leased primarily to roughly 80 businesses, as debates have surged over whether to expand fiber to smaller businesses and the general public.
Now, the mayor would like to see the network extended so that residents and businesses in Palo Alto can access at least one-gigabit connection speeds, which is roughly 100 times the speed of standard broadband internet.  "A lot of start-ups really like having ultra-fast connections," Scharff said in an interview, suggesting that the change could attract new businesses to the city.
Since 1996, he said, over two billion people worldwide have begun to use the internet, and computers have gotten a thousand times faster. "Sadly, the technology and infrastructure medium by which our homes and businesses connect to the Internet electrons over copper wire has not changed. It is still slow and expensive."
In his February address, Scharff emphasized the role technology plays "in making government more efficient, providing tools for enhanced service delivery, lowering costs, providing transparency and encouraging citizen engagement."
The city has been trying to expand its fiber network for years, but every attempt so far has been stalled by heated debates over costs and feasibility.
In 2012, the council also commissioned a local study by RKS Research and Consulting, which found that only 10 percent of residents would pay the $3,000 fee needed to connect to the broadband fiber network, even if it meant never paying for internet again. Since fiber networks work best when they're contiguous, and building costs are the same regardless of whether individual houses opt out, many people saw this as an insurmountable obstacle to fiber expansion.
To operate in Palo Alto, the study concluded, a fiber network would require significant ongoing public subsidies, in the amount of millions of dollars from the city budget. In response, the Utilities Advisory Commission voted 4-3 on June 6 to stop considering fiber as an option. The next day, headlines across the country suggested Palo Alto's fiber hopes had been all but abandoned.
Another barrier to fiber expansion is that the city already has broadband internet options from AT&T and Comcast, which would compete directly with the fiber network.
Leon Beauchman, Director of the Wireless Communications Initiative, a consortium of businesses, residents and the wireless industry, says the evolution of wireless internet may have also lessened the need for fiber expansion. Fiber expansion may not be necessary anymore "given the speeds that you see with streaming video and 4G deployment, and 5G is probably not that far away," he said.
For these reasons, Palo Alto's feasibility report concluded that fiber expansion would require the city to subsidize the project for tens of millions of dollars, which could not be recouped unless people were willing to pay high initial subscription fees. This would also mean assuming there would be no increase in competition from other internet providers, and assuming that the fiber network grows in popularity over the years.
As such, Beauchman described fiber expansion as "a bit of a risk."
But Scharff believes that fiber could still be a good investment, and wants to continue examining ways it might be feasible. "We're still figuring out what it would cost, which might be $25-40 million depending on how you do it," he explained. "But the city already has $12 million in its fiber fund," referring to the money the city makes from its existing fiber projects.
Scharff estimates that licensing fees from the existing fiber network bring in more than $2 million per year, which could help offset the costs.
On top of this, Scharff says, a fiber network could bring in substantial revenue to the city in the long term, by attracting and supporting internet businesses. "Palo Alto is the center of Silicon Valley and the high tech world, and having that kind of infrastructure" would help it continue to excel, he said in an interview. Cutting edge companies require ultra-fast connections, he said, such as those looking to do three-dimensional printing.
Google has been testing a beta fiber network in select Stanford University residences. Roughly 140 faculty condominiums and 600 single-family homes signed up for the free service in September 2011. Though users have signed a non-disclosure agreement with Google which prevents them from discussing the service, many residents have expressed that the fiber internet they are receiving is significantly faster than anything they have experienced before.
Palo Alto is not the first city to experiment with fiber, though perhaps it would have liked to be. Last year, it lost a bid to Kansas City for a Google-run fiber network project. Rob Roberts of LJWorld reported that as a result of its fiber expansion, Kansas City has started to attract more early-stage firms and start-ups. Newer companies, he said, are looking to take advantage of fiber's ultra-high speed communities, now called "fiberhoods."
For Kansas City residents, the Google-operated service costs about $300 for home installation, and between $70 and $120 in monthly usage fees.
But city-to-city comparisons are hard to draw, and data about the real costs of fiber expansion can be tough to calculate.  Population wise, Palo Alto is home to about 65,000 people, while Kansas City houses about 463,000. This disparity means the projects operate on vastly different scales. On top of this, costs may be different when they are separated from the discounts Google offers residents.
And unlike Kansas City, Palo Alto may not even be looking to attract new companies. According to a 2013 report by Joint Venture Silicon Valley, an organization that works with local businesses, governments and community leaders, total patent registrations in the region were up this year, and over 200,000 people were employed in Science and Engineering industries.
"Palo Alto is not necessarily trying to attract new businesses," said Beauchman. "It lacks capacity for geographic reasons."
But Scharff believes the revenue brought in from the fiber fees can offset many of the costs, and the project could help the city resolve some of its most pressing issues.  An expanded fiber network could, for instance, reduce traffic by encouraging telecommuting. While Scharff said that people already can and do work from home using technology like Skype, the experience can only be improved by ultra-high speed internet.
"The potential is for better resolution and less jerkiness if both people have a better high-speed internet connections," he explained. On top of this, Scharff said people working from home would be able to transfer large amounts of data much more easily.
Finally, Scharff believes an expanded fiber network would provide key support for his other major technological goal: bringing free wireless infrastructure to the city's downtown core. "We have a 33-mile fiber backbone," he said. "By extending it, you could have much better WiFi, and the WiFi that pops up off that is very fast."
On the WiFi end, the city council is considering building and operating a wireless tower system. The council has already hired a wireless consultant to develop a proposal for wireless expansion within the next six months.
Mayor Scharff says bringing wireless hotspots into parks and other public spaces can help revitalize the downtown core. The long-term goal, he said, is to bring free wireless internet to all 34 of the city's parks and other public spaces.
Thanks to TopCorner.org, this project is already underway. The local crowd-funding non-profit site helped residents and local businesses raise over $13,000 to install wireless internet in Cogswell Plaza, a five acre park in downtown Palo Alto. Scharff says this installation will likely be completed in May, and hopes to expand WiFi next to Lytton Plaza, which sits at the corner of University Avenue and Emerson Street.
"It's a lot more fun to sit in the park and have WiFi, and be able to work out there and enjoy the nice weather," he said. "It makes it a much more pleasurable experience."  Scharff says this makes for a livelier downtown with better street life. "It's a quality of life issue," he said. When parks have WiFi, they can host certain kinds of events like hackathons, where students and other groups can get together and write computer programs and applications.
The widespread adoption of wireless mobile and tablet devices has also rapidly driven up demand for greater wireless infrastructure in recent years. "If I had to guess the place with the most smartphones and wireless devices per capita, it would likely be Palo Alto," Beauchman said. "People expect that when they buy all these devices, they will work the way they're supposed to."
Mark Fidelman, a Forbes columnist and CEO of Evolve!, a Social Business consultancy, agreed. He said he sees continued growth and expansion of such wireless devices in the future. "There are more mobile phones than people on the planet now," he said. "What will happen is the number of mobile phones will quadruple in the next five years. Imagine what that means for society and all the things that will change."
In cities like Palo Alto, the need can be even more urgent, he said, due to the high volume of "early adopters" of new technological products.
In a few years, for instance, watches or personal scales might want to communicate wirelessly with computers, he said.  "You'll see all these devices talking in the cloud, and data analytics will figure out what's going on and report back to you on being more efficient or effective," he explained.  "Think of that magnitude: four times as many devices in four years."
On the business end, Fidelman urged that Palo Alto and neighboring Silicon Valley cities have fallen behind in wireless infrastructure. In Silicon Valley, he says, there isn't a "wireless core." In his view, San Diego has outpaced Palo Alto and its neighbors to become the city with the greatest wireless infrastructure in the world, and has attracted several wireless industries as a result, particularly in the medical-device arena. Silicon Valley came second, he said, with Tel Aviv in third.
Look at South Korea, Fidelman continued, to see a great example of what solid wireless investments can do. "If you go back in time, in the 50s when they built roads from one end of the country to the other, it produced businesses not only between towns but alongside the road," he said. "All these businesses sprung up as a result around the highways. This is directly analogous to the super-information wireless highway," which he says wireless internet can provide.
In a June article in Forbes, Fidelman noted that San Diego has 484 wireless employees per 100,000 residents, compared to Silicon Valley's 375. "If we had the infrastructure, that would develop more," he said.
Beauchman agrees that wireless expansion may be the best tactic for Palo Alto. "Small businesses see it as a real tool," he said, referring to improved wireless infrastructure. "It's about access to information on a timely basis. More and more businesses are connecting back to internal systems and this technology lets them be mobile," he said. "You can be out working with customers while accessing information critical for competition."
As council now considers its internet expansion programs, the first question it must first ask itself is whether it can afford to expand internet connectivity. After that, it should ask itself whether it can afford not to.