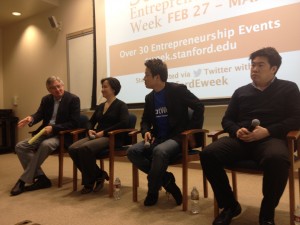 For Americans thinking of starting a high-tech company in China, now may be the right moment. According to a panel speaking on the last day of Stanford University's Entrepreneurship Week, market growth and the international flow of capital has caught the eye of a number of Americans looking eastward at trans-pacific opportunities.
"It's a good time to be an entrepreneur in China," said Qiming Huang, vice president of product development at the Chinese internet forum Tianya. Located in Hainan Province, Tianya is a popular online community that recently released an online shopping street platform.
In Huang's view, China is experiencing a lot of entrepreneurial activity today, and has already boasts the largest number of mobile headset users in the world.
"The young generation of VC's in China have learned from the United States," she said. Now, venture capitalists will support several e-commerce companies that take years to turn a profit.
Outside of the manufacturing industry, Huang said that venture capital firms have started investing in companies earlier, often at the seed stage. This influx of funding, combined with a more open government, has made it a good time to be an entrepreneur, in her view.
For Stanford students, Huang said this may present a number of employment opportunities. "The  Chinese government is trying to attract Stanford grads to start companies in their area," she told the crowd.
To further these efforts, the Chinese government is also encouraging local business to register their intellectual property. "Local government can pay fees for you to file IP," she said. They also subsidize patent registration and in some cases file tax discounts.
Though concerns over patent and copyright issues  in China are similar to concerns in the Valley, there is one difference. "In China, so many people want to start companies. Here one person copies you, there, 10 people do," Huang said.
In spite of this, a growing culture of meet-ups has emerged for entrepreneurs to network and share ideas. "In Beijing, every night there are professional meet-up events with people talking about business," Huang said. There are also a number of incubator events, and local angel investors are taking on mentorship roles.
Despite these promising changes, Huang warns that there are several challenges associated with starting a company in China.
For one, Chinese companies tend not to share profits and stock options with engineers. "That's bad; it puts engineers in the position of being cheap labor," she said.
Without a local partner, it can also be nearly impossible for American companies to succeed. "If you do not speak Chinese, you're never in the culture," she warned, advising entrepreneurs to seek out local partners.
For those starting companies in China, "Getting attention is hard," Huang said. "People get personal, get nasty, they create news. That's how marketing works."
Huang also recommended starting not in Hong Kong or Taiwan, but Beijing or Shaghai. "Hong Kong, nowadays, is a harbor and financial center. If you are not working in finance or import/export it's probably not the best."
In South Korea, Sherman Li said the market is also slowly making room for entrepreneurs, but the process can be challenging.  Li is the President of Enswers America, an audiovisual search technology company headquartered in Seoul.
"In Korea, you have the dominance of a few major companies," he said. "That makes it very hard. Closing a deal with Samsung is very important. There are only a few VCs."
At the same time, available venture capital is slowly shifting towards different kinds of companies. "Today, VC money is finally interested in the mid-game strategy," he said, explaining that investors were now comfortable allowing companies to have early exits.
In Korea, Li said much of the entrepreneurial  community is foreign-educated.
Throughout Asia, he added, becoming an entrepreneur can seem like a strange life decision. "You really have to respect the local culture" he said. "In Korea, when you decide to be a 20-something asking for money, and you want [to hire] older employees, it's almost arrogant.  So you want to be very humble."
The event was held Wednesday in the Paul Allen Building at Stanford University, and was designed to provide Stanford students the opportunity to learn about and ask questions of entrepreneurs in the Asian high-tech sector.