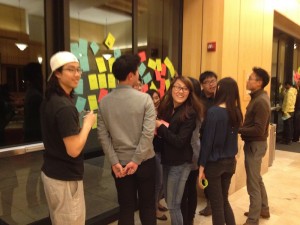 Wondering how to unlock the secrets of creativity? Just ask Tina Seelig, the executive director of the Stanford Technology Ventures Program and a faculty member at Stanford's Hasso Plattner Institute of Design, known on campus as the d.school.
At a Stanford University event Tuesday evening entitled, "InGenius: Levers for Unlocking Creativity," Seelig opened by introducing her philosophy about where creativity comes from. She said there are six components to creativity: imagination, attitude and knowledge, which originate from within a person, and culture, resources and habitat, which are external influences in the environment.
Creativity is an art and a skill highly valued in Silicon Valley, prized among artists and engineers alike. It makes solving difficult problems fun and often promises to produce fantastic ideas. But it can elude even the most talented problem solvers who are under "pressure to do everything right the first time," Seelig said.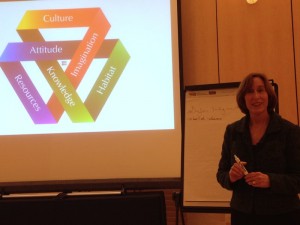 Seelig, who is famous for teaching creative engineering and design thinking, compared the equation "5+5 = ?" to "? + ? = 10" as an example of how framing a question increases creativity. According to Seelig, the first equation has only one right answer but the second has "an infinite number of solutions."
"This is profound because the way you ask the question determines the answers you'll get," Seelig said. "The answer is usually baked into the question."
She compared non-creative thinking to puzzle solving –- there is one right answer and if a piece is missing, there is no way to solve the puzzle. "True innovators, true entrepreneurs, really creative people are not puzzle solvers," Seelig said. "They are quilt makers. They basically leverage all the resources they have and put them together to come up with something that's actually much more interesting and much better."
In addition to problem solving, Seelig claimed that innovators and entrepreneurs see failure as an opportunity to do better: "They're the people who look at problems and say, 'I don't care what's in my way. I am going to fix it.'"
Seelig crystallized her model of creativity while "stepping back and reframing everything" when she started writing her new book, inGenius: A Crash Course on Creativity. She mentioned that "looking through different perspectives" has changed the way she teaches her students and helped her reframe the questions she asks.
Kuan Peng, a Stanford sophomore who attended the event, said he appreciated Seelig's theory about how habitat influences creativity.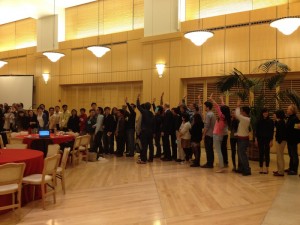 Seelig said a person's habitat comprises of many forces including work colleagues, rules, rewards, incentives, constraints and physical space. These factors have a greater impact on creativity than people realize.
"The physical space that you're in is the stage on which you plan out your life," Seeling said. "When you walk into the space, it tells you how to behave."
Peng said this idea of habitat changed the way he understood his role as a member of the Asia-Pacific Student Entrepreneurship Society summit. The summit flew in 35 delegates to Stanford from 12 countries to learn about entrepreneurship and attend events during Stanford's annual Entrepreneurship Week. He said that as the organization tries to reinvent itself, he realized that people are harder to change because of their fixed attitudes. He is now considering how he can change the place where his team meets and incorporate more brainstorming to shape his organization's future.
During the second part of the event, Seelig launched a playful brainstorming exercise. She asked the audience to form small teams and brainstorm the best and the worst vacation ideas. Then participants ripped up their best vacation ideas and passed their worst ones to their neighboring group in a clockwise direction. The groups had to turn the worst vacation ideas into the best – using the brainstorming techniques she shared with the group such as active participation, contributing many ideas, using colorful, sticky notes and allowing wild ideas to flow.
Some of the worst vacation ideas, such as playing strip poker with the family, ending up in the hospital emergency room or having a family member on death row, transformed into comic ideas such as going to Vegas to play poker, being in a hospital on a cruise ship touring the world, and making a famous movie out of being on death row.
Seelig noted that this exercise gave participants a taste of how powerful brainstorming is because people can build off of each other's ideas, even when the ideas seem terrible.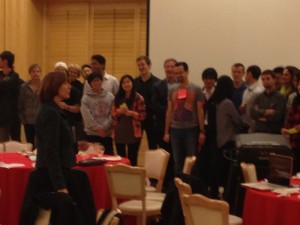 "The most interesting things happen when we pay attention," Seelig said. "Once I pay attention, I see very incredible problems to solve and solutions in sight."