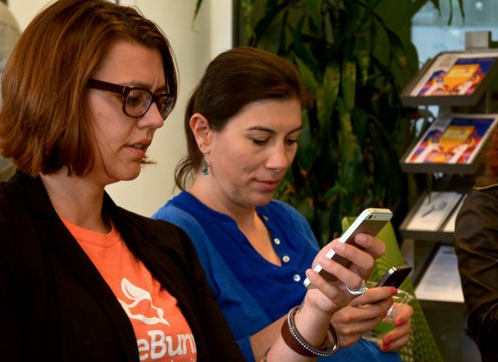 Silicon Valley is famous for drawing talented engineers and highly skilled workers to technology corporations and startups. A large number of these workers are foreigners who find well-paid jobs but face immigration barriers to staying in the United States. And, this week, those workers found a virtual way to raise their collective voices.
On Wednesday evening, four local entrepreneurs arrived at Hub San Francisco to discuss their experience dealing with the U.S. immigration system and to speak in support of the immigration bill pending in the Senate. The panel discussion was part of The March for Innovation, also called the #iMarch, in which politicians, companies and individuals turned to social media Wednesday and Thursday to demand immigration reform.
At the San Francisco event Bjoern L. Herrmann, originally from Germany, shared his story about bouncing from one visa to another to maintain legal status in the United States while he was trying to found his company.
"If you're on a work visa, training visa, internship visa or any other type of visa, you're not supposed to start a company," said Herrmann, founder and CEO of Compass, which provides automated financial analysis services to startups. "You're always somewhat in a gray zone as an entrepreneur because no matter what you do, you're always violating your visa status to some degree."
This year, the United States Citizen and Immigration Services reported that it reached its H-1B cap of 65,000 visas within five days. The H-1B visa is one of the main visas foreign workers obtain to work in Silicon Valley. Herrmann said he believes the U.S. should expand the number and types of visas to welcome more entrepreneurs: "It will make the U.S. more competitive within the space for a specific talent that is very free moving that doesn't care where they work and is willing to work from anywhere where they can create the biggest impact with their skill set," Herrmann said.
Michael McGeary, an American founder of Engine Advocacy and a strategist at Hattery, shared Herrmann's perspective. "We know there's a skill gap between the jobs we've already created and the jobs we can create," McGeary said. "We can't train people fast enough in this country so it is negligent not to keep people who want to stay here, here, working in technology companies" and "working to start new ones."
Alexander Torrenegra, founder and CEO of VoiceBunny, Rutul Davè, founder of Bright Funds were two other founders who joined Herrmann and McGeary. Emily Lam, senior director of Health Care and Federal issues at the Silicon Valley Leadership Group, moderated the panel of the four entrepreneurs, discussing how immigration changes would benefit their companies and innovation in the United States.
The #iMarch was one part experiment and one part innovation in efforts to overhaul the U.S. immigration system — not by storming the streets in Washington, D.C., but by virtually marching to the rhythm of tapping keyboards and clicking mice. Thunderclap, one of the social networks the march's organizers are using to spread the word via Facebook posts and tweets, estimated the march reached 42 million people. (Story continues below.)
[cincopa AoEAOK7OXDoL]
The two-day march began Wednesday morning with a Twitter Town Hall meeting hosted by New York Mayor Michael Bloomberg where participants could directly ask Bloomberg questions via tweets. Celebrities, politicians and entrepreneurs, including Senator Chuck Schumer, former California Gov. Arnold Schwarzenegger, Senate Majority Leader Harry Reid and Carnival Labs CEO Guy Horrock participated in online events on Wednesday promoting the march and advocating for immigration changes. Former Secretary of State Condoleezza Rice and President Barack Obama also endorsed the march last week.
Schwarzenegger tweeted from Seoul, South Korea, answering Twitter users' questions about immigration. His most retweeted Tweet said:
I arrived w/ almost nothing. Gym bag and clothes. Was here for Mr. Universe, so also posing trunks. @thearnoldfans #iMarch #immigration

— Arnold (@Schwarzenegger) May 22, 2013
The virtual march also included Twitter Town Hall meetings, much like a traditional town hall meeting where people ask their elected representative questions, Google Hangouts with high profile supporters presenting arguments in favor of the immigration bill and a "take over" of Huffington Post Live and Tumblr, where participants are encouraged to post links, images, animated gif images and discussions in support of immigration.
Live events in New York City, Austin, San Antonio and San Francisco concluded the protests' efforts on the first day of the march. In San Francisco, four entrepreneurs appeared in a panel discussion at Hub San Francisco, a collaborative open space that welcomes people looking for office space to work on their latest projects and startups.
Today marked the second and last day of the march, which organizers hope will put pressure on Congress to pass the immigration bill. Yahoo! joined the iMarch this morning and the demonstrations ended yesterday evening with a virtual demonstration on Tumblr.