Hear more about this story and how it developed on the Peninsula Report podcast >>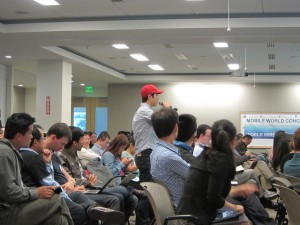 For those who are entering the internet business in China, Kingsoft Chief Marketing Officer Xinhua Liu says it's crucial for businesses to try to pick up a niche. "Never try to compete with 800 pound gorillas," he warms. "Chances are very weak you can win."
Liu was speaking at Microsoft's office in Sunnyvale Saturday where hundreds of developers, entrepreneurs and investors gathered for a sold-out technology conference. The conference, hosted by SVCWireless, a non-profit Silicon Valley professional organization, was designed to help bridge the gap between China and California in the mobile and internet sectors.
"We have very limited exposure to China, even though we know that market is running really hot, and there's a lot of good opportunities," said Robin Han, Vice President of Sponsorship at SVCWireless.
"The work that Governor Brown has been doing in opening the China office in Shanghai, representing the state of California — this is going to help in terms of streamlining a lot of the business we're doing and building a lot of trade and investment opportunities," said Teresa Cox, trade adviser to the Obama administration.
In 2012, Governor Brown announced his intentions to open a trade and investment office in China after nearly a decade had gone by since California's previous foreign trade offices were closed.
Technologists from Brazil, India, China and the United States, many of whom were in town for Google's annual I/O, attended panels and discussion sessions about emerging market opportunities.
Qiming Huang, co-chairman of SVCWireless, said the goal is to support Silicon Valley developers and entrepreneurs interested in expanding to China, and to help Chinese companies form partnerships in the Bay Area.
Wang warned that everything from design principles to user needs can be also culturally specific, so it's important to target local market needs and test on users in that market. The Chinese version of Youtube, for instance, required a radical redesign.
The conference included speakers from Google, Innovation Works, and VMWare alongside entrepreneurs, venture capitalists and developers. Topics included Google's latest platforms, opportunities in global gaming industry, new cloud offerings and trends in the Chinese mobile and internet markets.
Hua Wang, co-founder of Innovation Works, an early-stage high tech incubator in China, says mobile internet is growing very rapidly in China. There are already about 100 million iOS devices in the market, he says, with an additional 200 million Android devices.
Within the last year, Wang said, users went from spending an average of nine minutes per day to half an hour on applications and internet use on their smartphones.
"Mobile development is a hot area," Huang said."Google and Apple have made global platforms that help small developers publish internationally. Before, you needed scale to publish and market your app, or reach international customers." Thanks to these app stores, she said, it is much easier for a team of 2-3 people to publish its products.
Mobile games in particular reflect an enormous opportunity, Wang said. He expects it to be $10 billion industry in China within the next five years. Wang also sees growth in social entertainment and networking programs, as well as service and utilities applications in China.
For mobile and internet developers alike, "the cost of going international is now much lower now for tech companies," said Lilly Huang, partner at SVBank. At the same time, she warns, the internet business in China can be very difficult for American companies to penetrate. "Anything related to content and payment, you have an automatic disadvantage" she says. "Chinese companies are ahead."
In terms of games, Rui Zhang, the founder of Dreaming Game, says the Chinese market is quickly growing in the Android realm.  Zhang says more and more localized and mid-core games win, collectible card games are now popular, and single player casual games have a chance to succeed.
Ultimately, Lilly Huang noted, more and more technology companies "tend to go global very early. If it's innovation to one company, it's innovation to the world."

[soundcloud url="http://api.soundcloud.com/tracks/94653908″ params="" width=" 100%" height="166″ iframe="true" /]