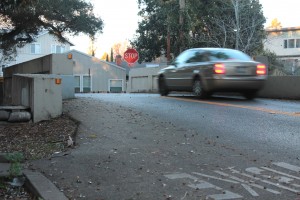 Efforts to address flooding danger along San Francisquito Creek have become a source of tension for residents near the Newell Road bridge in Palo Alto and East Palo Alto.
Since the City of Palo Alto announced bridge redevelopment plans last fall, members of Palo Alto's Crescent Park neighborhood have voiced objections to the project and its implications for traffic and community safety, including calls to eliminate the bridge altogether.
On the other side of the creek, some East Palo Altans are beginning to feel shut out of a conversation that has huge implications for their access to resources and jobs in the more affluent Palo Alto.
"It is a class bias," Bob Allen, a local resident and member of the East Palo Alto Planning Commission, said.
The controversy began last November when the City of Palo Alto unveiled a prospective redesign for the 102-year-old bridge to reduce the risk of flooding along San Francisquito Creek. (Officials say they are working with East Palo Alto and regional creek authorities on the project.)
The renovations would raise the bridge's height by five feet, allowing more water to pass underneath during the rainy winter season, and widened the two lanes to better accommodate pedestrians and bikers.
Most significantly, the plan also suggested realigning the bridge to connect directly Newell Road in Palo Alto and East Palo Alto. It currently enters East Palo Alto on Woodland Avenue, which runs perpendicular to the bridge, leading to poor visibility for cars making the left turn toward Newell.
Crescent Park residents immediately balked at the design, which they deemed a "superbridge," stating that it was out of place in their residential community. They worry that a larger bridge would bring increased traffic from drivers trying to get to and from Highway 101 by avoiding the congestion on nearby University Avenue.
"If you build it, they will come," Andy Vought, a leader of the neighborhood group Palo Altans for Responsible Newell Bridge Redevelopment, said. "The solution is not to route traffic through the residential streets."
About 3,000 cars cross the Newell Road bridge each day, according to a City of Palo Alto study conducted last year. Its peak-hour traffic is about one-quarter that of the University Avenue bridge several blocks to the north, which provides access to Highway 101.
"We're concerned that there'll be a lot more cars coming through right at the time that kids are riding their bikes and walking on Newell," said Sue Pelosi, who lives about a block from the bridge.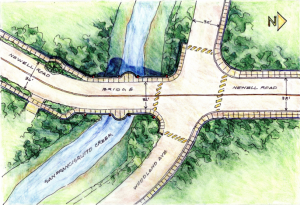 Palo Alto City Manager Jim Keene said the "superbridge" design is no longer favored. The city reconsidered its options following a community meeting in early January at which hundreds of citizens from both Palo Alto and East Palo Alto showed up to discuss their concerns.
The project is now undergoing an environmental impact report, with the goal of settling on a new plan by the summer of 2014.
"This is a multi-jurisdictional process and decision" that must meet the satisfaction and approval of both communities, Keene said. "There's a whole range of bridge alternatives that will be looked at."
These include changing the Newell Road bridge to bicycle and pedestrian access only, with removable bollards that allow for vehicles to pass through in case of an emergency, an option favored by both Pelosi and Vought.
But Allen says that blocking cars from the bridge is unreasonable for residents of East Palo Alto's west side. Cut off from the rest of the city by Highway 101 a few blocks to the east, crossing San Francisquito Creek into Palo Alto is often their best option for reaching jobs, parks and other resources not available in their neighborhood.
"It's my connection" to the library and the cultural center down the street, Allen said, "rather than running up to University Avenue and negotiating the light."
Many people commute across the bridge to get to work every day, he added.
Allen is concerned by the movement to eliminate the Newell Road bridge, which he sees as an attempt by Crescent Park residents to isolate a perceived threat: the less wealthy, predominantly minority residents of East Palo Alto.
"What is really behind this is what they've always been trying to do," he said, "which is seal themselves off from the East Palo Alto side of San Francisquito Creek."
Vought asserts that Allen's fears are overblown. Though he acknowledges there are a significant number of Crescent Park residents who want to get rid of the bridge, he said they do not accurately represent the feelings of the neighborhood as a whole.
"For many of us, that's offensive to say we're just going to pull up the drawbridge," Vought said. "The idea of cutting off the other side feels wrong—spiritually wrong."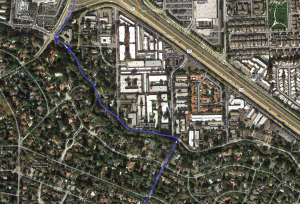 He believes that the discussion about eliminating the Newell Road bridge arose from an unrelated parking issue in the neighborhood. Insufficient space at the apartment complexes in East Palo Alto has caused many residents to instead park across the creek in Palo Alto.
Vought estimates there are 50 or 60 cars from East Palo Alto on the blocks near the Newell Road bridge each night, which has agitated the Crescent Park homeowners because of noise and littering issues that have arisen.
"There's just a sense in this neighborhood that if you see a car in front of your house, you expect to know who's car it is and how long it's going to be there," Pelosi said.
Vought said the city needs to handle the parking problem immediately, but that it should not affect feelings about the Newell Road bridge redevelopment.
"Let's be open," he said. "The metaphor of a bridge between the communities is very important for most of us."
Editor's Note: An earlier version of this story incorrectly stated that Equity Residential, which owns most of the apartment complexes on Newell Road in East Palo Alto, had begun charging additional parking fees for residents.

[youtube]Fku2Iu2X-LY[/youtube]