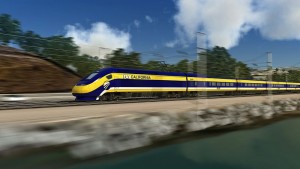 Last month, Sacramento Superior Court Judge Michael Kenny dismissed a lawsuit brought by environmental groups and three Peninsula cities to block California's high-speed train from running along the Caltrain route five years after the plaintiffs first sued to halt the project.
The decision came almost a week after state senator Jerry Hill introduced a bill that would reserve a portion of high-speed rail funds for Caltrain's long-awaited electrification, as well as add regional control over design decisions.
Kenny's ruling promises to continue churning controversy over the state's high-speed rail plans, criticized by opponents as expensive and politically motivated. Despite this opposition, Yoriko Kishimoto, co-founder of the Caltrain advocacy group, Friends of Caltrain, still believes that modernization of the rail system is  key to the Peninsula's future.
In a region world-renowned for technological innovation, public transit is "laughable," Kishimoto said. "We have a first generation transit system serving a fifth generation economy." She predicts that public transportation will become increasingly important in fueling that economy, pointing to recent surges in Caltrain use.
Caltrain reported record-breaking ridership throughout last year. In November 2012 weekday ridership averaged  47,326, an increase of 5,061, or 12 percent higher than the previous November.
The picture didn't always look so sunny. Kishimoto, former mayor of Palo Alto, founded Friends of Caltrain with Menlo Park's Adina Levin in 2011, when Caltrain faced a $30 million deficit on a $100 million budget, blamed on the lack of a dedicated-funding source. About 40 percent of Caltrain's income comes from three other county-transit agencies, including San Mateo County's samTrans, which has also faced major structural deficits.
Almost half of Caltrain's operating income comes from ride fares. But because Caltrain lacks dedicated funding beyond that, it must make yearly requests to the other county-transit agencies for help paying the remaining costs. These agencies are not required to pay Caltrain, and in today's economy, they have little inclination to do so.
In 2008, Californians voted for Proposition 1A, or the High Speed Rail Act, which approved $9.95 billion to fund a fully grade-separated four-track high-speed rail line between San Francisco and Los Angeles. Grade separation refers to the method of making any vehicular roads crossing the Caltrain line pass either under or over the railway. That allows road and track traffic to flow uninterrupted.
The most recent high-speed rail plan for the Peninsula was created in response to concerns about how grade separation will affect communities. Dubbed "early investment," the plan is also meant to expedite high-speed rail preparations.  Early investment would allow Caltrain electrification to be completed as early as 2019 and a "blended" rail system that would enable Caltrains to share tracks with high-speed rail to be finished by 2029. Under the initial plan, high-speed rail wouldn't arrive in the Bay Area until 2034 or later.
A complex set of negotiations that included the Santa Clara Valley Transit Authority and San Mateo County covering some costs, combined with increasing ridership, have allowed Caltrain to avoid deep service cuts. Although the Friends of Caltrain still seeks a long-term funding solution for Caltrain, it also advocates service improvements, including making the aging diesel cars electric-powered and preparing the existing Caltrain corridor for a blended system.  Friends of Caltrain says it believes electrification and blending would boost service frequency and station access, allowing Caltrain to carry 50 percent more riders.
The coalition helped lobby the Metropolitan Transportation Commission to approve a memorandum of understanding with the California High-Speed Rail Authority last month — an agreement to help pay for the $1.5 billion electrification and blending projects under "early investment" and also outlines the regional, state and federal funding sources.
But doubts swirl around the legality of early investment. The High Speed Rail Authority maintains that high-speed trains under the blended system could travel from San Francisco to San Jose en route to Los Angeles in 30 minutes, as they would under the original four-track plan. But according to a Caltrain/California High Speed Rail Blended Operations Analysis released by Caltrain last March, that leg of the trip could take between 37 minutes to 43 minutes, raising doubts as to whether high-speed trains could in fact travel between San Francisco and Los Angeles in 2 hours and 40 minutes, as the High Speed Rail Act mandates.
The slower trip times and reduced service that could come with the blended, primarily two-track system, compared to the four-track system Prop 1A originally described, could hamper high-speed rail's ability to attract riders, leading to a possible violation of the state law that requires the rail line to break even and avoid a tax subsidy.
Even under the original plan, Atherton resident William Grindley said, it's doubtful that a high-speed rail line would break even in car-centric, suburban California, which lacks the density of cities like Tokyo, where many residents rely on high-speed rail.  Grindley and other opponents of early investment argue that the California High-Speed Rail Authority overstated ridership projections.
Critics also argue that the rail authority understated cost estimates for the project. When voters approved the measure in 2008, the estimate was $40 billion. In 2011 the rail authority issued a new cost estimate, which ranged from $98.5 billion to $118 billion.
Early investment supporters praise the plan as a way not to minimize only the impact to Peninsula communities but also lower the total cost of high-speed rail. But Grindley points out that even the new plan is too expensive. "It still falls far, far short," he asserted.  He added that the plan is "not exactly in the realm of reality. The wishes for both the Caltrain administration, as well as the High Speed Rail Authority, is that they had money to do their project. But they don't."
"It is an expensive project, but you have to plan and fund and construct projects for the future," Kishimoto said.
Metropolitan Transportation Commission spokesman Randy Rentschler emphasized that the cost estimates are just that—estimates. "We have a cost estimate, and as we get further into the project we'll see if it changes," he said.
The Community Coalition on High Speed Rail, environmental groups, as well as the cities of Palo Alto, Menlo Park and Atherton, all have filed suit against the rail authority for reneging on its legal contract with voters.  The new plan "is not what the voters were promised," Grindley said. He's also a member of the Community Coalition.
High-speed rail plan opponents view the plan as politically motivated. "There were a whole variety of rules in 1A to entice voters to vote for it," Palo Alto City Rail Committee Chair Larry Klein said in an interview, citing the 2 hour, 40 minute trip time limit and its prohibition of state subsidies.
"This is a politically driven project," Grindley said. "It bears no reality to either transportation economics or to financial economics — only to get more votes and maintain control of California legislature."
"I just believe all the folks who are nitpicking things are lost in the forest for the trees," Rentschler said. "The real goal is to build a high speed rail between San Francisco and Los Angeles.
"Anyone that complains with that is just getting in the way of this modest change to the railroad," he added. "I'm not interested in engaging people who don't want change. The reality is the voters voted on this, and the reality is we're going to build this incrementally."
An environmental review of the electrification plan was launched last month.
Although Kishimoto agrees that there were "big problems" with ridership projections and initial planning of the high-speed rail project, says she remains optimistic, saying:  "I think things have improved tremendously in the last year."
"A vibrant knowledge economy takes for granted that we have an efficient and clean way of getting people from their homes to work," Kishimoto added. "It's important for the economy," she noted, "as well as the environment."  Electrification could reduce greenhouse gas emissions in the Bay Area, she explained, 40 percent of which come from the transportation sector, according to the Metropolitan Transportation Commission.
But Klein is skeptical about the environmental benefits of Caltrain electrification, arguing that the heavy construction necessary to build a high-speed rail line would itself produce a large amount of greenhouse gases.  Moreover, overestimated ridership could mean that people would only continue driving exhaust-producing cars.
Since 2008, Menlo Park and Atherton have repeatedly sued the California High Speed Rail Authority charging that its environmental impact report was inadequate. In end, the rail authority "keeps billing the people of California for this low quality work," Grindley said. In his ruling last month, Judge Kenny said that the high-speed rail authority had "reasonably and in good faith" revised its plans to meet all the legal concerns the Peninsula cities have raised over the years and no longer stood in violation of any California environmental laws.
Although Palo Alto hasn't taken any official position on Caltrain electrification, Klein cited concerns over whether installation of electrical lines would require that some trees be eliminated. Trees densely line several stretches of the Caltrain corridor.
Klein also said Palo Alto residents worry about the possibility of having to add grade crossings, or the intersection of multiple railways, to accommodate the increased number of trains that would run. Although the electrified train would run primarily on two tracks, some parts of the corridor would include a separate track for the existing diesel-run Caltrains.
Kishimoto agrees that an urban design that's sensitive to community needs is important.  Friends of Caltrain says it's working with the American Institute of Architects to come up with an urban design that doesn't divide communities or negatively impact the existing landscape.
"We don't want the train coming through to destroy communities but serving communities," she said.  Acknowledging that some are resistant to high-speed rail, she and the Friends of Caltrain continues trying to educate the public about the importance of Caltrain and how the upcoming rail corridor changes could affect  their neighborhoods.
"If you think of the future of the Bay Area, world class transit is going to become more and more important to the economy," she said.
"In the valley of change, Silicon Valley, there's a lot of folks who don't want to change and are scared of change and in some cases are highly resentful of change," Rentschler argued. "I'm willing to say that the changes Silicon Valley has brought to our lives have been pretty positive, and keeping railroad as it's been for 150 years, it's about time for change."
The high-speed rail authority plans to break ground in the Central Valley for the project's first segment as early as July.