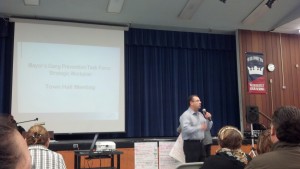 The police statistics told one story: Gang-related violent crimes in San Jose fell from 208 to 169 in the past year, including a nearly 50 percent drop in homicides.
Residents of the city's east side described another reality: Gang members selling drugs outside their children's schools, walls scarred by graffiti marking turf and even stories of gang recruitment of 11-year-olds.
Despite the reported 19 percent drop in violent crimes tied to gangs, the city is holding town hall meetings to listen to such community concerns. About 100 people turned out Monday night for the first of four meetings hosted by the Mayor's Gang Prevention Task Force. This one took place at Overfelt High School and was for citizens served by the Police Department's Foothill division.
Several of the eastern San Jose residents voiced concern about the use of marijuana, heroin and painkillers by youth, along with graffiti tagging and bullying in and out of schools. Personal security emerged as an overarching theme.
"Depending on which street you live on or where you come from, this doesn't feel like the safest place in the country," San Jose native Mario Maciel, superintendent of the task force, said to open the meeting. "It's a big task ahead of us, but we take it personally."
Some community members mentioned the possible connection between gangs and street prostitution. Others said they were worried about children being exposed to vape pens, also known as e-cigarettes, which can be doctored into marijuana pipes.
To combat the problems, the city's current budget allocates more than $3 million over two years to gang prevention, a significant increase from last year's funding level. Police attribute the drop in violent gang-related crimes to the department's Violent Crime Reduction Plan begun in June of this year.
At the meeting, participants were divided into small focus groups to help the task force develop its 2014-2016 strategic work plan. Esther G. Mota, who led one of the focus groups, said a number of the community concerns were not a surprise to her and other task force members.
Linda Lara, a grandmother and minister in a local church, was assigned to Mota's group. When asked if they felt safe, Lara and others in the focus group agreed that they did not, particularly in neighborhoods where the Latino gang presence is significant. Lara noted a rise in the influence of gangs from out of town, mentioning Oakland and East Palo Alto. Another parent commented that "it's carte blanche out there for trouble."
Lara believes families must bear a portion of the responsibility for youth involvement in gangs.
"The only reason why the gangs are getting them is because no one else is paying attention to them, and they feel accepted," Lara said. "If they feel accepted at home, they will not have to go outside the home to feel accepted."
The reigning Miss San Jose Latina, Kassandra Peña, attended the town hall meeting as a way to educate herself and lend her voice to the discussion.
"With the title that I have, through my blog, I've been able to raise awareness of what's going on on our streets," she said. "I think that if I'm educated, I'm able to get out in the community more and help people who need to be educated about the negative effects of gangs."
As perhaps the youngest member of Lara's group, she brought to the surface the impact social networks and other forms of media can have on influencing youth violence.
"I think kids who [besides media] aren't really exposed to the danger, or have just a little sense of idea of what's going on, they don't think that the consequence is that serious," Peña said. "They need to really know that this is not a game. Gangs, when you enter, it's either really hard to get out or you get out because of death."
Many participants agreed the problem needs to be tackled by a variety of partners, including the government and community organizations, and in the home.
"Get involved with your kids," Lara said she tells parents. "Love your kids. Let them know that there is a future and their future is for success. They all have a call. They all have a purpose."
Three more town hall meetings are scheduled in the coming weeks, each featuring a different division of the San Jose Police Department. According to Maciel, participant responses will be compiled into a plan the task force will present to the City Council in the spring.