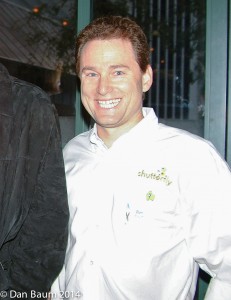 Silicon Valley is known as the nation's startup capital, where students are creating the next Facebook in their dorm rooms and budding entrepreneurs sleep under their office desks and commit to a diet of only Ramen noodles.
The rise of Redwood City-based Shutterfly, however, was quite different.
Dan Baum is one of the co-founders. As an engineer for Silicon Graphics, Inc., a digital imaging and 3D graphics company, he "got the startup fever" in the late 1990s. With the advent of digital cameras, Baum started to think about next steps and how the technology could develop.
"I knew what was going to happen with that technology and how fast that transition was going to occur," he said, based on his engineering and computer science background. He holds a master of science from Cornell University in computer science and 3D computer graphics and a bachelor's from Dartmouth College in engineering. "I was like, 'Gee, there needs to be some form of infrastructure that allows people to get prints from their digital camera.' People didn't just want to see their images on a computer monitor."
Returning to Silicon Graphics in 1999 after a sabbatical, he resigned the following week to devote his time and energy to what would be Shutterfly.
Along with Eva Manolis, who also worked at Silicon Graphics, he initially worked out of the guest bedroom of his San Mateo Drive home in Menlo Park. Having "raised money fairly quickly" by June 1999, Baum and his team were invited to use an office space rented by one of the company's initial investors, Jim Clark of Netscape fame.
"He said, 'Look, just move in here for a while,'" Baum remembered. Three months later, the company moved to a larger facility in Redwood Shores.
This "second floor above the strip mall at [the corner of] Roble and El Camino," about a mile away from Baum's then-home, is featured in Dell's recent advertising campaign touting successful companies that started up in "garages."
Shutterfly launched in December 1999 after initially being named Shortco, Inc., then Digital Finish, Inc.
Baum remembers the start of Shutterfly as a fiercely competitive time.
"[The company] was a good idea, but with any good idea, there are other people who think of the idea as well," he said. "It's like running scared; you're always looking over your shoulder."
To keep an eye on the competition — as companies like Snapfish, PhotoAccess.com and Ofoto were founded around the same time — Baum said he would stage stakeouts.
"We found out where this other company's offices were and I camped out to measure how many boxes they were shipping [compared to us]," he said.
A couple "incremental features" and products, Baum said, was the thing that made Shutterfly different.
"We did things that you couldn't really do with film-based photo finishing," he said. "We made it very easy to order prints and have them shipped to friends and family, a single order, multiple recipient distribution."
Customers could also use image enhancements and create photo books and customized greeting cards.
Heralded as one of few companies to survive the Internet bust, Baum credited the company's endurance to ongoing investment, when other companies had no money, and an ability to "hunker down and cut expenses."
Clark and Mohr Davidow Ventures provided $13 million to Shutterfly in its first round of fundraising, according to a CNET interview with George Zachary, a partner at Mohr Davidow, in October 1999. The second round, which ended in February 2000, raised $25 million with investments from Adobe Ventures and Tom Jermoluk, as well as Clark and Mohr Davidow once more.
Baum also cited Shutterfly's acceptance of a slow-growth strategy during the bust as a strong foundation that enabled the company to become more aggressive in its present day growth.
He recalled at one time being approached by Kodak, which wanted to buy the company for an amount Baum did not reveal. Kodak acquired one of Shutterfly's competitors, Ofoto, in 2001 for an undisclosed amount. Years later, in 2012, Shutterfly acquired Kodak Gallery, and the remnants of Ofoto, for $23.8 million.
Baum retired over three years ago after leaving Shutterfly in 2002 and serving as Vice President of New Business Initiatives for Adobe Systems. He now spends his time volunteering and mentoring, mostly at Cal Poly San Luis Obispo. His co-founder Eva Manolis now serves as vice president of consumer shopping experience at Amazon.
When advising budding entrepreneurs, he suggests "focus" and "knowing oneself."
The key he said: "Don't let yourself get too distracted," noting that too many startups fail because they try to do everything. "Do your research and try to flesh out what's going to be the mainstream business."
Secondly, he said, "You've got to ask yourself if you have the personality to stick it out. Times are not always going to be good."