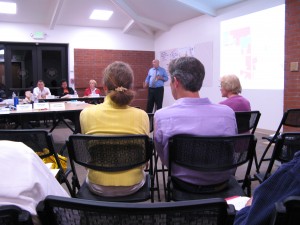 Menlo Park officials are working to identify a neighborhood site for a new homeless shelter, aware that their choice may be unpopular — at least at first.
Though plans call for building a small shelter, with 16 beds, the idea has encountered opposition from some residents, particularly those who live near schools and public parks. "Neighbors are always concerned about the unknown effects of a potential shelter," Mayor Peter Ohtaki said, adding that an existing facility on the city's east side near Highway 101 has been a "very good neighbor."
California law requires Menlo Park, like all cities, to make periodic updates to a planning document known as its Housing Element, including provisions to house the homeless. Menlo Park was slow to do so over the past decades, however, and three housing advocacy groups sued the city.
The Housing Element update covering 2014 to 2022 will include "additional provisions looking at [an] emergency homeless shelter and transitional housing," Ohtaki said.
Five general locations are being considered. Community members had a chance to indicate their preference at a recent workshop, where 100 votes were registered — they could vote for more than one location. The leader, identified merely as Area A, is an industrial part of eastern Menlo Park near Marsh Road and Highway 101. Compared with the four other sites, it's farthest from parks and schools, but also the least accessible to public transportation.
Area B, which received the second-most votes, is close to the U.S. Department of Veterans Affairs office on Willow Road, where emergency and transitional housing for the homeless exists already. The site is close to Willow Oaks School and Willow Oaks Park. "We have enough homeless right now. This area is kind of congested," Bill Wimberly, a business owner in the area, said in an interview.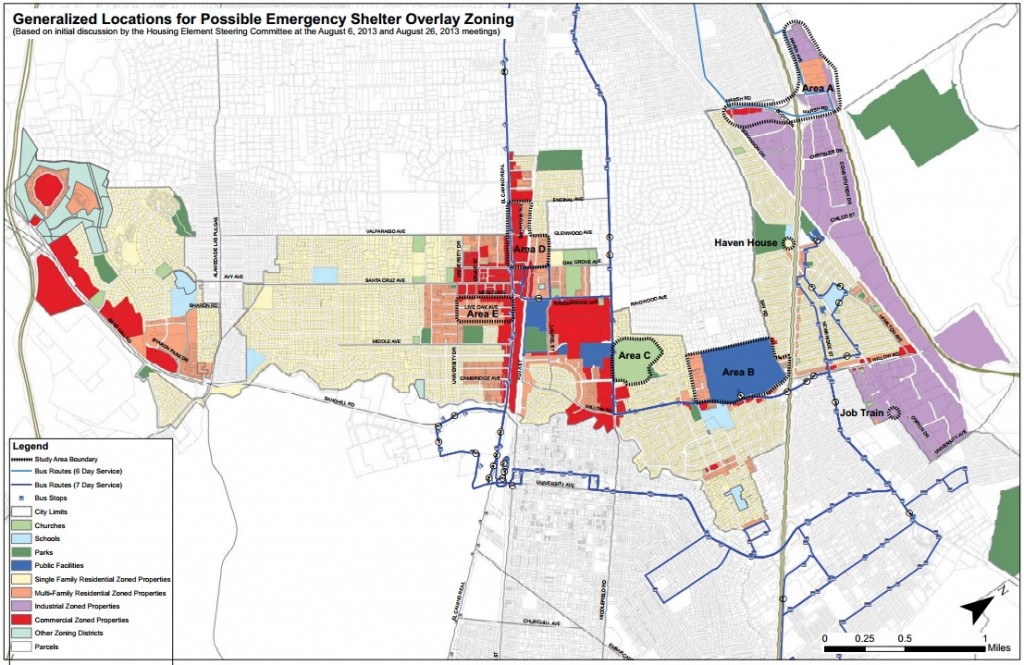 The other sites — Areas C, D and E — each received three votes or less at the community workshop, but the committee overseeing site selection did not rule them out. The city's Housing and Planning commissions are expected to consider the best place for the shelter next month, with the City Council scheduled to take up the issue on Dec. 17.
Area C includes Saint Patrick's Seminary & University and is a block from Menlo-Atherton High School. And Areas D and E are in the vicinity of El Camino Real near downtown Menlo Park. They also are near the Church of Nativity, Fremont Park and Burgess Park.
"I feel the need to help people [who] don't have homes … but my concern is to have them around neighborhoods where children are playing, often unsupervised, especially around Burgess Park," said a resident who spoke at an Oct. 21 meeting, explaining that she lives near the park.
Another resident, Eric Altman, from the Willows neighborhood, said he wonders if Menlo Park's high real estate prices — the median value of an owner-occupied house in the city is $1 million, according to the U.S. Census — would make it impossible to build a shelter around downtown. "I don't believe there's a problem with zoning an area in downtown, which does have a connection to public transportation," he said. "That could be a positive place. But the reality is, in an area like that, the propriety values are such that would make it impossible for someone to came in and pay over $ 1 million to put a shelter."
A count of San Mateo County's homeless on a late-January night this year found 158 people in Menlo Park (amounting to 0.45 percent of the city population), according to a report prepared by the San Mateo County Human Services Agency, Center on Homelessness. The count indicated a countywide homeless population of 2,281 people.
The report indicated that the typical unsheltered homeless person in the county is "a single man with at least one disability." Of those surveyed, the most commonly cited disabilities were "alcohol or drug problems (72 percent), physical disability (52 percent), chronic health problems (47 percent), and mental illness (37 percent)."
About 11 percent of the unsheltered were veterans, "having served in the U.S. Armed Forces and/or in the National Guard or as Reservists."
While problems with alcohol, drugs and mental illness may raise fear in neighborhoods, homeless advocates say that shelters can have a positive effect. "In my experience, I don't see negative effects on the neighborhood. Some of the ones that exist now were built in industrial areas, and there were already lots of problems in those areas," said Nicholas Kimura, from the Coalition on Homeless.