[youtube]cYTl5q5FfSc[/youtube]
Because of San Francisco's nationwide reputation as a political and social hub for the lesbian, gay, bisexual and transgender rights movement, many people assume that a similar environment exists in the suburban communities surrounding the city. LGBT residents of the Peninsula, however, describe a less utopian experience, one that has them feeling isolated at times.
Santa Clara County Supervisor Ken Yeager, the first openly gay elected official in the county, is leading the charge to shine light on such issues through an LGBT assessment done by the Public Health Department. "I very much want to have programs here … so no resident has to go to another county, unless they want to, for services," he said.
More LGBT people live on the Peninsula than in San Francisco, though they comprise a much smaller percentage of the population, according to California Health Interview Survey data. Preliminary results of Santa Clara County's assessment — drawn from an adult and youth survey, community conversations and interviews with LGBT leaders — were released at a community forum in San Jose recently, identifying 12 priority areas.
Improving community cohesion is one of the priorities. In their anonymous survey responses, many people cited a lack of LGBT social spaces and events, pointing out that the Billy DeFrank Center is the only LGBT community center in Santa Clara and San Mateo counties.
"There is no beacon or place that people go," one respondent said. "People try to go to DeFrank, but it doesn't really serve its purpose."
Claudia Wack, a 22-year-old Los Altos native now living in San Jose, believes the limited social options could be propelling young adults to gravitate toward San Francisco. That, in turn, makes life on the Peninsula feel even more isolated, she said. Since returning to Santa Clara County from college, Wack has noticed a void that has negatively impacted her experience.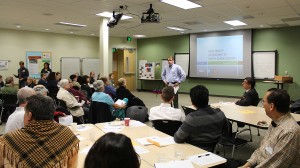 "One of my greatest frustrations is now that I'm out … and I want to date and make LGBT friends, it's like: did everyone leave and go to San Francisco? Because I can't find anyone," she said in an interview with the Peninsula Press. "San Francisco is alluring, yet it also has this draining effect, where it diminishes the LGBT communities that are just out of that stone's throw range."

Clara Brock and Arlene Rusche have been a couple living on the Peninsula for nearly 23 years. They, too, notice issues with LGBT community cohesion, particularly a shortage of gathering spaces for lesbian women. "I think maybe the gay men have more of a chance and have more things," said Rusche, who married Brock in August. "There are men's groups and men's happenings. There are very few happenings for … lesbian women."
Rick Kaplowitz is secretary of the DeFrank Center's board of directors. The center, a nonprofit funded by a variety of sources including the city of San Jose, Santa Clara County and private donors, aims to foster cohesion among the LGBT community. But its financial resources are so limited that the center cannot hire full-time staff, Kaplowitz said.
"Whatever we do at the center, we do with volunteers, most of whom have lives and jobs and other things," he said. "It would be nice to have on-site management. It would be nice to have four or five specific skills that would let us serve much better as a community center [with] professionally trained people."
Rusche and Wack would like to see coffee shops, bookstores and other communal spaces for LGBT people across the Peninsula. Participants in the assessment suggested the use of media to promote LGBT success stories, the creation of a speakers' bureau, and holding community conversations on white male privilege and discrimination within the LGBT community.
Residents are also concerned about whether local physicians are knowledgeable about the LGBT experience. Though 65 percent of all respondents said they have disclosed their sexual identification to their health care provider, some have noticed that their doctors are not as aware of the latest health concerns of LGBT people as perhaps they should be. 

Tobacco use is seen as another priority area. Preliminary results show the LGBT community smokes at more than double the rate of Santa Clara County's overall population. "That we're smoking at the rates we are is because of homophobia," said Brian Davis, the California Tobacco Control Program Coordinator at the Tri-City Health Center, a health care and social services provider in Fremont. The program is a state grant-funded initiative aimed at improving the health of citizens related to tobacco consumption.
"It's because of the extra stress that we face," Davis added. "It's the same reason we take more drugs, the same reason we kill ourselves more often."
Davis has conducted research that causes him to believe tobacco companies are targeting LGBT and other youth in San Jose by offering vastly discounted products outside of nightclubs. He said these companies have made more than 250 visits to area nightclubs, 25 percent of which have been to at least one gay bar. Now he is active in an effort to stop such activities through the enactment of laws.

Phillip Morris USA and R.J. Reynolds Tobacco Company, though not identified by Davis, are two companies that have been vocal in California against legislation aiming to tax or limit tobacco companies. Both companies emphasize they take necessary precautions to ensure that all direct consumers are of legal age and that their advertisements, if any, do not appeal to audiences under 21.
Homelessness and housing, acts of violence against LGBT persons and obesity are other priority areas highlighted in the health assessment — along with transgender discrimination and acceptance, access to social services, and mental health and substance abuse. Final results are expected to be released by the end of this month.
Though Yeager's term as president of the Board of Supervisors is ending, he plans to continue advocating for LGBT services and spaces in the county. He is in the process of implementing a program to give free HIV home test kits to high risk individuals or people who have never been tested. The county also recently reopened its HIV/STD clinic at the Crane Center in San Jose.
"There's a commitment on the county to do the right thing," Yeager said, "and certainly with my continuing to push these issues, I want to see issues getting solved."
Listen to reporter Tre'vell Anderson explain the story behind the story on KZSU Stanford's "Peninsula Report" radio show with host Eliza Ridgeway:
[soundcloud url="https://api.soundcloud.com/tracks/124671359″ params="color=ff0000&auto_play=false&show_artwork=true" width="100%" height="166″ iframe="true" /]