[youtube]hEKk57ayMmA[/youtube]
The smoke and smells of barbecue waft through the parking lot at Candlestick Park, where Fred Santillan has secured his coveted tailgating spot right in front of the stadium. He and his wife, Lisa, arrived five hours before kickoff for a mid-November matchup against the Carolina Panthers. They've been going to San Francisco 49ers games as long as they can remember, and the experience is always about more than the football.
"It's good food, it's good friends, it's family, relatives and neighbors, and we've actually built a pretty solid community," said Santillan, co-founder of the Santa Clara Gold Rushers 49ers Boosters Club. "We've been in this spot for a very long time. We've gone to each other's weddings, attended funerals, birthdays and celebrations and vacationed together."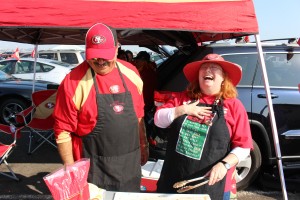 On Dec. 23, a Monday night, the 49ers will play their final regular-season game at rundown Candlestick Park, the team's wind tunnel of a field since 1971. The countdown has begun for the August debut of Levi's Stadium, a $1.2 billion, technology tricked-out football palace in the final stages of construction. The new stadium in Santa Clara is close to where Fred and Lisa Santillan live. But like countless others who grew up with, or grew to love, tailgating at "The Stick," they are anxious about the future of their pre-game ritual.
"It's still up in the air as to where our tailgating will be," said Gold Rushers Club member Carla Sosa, a 49ers season-ticket holder since 1995 who drives five hours from Santa Barbara to attend every home game. "That's our main thing the past 10 years, our tailgating family."
Plans call for Levi's Stadium to provide 25,000 parking spaces, or 7,000 more than at Candlestick Park. Not all of these spaces will be ready in time for the stadium's opening, though. More significantly, the majority of the parking will be inside a five-tier concrete structure on Tasman Drive, which raises the question: How many fans are psyched to tailgate in a garage?
Team and city officials are seeking an arrangement with the Santa Clara Golf and Country Club, located next to the stadium, so that tailgaters would have a fresh-air venue for their grills, tents and Winnebagos. No deal has been struck, but the parties are hopeful something can be worked out this month or in January.
Additional parking spaces will be available to 49ers fans at the Santa Clara Convention Center, the Santa Clara Youth Soccer Club and California's Great America Theme Park.
The worries of tailgaters are part of an overall transportation angst hovering around Levi's Stadium. Planners estimate that 18,000 cars will be driven to the stadium each time the 49ers play, a traffic increase that's likely to test the patience of Highway 101 motorists on game days. "For this first year, we are not looking at any weeknight NFL events," said Ruth Shikada, the city of Santa Clara's economic development officer. "We're going to hit some bumps along the way. I think we all recognize that. But we're going to plan as best as we can to deal with those."
An estimated 27 percent of fans will get to games by means other than a car, according to officials, and the Santa Clara Valley Transportation Authority (VTA) and Caltrain are working together to ensure the best possible experience for them. The problem is that some planned rail improvements will not be ready for the start of the 2014 football season.
Meanwhile, BART's extension of service to San Jose, linking to the light rail system, will not come to fruition until 2017 at the earliest.
In 2010, the VTA board adopted a Light Rail Improvement Plan that prioritized four capital projects to speed up light rail and make the service more reliable. Two of these projects are seen as huge benefits for Levi's Stadium. One goes by the nifty name "Santa Clara Pocket Track and Double Cross Over," while the other is called the "Mountain View Double Track."
Sarah Syed, senior transportation planner and project manager for the Light Rail Efficiency Project, explained that "currently we have a single-track segment where it takes over 10 minutes to transfer it, so no trains can leave Mountain View during the time a train is on that single-track segment. Closing that gap will really go a long way to allowing us to have more frequent service and more reliable service here."
The Santa Clara Pocket Track and Double Cross Over is scheduled to be completed by August, but the Mountain View Double track will not be finished until well into 2015.
"It will be challenging for us to operate the service frequencies we need in the interim," Syed said. "In the Mountain View project we're adding a second track there because of the future operating plan with BART. We are accelerating that project by a year, so we will have it done in time for the Super Bowl." Levi's Stadium will host the NFL's Super Bowl in 2016.
The number of light rail trains is going to have to be increased significantly, as the VTA anticipates about 10,000 riders for game days at Levi's Stadium. On a normal Sunday, the entire light rail system serves about 17,000.
Twenty light-rail trains are run out of the Great America Station on a typical Sunday, and now 80 are going to be needed on game days, officials said.
Befitting its Silicon Valley location, Levi's Stadium will sport state-of-the-art technology, and the VTA is going high-tech as well, according to spokesperson Brandi Childress. The VTA and the 49ers have teamed up to develop apps and YouTube videos to give fans a "snapshot" of what game day will look like from a transportation standpoint, she said, adding, "What we're trying to do with our system is going to be unique to the landscape of the NFL."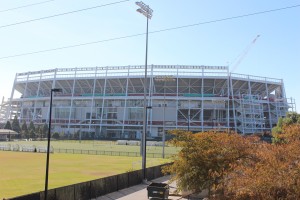 The goal is to create such a positive experience that more fans will choose mass transit over driving to 49ers games. "We'll see fans who want to do the tailgating, who want to drive to the stadium, and they may very well soon learn what that looks like … for them," Childress said. "Is it worth the sixty dollars and fighting the congestion? So you might see the behavior changing."
Santa Clara City Council member Teresa O'Neill is concerned about all of the parking and transportation issues getting resolved for the start of next season, but she is optimistic about the future. "Part of the reason why I supported this project was the belief that [the potential] for the stadium to be served by mass transit was unparalleled in the Bay Area. So I'm hoping that everybody will take Caltrain, VTA and Light Rail," she said.
O'Neill added, "Any time you open up a billion-dollar structure and you bring in 68,000 people in an area, there will be some glitches."
Listen to reporter Stephanie L. Wetmore explain the story behind the story on KZSU Stanford's "Peninsula Report" radio show with host Eliza Ridgeway:
[soundcloud url="https://api.soundcloud.com/tracks/134058515″ params="auto_play=false&hide_related=false&visual=true" width="100%" height="100″ iframe="false" /]