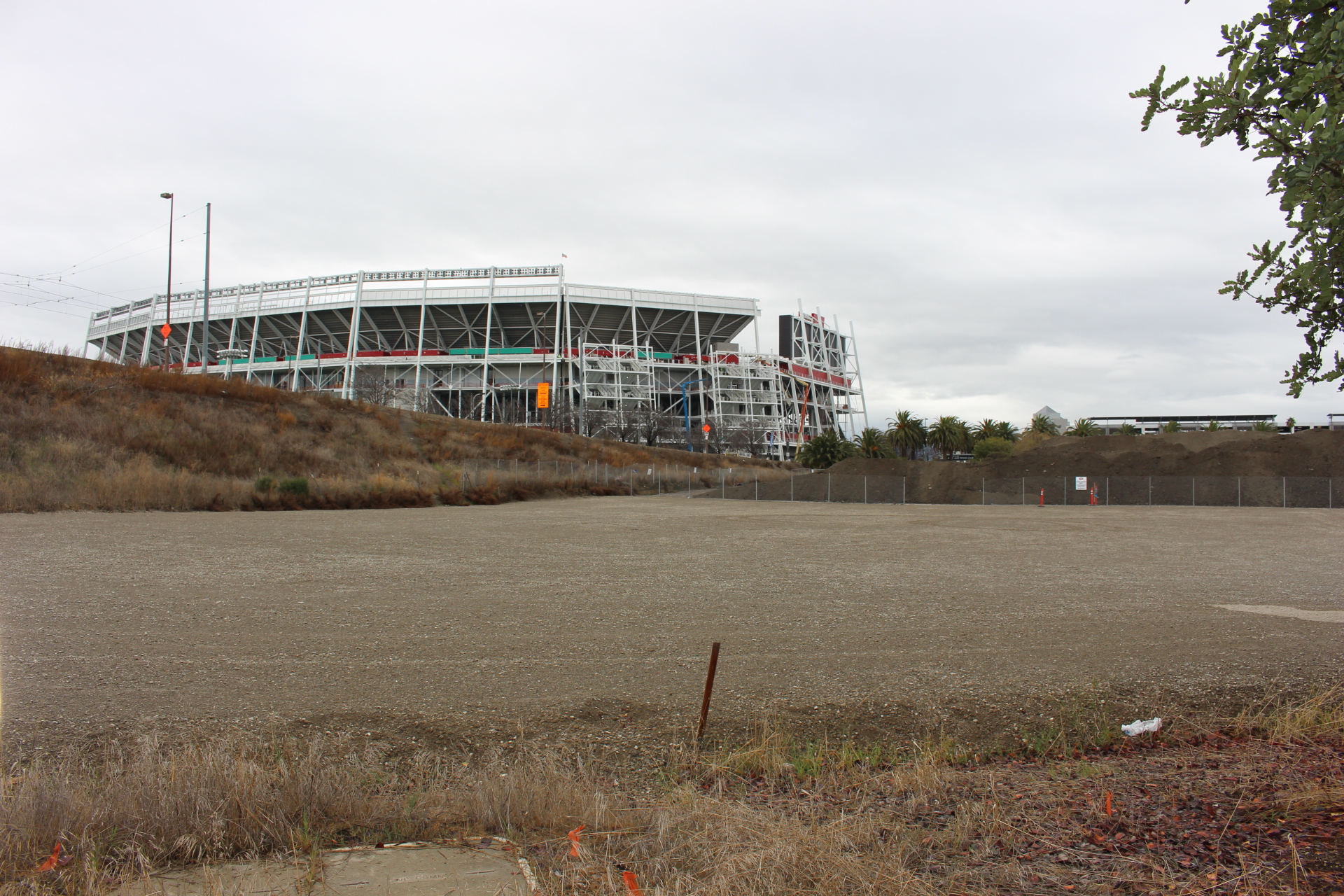 With many bureaucratic hurdles still holding up construction, two major hotel complexes that Santa Clara was hoping to be ready by Super Bowl 2016 likely won't be completed by the time Levi's Stadium hosts the big game, councilmembers and developers acknowledged — meaning the city will lose out on millions of dollars in much-needed revenue.
A hotel-shopping complex proposed by the Montana/Lowe Property Group is still in negotiations over the cost of the land lease and still has to clear other hurdles like passing an environmental review. And Related California's proposal to build a hotel-office complex is stalled primarily because of environmental concerns. The project is slated to be built on a landfill.
Through 2019, the city expects to be operating in a budget deficit. But because of the Super Bowl, Santa Clara has the opportunity to generate major revenue from the revitalization of an area that hasn't been tended to in decades.
"These are critical projects not only for us as a city and identity, but also to bring in the needed revenues to ensure that we continue the quality of life that everyone demands and expects," Santa Clara Mayor Jamie Matthews said in an interview.
The delays are frustrating some local officials who acknowledge that Santa Clara needs more hotels. "I don't want people who are coming to the stadium for an event to look towards another city," Councilwoman Patricia Mahan said at a recent council meeting. "I can't imagine anyone coming to town for some major event who wouldn't want to stay right across from the stadium."
Other cities who have hosted the Super Bowl reaped the financial benefits. In 2012, Super Bowl XLVI brought in $27 million to Indianapolis purely in entertainment spending, according to research company Rockport Analytics.
Officials estimate the $400 million, two-hotel complex proposed by the property group led by 49ers legend Joe Montana would earn the city $3.5 million in tax revenue — more than half coming from hotel occupancy taxes — and create 600 jobs.
City Councilwoman Teresa O'Neill said the potential economic benefit of the Montana Group deal would not be enough to fast track the project. "Joe Montana has star power," she said. "But he has to present the right business deal. We are not going to be entering into any kind of deal that's not good for the city."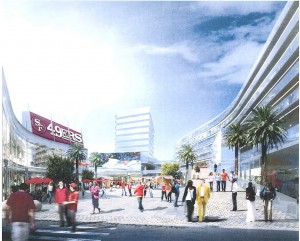 The other development group that is working out terms with the city, Related California, could be even more lucrative. The development company has proposed a $4 billion project that includes a 200-room hotel with office space, restaurants and retail stores. Matthews estimates this project will generate 12,400 jobs and about $11.2 million dollars annually in taxes.
Matthews said this development wouldn't be ready by the Super Bowl. "When the next (Super Bowl) rolls around, we'll be able to capture more of the dollars within our city."
Currently, there are only two major hotels within a mile of Levi's Stadium – a Hilton and a Hyatt with 280 and 500 rooms respectively.
Jon Gray, vice-president of Research & Insight at Rockport Analytics, said if there are no hotels in the surrounding area, "a lot of tourism expenditures will flow into San Jose and out of the county to San Francisco and San Mateo."
The Montana/Lowe Group is hopeful a deal can be reached and for construction to start soon.
"We have the ability to create a new downtown for Santa Clara, one that is vibrant, dynamic and full of the same energy and innovation that helps define Silicon Valley," said Jann Diehl, a spokesperson from Lowe Enterprises. She said she hopes the project will have all its final approvals by November 2014.
Both of these projects are critical to Santa Clara's future.
Unlike other towns that dot the Peninsula between San Francisco and San Jose, Santa Clara lacks a downtown. The city, sandwiched between Route 237 and Highway 280, is more characterized by modern sprawl.
In the 1960s, Santa Clara planned to redevelop what little downtown there was but financial troubles stalled the effort. Residents are hoping that construction around the stadium could be the start of a new Santa Clara.
"We lost our downtown, our sense of identity and our opportunity over time to recreate and reclaim that for the citizens," said Matthews.
Fred Santillan, a resident of Santa Clara for over 50 years, described his hometown as being empty and deserted on weekends with restaurants frequently closed but acknowledges that the future is bright.
"I am very happy with the changes coming to this area. I have heard more people talking about the city of Santa Clara now than ever before," he said.