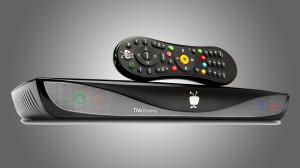 Shares of TiVo Inc., the San Jose-based maker of iconic DVR technology, sank more than 2 percent Thursday and is lagging still Friday on a report that the company was planning to wind down its hardware business.
The news was first reported late Wednesday by Wired. The report said five industrial designers had been laid off, reducing TiVo's hardware division to almost nil.
TiVo, however, is refuting the story, and denies it is exiting the hardware business.
"We don't confirm, deny or acknowledge staffing moves," Steve Wymer, the company's vice president of public relations and corporate communications, said in a statement. "We shift around our engineering department all the time. All I can say is, it is not true that we've dumped our hardware division."
"We are fully capable of delivering on our current and future hardware plans, whatever is in the roadmap," Wymer added.
TiVo currently employs around 900 people, most of whom are based in the company's Silicon Valley offices. About 80 percent of employees are staffed on the engineering or technical side of the business, with very few engineers remaining in the same area for long, Wymer said.
At the same time, TiVo hasn't made a secret of the fact that it's refocusing its efforts on cloud-based digital video solutions, as it faces increasing competition in the digital video and set-top box market. That includes companies like satellite-TV providers, Apple, Google and even smaller players like Roku.
Wymer reaffirmed that TiVo has been increasing resources and exploring opportunities in cloud-based solutions.
In November, TiVo reported upbeat third-quarter earnings, beating analysts' estimates, due in part to a 32 percent year-over-year increase in subscribers. The company said it had its best-ever quarter for new subscribers through cable partners, bringing its total subscriber base to a total of approximately 3.9 million.
Revenues hit $117.3 million, against estimates of $81.35 million. Its net income of $12.5 million exceeded guidance. Patent litigation settlements have also bode well for the company in the short-term.
TiVo late last year also introduced its newest consumer-facing DVR box, the Roamio, which included cloud-based apps for mobile devices and has received mostly positive reviews.
But the company's research and development spend has been down, pleasing some investors in the short-term but also calling into question the company's commitment to innovation in an increasingly crowded market.
In its Q3 earnings report the company said it expected to spend $5 million less in R&D in the second half of fiscal 2013 than it did in the first half, with R&D to be even further reduced in the fourth quarter.
TiVo says it is reducing its R&D spend now that it has built the infrastructure needed to secure more deals with cable operators, both domestic and international, and can now bring those deals to scale by boosting its subscriber base and revenues. Last year, it secured Virgin Media, RCN and Grande Communications as new cable partners.
The company's fiscal year ends January 31. Fourth-quarter earnings are expected at the end of February.