Zynga, Inc., (NASDAQ: ZNGA) the San Francisco-based social game developer, surprised Wall Street Thursday by posting its fourth quarter earnings a week ahead of its Feb. 6 scheduled earnings announcement, in order to coincide with its recent acquisition of NaturalMotion, Inc. on Jan. 29.
Zynga fared better than expected thanks to its increased presence on mobile and new advertising deals.
Thursday's announcement came at 6 p.m. after the close of markets. The company's stock price had opened at $3.53 but rose 4 percent as news of the earnings and NaturalMotion acquisition spread. At the 4 p.m. close of trading, the stock price was up to $3.56 and continued to rise 20 percent to $4.25 in after hours trading on the Nasdaq Stock Market.
That trend continued into Friday with Zynga's stock price opening at $4.20, rising 4.8 percent with a close at $4.40, according to Yahoo Finance.
The company reported a fourth quarter net loss of $25.2 million, or a loss of 3 cents per (diluted) share compared to its $48.5 million net loss from the fourth quarter of 2012.
Excluding charges for the $527 million acquisition of NaturalMotion, the company reported net losses of $20.8 million, or 3 cents per share, compared to a $6.9 million profit for the fourth quarter of 2012, or 1 cent per share.
Analysts had expected a loss of 4 cents per share.
Zynga reported revenue for the quarter of $176 million, down 13 percent from third quarter, and a decrease of 43 percent from $311 million reported for the fourth quarter of 2012.
For the 2012 year, the company reported net losses of about $37 million, or 5 cents per share, compared to 2012 losses of $209.5 or 28 cents per share. Excluding charges, the company reported a year-end loss of $34 million, or 4 cents per share, compared to $58.2 million or 7 cents for 2012. In terms of revenue for the year, Zynga brought in $872.3 million, a decrease of 32 percent from the $1.3 billion reported for the same period in 2012.
Despite improved revenues, Zynga still reported significant decreases in daily and monthly active users. DAUs were reported at 27 million for this current fourth quarter, compared to 56 million in Q4 of 2012. MAUs were reported at 112 million, compared to 298 million in the fourth quarter of 2012.
Analysts had projected that Zynga would come in well below its projected revenues of $175 million to $185 million. Much of that had to do with company's reliance on the selling of virtual goods and its failure to produce compelling new content.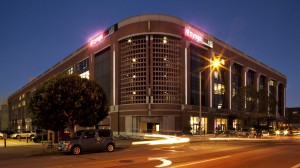 Arvind Bhatia, a senior analyst at financial brokerage Sterne Agee, has been vocal in his concern about Zynga's high numbers since the company's IPO in 2011.
"We continue to believe consensus estimates for 4Q and 2014 are too high," said Bhatia in a press release. "However, with the recent pullback in the stock, we think this risk is largely priced in."
On Thursday, however, the bigger news circulating about the gaming giant was not the company's earnings numbers but its acquisition of the privately held mobile game and tech developer, NaturalMotion–for $39.8 million in cash and 39.8 million Zynga shares prices at the $3.42 Jan. 29 close.
The acquisition of the London-based mobile gaming developer seems to reflect Zynga's need to innovate and produce more content to increase the number of DAUs and MAUs.
But will it work?
NaturalMotion's portfolio consists of a number of hit mobile games such as CSR Racing and Clumsy Ninja. The thinking is that this will allow Zynga to capitalize on the strives the company made on mobile platforms.
This acquisition will also expand the company's creative departments into new consumer categories: Racing and People Simulation. Creating such content might attract and retain a larger number of users.
In addition to new creative content and mobile growth and development, NaturalMotion's technology will allow Zynga to grow.
Zynga has also been making strides to reduce costs. The company announced a cost reduction plan which includes a work force reduction of about 314 employees or about 15 percent of the company at a cost estimated between $15 million and $17 million.
Zynga CEO Don Mattrick said in a statement: "Over the last 7 months, our teams have been working with a sense of urgency. We finished 2013 in a strong position and expected 2014 to be growth year. We believe that Q1 will be a solid foundation for that growth and we expect substantial improvements for the remainder of the year."
Mattrick went on to say that he thought the Q1 would be the "bottom of the year" and that Zynga would see sequential growth from that quarter onward.
Looking ahead, the company said first quarter revenues would fall between $138 million and $148 million. Analysts expected $146 million, according to consensus estimates.