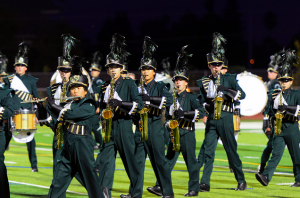 A parade of percussionists rolled xylophones and marimbas to the edge of Cupertino High School's football field, where the top marching bands in Northern California battle each October to win the coveted Grand Sweepstakes.
Cupertino's district rival, Homestead High, was up next. Freshman bell player Wyatt Eng said he didn't feel jitters, though this would be his first official performance with the Mustangs band, a four-time Sweepstakes champion. "We're playing in the Macy's Thanksgiving Day Parade," he said. "That makes me nervous."
The 41st annual Cupertino Tournament of Bands, held on Oct. 8, turned the host field into the musical equivalent of "Thunderdome." Thirty-one bands, divided by size from Class A to AAAAA, competed in events showcasing every element of the marching band experience; the categories ranged from drum majors to instrumental groups. More than 4,000 spectators watched from the bleachers.
"It's the longest running tournament of its kind in Northern California," said Gilbert Iruegas, the Cupertino High band director. "The bands like to come because of the location, the great volunteers and the perfect time of year—before the rainy season."
This year, there was something new amid all the tradition—the playing field itself.  For the first time in years, Cupertino didn't have to worry about competitors stumbling over turf divets. "Smooth fields are important for us to perform. We don't want to slip while we're trying to catch (a saber)," said Rick Cantreras, coach of Mountain View High School's color guard.
"It is long over due," said Superintendent Polly Bove of the Fremont Union School District. "Some of the fields haven't been revamped in 40 years, and they haven't been easy to play on."
Field, track and stadium renovations are nearing completion at Fremont Union's five district high schools: Cupertino, Fremont, Homestead, Lynbrook and Monta Vista. The work represents a $70 million slice of the district's $232 million capital improvement project. The addition or renovation of science and technology classrooms and dining facilities are planned for 2014.
The project is funded in large part by Measure B, a $198 million district bond that passed with 67 percent voter approval in 2008 — at the early stages of the national economic downturn. Bond measures for school construction have had a good track record of success in California, independent of the economy's ups and downs, according to Rick Pratt, assistant executive director of the state School Boards Association.
"People support their public schools and are willing to sacrifice and pay a little more in taxes, to help them out … even in tougher economic times," Pratt said.
The Fremont district must raise an additional $34 million, some of which will likely come from the state, district officials said. Since January 2009, California has changed its funding of school building projects to rely only on "cash on-hand through state bonds, as opposed to borrowing from the state's generalized fund," said Rebecca Kirk, spokeswoman for the state's Office of Public School Construction.
Green lighting of projects statewide continues "under an accelerated model that prioritizes funding for projects that are ready to move forward quickly," Kirk said. More than $1.95 billion has been set aside for 564 school construction projects since August 2010, she said.
Energy savings are important to Fremont Union district officials, both for funding the project's budget gap and for cutting costs overall. By using artificial turf on the fields, the district estimates it will save $250,000 a year on the annual water bill.
Coupled with the projected annual energy savings from solar panel installations, completed earlier this year, the district foresees savings of more than $3.5 million a year through 2017 and beyond.
The construction project has met some community opposition. A citizens group calling itself Lynbrook-Monta Vista United filed a lawsuit against the district and its board of trustees, concerned about the impact of the field lights in the neighborhoods surrounding Lynbrook and Monta Vista high schools.
"Change is hard. We have done research in communities that have changed to lighted fields, and after a year they are very happy, because it becomes a community resource," Bove said. "The lights will only be used for six games a year, with an absolute shut off time of 11 p.m."
With all the competitors now on an "even" playing field, so to speak, only one would win this year's Grand Sweepstakes, and it was Homestead's turn to perform.
As the band took the field, saxophones gleamed under the new lights.  Woodwinds and brass marched in glide step formation as the drum major beat time.  Twenty-eight mallets hit their intended keys in perfect time as Eng and the pit percussion ensemble performed in a synchronicity of sound.
Band members from Mountain View High School began to line up, while the color guard worked on its routine, one last time. Girls with bird's nest up-dos, wearing crimson and silver costumes, threw rifles, sabers and flags into the air.
"We're going for a modern kind of Mrs. Lovett look," said Diane Corbett, manager of Mountain View's color guard, referring to the "Sweeney Todd" character from the Stephen Sondheim musical.  "The red symbolizes bloodshed and these…." gesturing to a rifle-sized prop, "…open up into giant straight razors," she said, giggling nervously.
About 9:30 p.m. Saratoga High School wrapped up its performance and closed the competition. While towering trophies of various heights were brought to the awards table at the 50-yard line, band members, wearing jackets emblazoned with their school colors, filled the bleachers and sidelines.
They waited for the judges' decision. "This part of the competition requires math," the public-address announcer said. One band director said in retort, "They must be using an abacus instead of an Apple."
Finally, the judges marched to the trophy table, thick envelopes in their hands.  As the announcer called the winners, each school cheered, whether for third or first place. "Kids learn incredible lessons on the field—wins and losses, leadership, collaboration," Bove said.
Homestead took the Grand Sweepstakes prize, again.