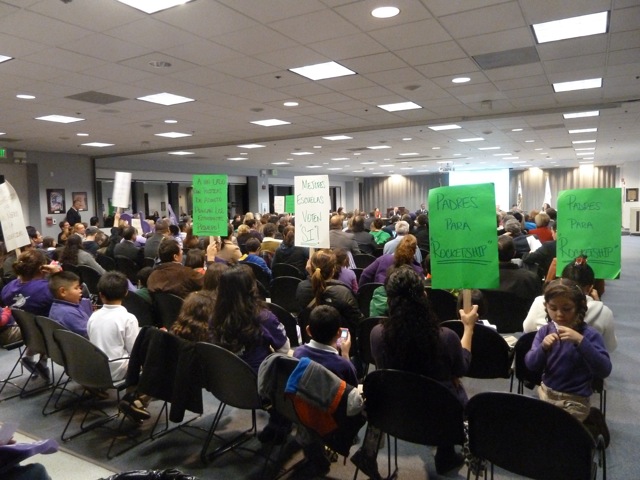 A Palo Alto-based charter school network recognized for its innovative teaching of low-income students won approval late tonight to open 20 additional K-5 schools in the San Jose area within five years.
Culminating a seven-hour meeting at which dozens of public speakers were sharply divided, the Santa Clara County Board of Education voted 5-2 to approve Rocketship Education's dramatic expansion. The decision positions the not-for-profit to become one of California's largest charter school operators.
Speakers included San Jose Mayor Chuck Reed, who was in favor of the expansion, and several school district superintendents, who were not.
There are five existing Rocketship schools, and within the past month the company got approval to operate five others — all in greater San Jose. The company plans to open five schools a year, starting in 2013, with projected opening of the last five in 2016.
Rocketship's strategy to seek approval from the county Board of Education, rather than going to each elementary district where a school will reside, sparked opposition from leaders of the affected districts who stressed their wish for collaboration and a slower deliberation by the board. The network relies on about $7,000 per child that school districts lose when students shift to its charter schools.
Board member Anna Song, who joined Michael Chang in voting no, called the application strategy "sneaky." She also dismissed an argument made by Rocketship's leaders that the charter network was, in a sense, a district.
"You have said if this approval process is too difficult you would pack up," Song said. "A local school district can't leave. You are not a school district."
The five-member majority on the board, however, was swayed by the company's early record of success in San Jose, which has gained Rocketship an almost cult-like following among low-income parents who have shifted their children from traditional elementary schools.
Since opening the doors of its first school in 2008, Rocketship has shown impressive student test scores. The combined average API score of 868 for the trio of schools tested places them in the top 10 of county schools serving low-income K-5 children.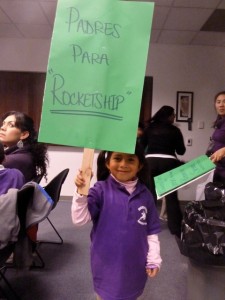 "I know everyone (in opposition) tonight has asked us to wait and collaborate … but I cannot in all good conscience ask parents to wait," board member Julia Hover-Smoot said.
The meeting room was filled with students and parents wearing Rocketship's colors: grape and frog-green. Students walked the aisles with signs in Spanish and English, and wore placards that read, "Thousands of kids are depending on your courageous vote."
Rocketship's founders, Preston Smith and John Danner, have developed a strategic model that leans on partnerships with philanthropic ventures and technology-driven firms that are in line with their ideals — including seed money from the Bill and Melinda Gates Foundation, a steady stream of  Teach for America college graduates, an online "adaptive" educational system devised by Dreambox Learning and organic meals from Revolution Foods.
Critics have raised red flags about the planned rapid growth, particularly in one metropolitan area. Unlike a fast-food chain that can close a failing restaurant, the network's expansion represent a long-term commitment.
"Thirty schools is like a small district. We know they are doing well, one by one, but they need to be successful" in aggregate, Karen Fuqua, San Jose Unified School District spokeswoman, said in an interview.
Based on its current student-teacher ratios, Rocketship will have to recruit a bare minimum of more than 11,000 new students from the San Jose area to expand to 30 schools.
Rocketship schools rely heavily on parental involvement, along with a hybrid learning model of classroom and online individualized instruction. As a new school opens, each existing school must continue to excel independently and meet the lofty goals promised by company leaders.
"They know we won't settle for less and if they start to slip, that won't be acceptable," said Karen Martinez, a parent of two children at Rocketship's Sí Se Puede Academy.
National ambitions
The growth in Silicon Valley appears to be part of a much larger, if vague, plan to expand to 50 cities in 50 states, as stated on Rocketship's website.
When asked to provide specifics, a representative for the not-for-profit noted its intended expansion into Milwaukee, with eight schools approved by local officials. Rocketship is exploring New Orleans, among other cities.
The majority of its teachers come from Teach for America's corps, many graduates of top universities. As the economy has become more uncertain, particularly for those immediately out of college, a number of students have sought Teach for America both as a way to give back to the community and as a two-year job insurance policy.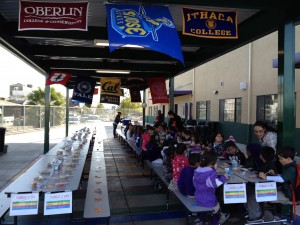 Rebecca Neale, a spokeswoman for Teach for America, said about 60 percent of its alumni stay in education, although not necessarily as teachers. She noted that the program continues to grow each year, with 4,500 recruits brought into the corp in 2010 and 5,200 this year.  Asked about Rocketship's ambitions and Teach for America's ability to meet the needs, Neale said, "…We value this partnership and want to continue to provide a pipeline of teachers to help them fuel their growth goals."
Unlike some charter operators that must pay off construction loans when building a school, Rocketship partners with Launchpad Development, a social entrepreneurship venture created to provide low-cost real estate to school startups. By leasing from Launchpad, many of the headaches and expenses of starting a new school become manageable, said Evan Kohn, Rocketship's Bay Area senior policy manager.
The company's style, in the way it partners with other "venturists," is pure Silicon Valley. "We want a model that is sustainable and replicable without being reliant on philanthropy," Kohn said.
Parents make a difference
Today, about 7 percent of all California public school students attend charter schools, and the number continues to grow. Charter providers are finding that statewide, parents are more aware of alternative education options for their children.
A popular criticism of charter schools is that they "skim the best students off the top." Rocketship's mission is to address the needs of under-performing students. Its ace in the hole may be that it skims the best parents off the top — those who have gone through hoops to put their children in an environment of the like-minded, and then pledge their support at home, at school and in the community.
Parents have been to asked to canvass communities where new schools are planned and go door-to-door to talk about what Rocketship has done for their children, Kohn said. The not-for-profit also plans to hold events at churches and other public forums, he said.
"If you don't know about something, how do you know you have the ability to get it … if you're used to getting nothing?  We are trying to empower the parents in our community," Martinez said. "There is a school that wants your kids to succeed and wants them to learn."