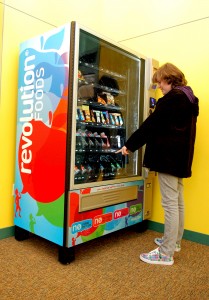 Let's play a word association game. What comes to mind when you hear "vending machine"? If you said Cheetos or Snickers, you aren't alone. It's hard to resist the siren's call of sugary and salty snacks, attractively backlit in self-service gizmos that only require pocket change.
Healthy food selection in schools has been a focus of national debate, and some states have banned from campuses certain beverages and snacks with little or no nutritional value. Schools have removed vending machines or re-stocked them with "healthy options."
But in a number of cases, nothing has worked.
This week, for example, the Seattle school board announced it would consider easing a ban on the machines, due to students simply going off-campus to find their sugar hit. Many schools also rely on vending machine revenues to help cover expenses such as band uniforms and students dances.
Jackie Clark, a spokeswoman for the National Automatic Merchandising Association, said, "It's not about taking the vending machine out of the school, or taking out all the products. … The kids are just going to go the store (and) meanwhile the school has lost revenue. Our view isn't that it's about the vending machine itself, it's about finding things that taste good and students want."
Revolution Foods, an Oakland-based company, is hoping to crack this conundrum. The company recently announced a new line of school-focused vending machines with natural food products that meet or exceed government nutrition standards. Co-founder Kirsten Tobey said the target demographic is students in middle and high schools, who have some autonomy to choose what they eat.
"Various high school principals who had changed their meal programs to healthier options complained that they still had vending machines where kids were getting junk food," Tobey said.
Revolution provides meals to schools across the country, including the Rocketship charter network in San Jose. Following a successful pilot program in Denver and Colorado Springs, the company's machines were installed this week at schools throughout the Boulder Valley School District.
Chef Ann Cooper, known nationally as the Renegade Lunch Lady for her work to incorporate healthier, tastier meals in school cafeterias across the country, serves as nutrition services director for Boulder Valley. Cooper initially approached Revolution about creating vending machines specifically for schools. "They believe in the same mission as I do. Feeding kids healthy food, teaching them how to eat well," she said.
Revolution plans to expand to more states in 2012, and will launch a similar school pilot program in Northern California as early as February. Already, it has placed a small number of  machines in Oakland.
None of the products in the new-fangled snack dispensers have artificial ingredients, high fructose corn syrup or trans-fat, and nothing is fried, according to Tobey. Natural "sweets" include organic fruit rope, crunchy freeze-dried fruit and organic, kid-friendly whole grain bars. "Chips" feature cheese crackers, baked fries and Rumbles, a baked, whole-grain chips product that will make its debut in the machines.
Perhaps the biggest difference between the Revolution machines and their competitors are the beverages, with no more than 20 grams of sugar per serving, the company says. The USDA recommends a maximum of 40 grams of sugar a day. Drinks in the machines are all-natural protein shakes, low-fat non-flavored milk and naturally flavored bottled water.
Healthy snacks sound good in principle, but how do you convince kids to buy them?
During the pilot program in Colorado, Revolution found that getting kids over the hurdle of unfamiliar packaging was important. The students also needed to taste-test the food, Tobey said. But the secret marketing weapon may be the design of each machine. "It's not your typical black box," she said. "It has cool buttons and lights. The kids were in line to try them. It's like a new I Pad."
Santiago Lopez, principal of Life Skills, a Denver-based alternative charter high school focused on at-risk youth, said, "Our kids are very street savvy.  To get them to try healthier foods is tougher, but interesting to watch. It's important to open their eyes to other things."
Lopez said the students were hesitant at first, but decided they liked the food, after early taste tests, and have continued to use the machines a month after the pilot program began. Revolution's machines, which take both credit and debit cards, average $1 to $1.25 for most items. The slightly higher price tag is the only complaint Lopez has heard from students, but he said it has not deterred most of them.
While Revolution has competitors in the student market, such as Human Healthy Vending and Fresh Healthy Vending, the company has deep relationships with schools. It serves 20,000 meals a day in the Bay Area alone, as well as in nearly 600 schools across the country.
Healthy vending machines are an outgrowth of a nationwide movement to tighten school nutrition standards. The national Child Nutrition Act, updated and passed last year, addressed the quality of school meals, including snacks sold in machines.