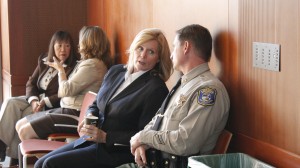 Laurie Smith has risen through a dramatic sea change within the Santa Clara County Sheriff's Office.
"When I first was hired, a woman couldn't even take the exam to be a deputy sheriff," Smith said. Instead, she was sworn in as a deputy sheriff's "matron," a title abolished in 1975 amid a discrimination lawsuit.
By 1998, she was running the agency — the first woman in California to be elected sheriff.
The region she serves has also evolved, with farmlands and orchards giving way to Hewlett-Packard, Apple, Yahoo, Intel and eBay. Since 1970, the county's population has grown more than 67 percent, to 1.8 million. But wide swaths of land remain open and rural, giving the sheriff jurisdiction over everything from high-tech crime to illicit marijuana farms and "garlic theft" (a reference to Gilroy, garlic capital of the world).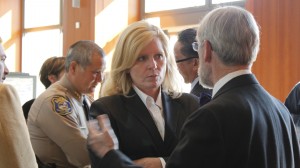 After nearly four decades in the department and 13 years as sheriff, Smith has cultivated a reputation as professional, straightforward and effective. Her interactions with officials in other municipal agencies are focused and measured.
Within the walls of the Sheriff's Office, though, her poker face often relaxes into an easy smile. On a recent morning, she walked the corridors greeting employees by name, joking casually. An invisible eye in the sky unlocked secure doors as she approached. Subordinates dropped what they were doing to give the sheriff their full attention, but they seemed comfortable in her presence.
Occasionally, Smith will ride along with her deputies on patrols. "I really do enjoy going out," she said, but she tries not to impose or make the rookies nervous.
Smith said she rejects a top-down style of management, drawing a picture of a triangle with a circle perched on top and then inverting it. She's the circle at the bottom, she said, and her job is "to support my staff."
"I love people to have ideas and try new things instead of status quo," she said, referencing the old basketball adage "you miss 100 percent of the shots you don't take."
Putting stereotypes to rest
The gender bias she faced in the early years is no longer an issue, Smith said. She has company at the top now, with female sheriffs in Orange and Fresno counties — not to mention Kamala Harris, California's first female, black and Indian American attorney general.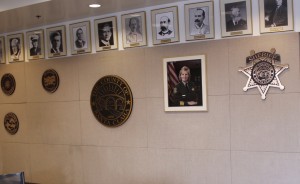 Orange County Sheriff Sandra Hutchens said the gendered stereotype of law enforcement is more of an "external" perception than a reality. "It's still predominantly a male profession," she conceded, "but I think the public has this stereotype of what a sheriff is."
Within law enforcement, Hutchens said, "there's a certain level of respect for the rank" that can trump gender.
Smith has also enjoyed wide electoral support, winning 60.1 percent of the vote in her first election and 62.5 percent in the most recent one; she ran unopposed for her second and third terms.
But she has not been immune to controversy. When Smith and District Attorney Jeff Rosen publicly criticized the county Board of Supervisors' decision last month to stop holding illegal immigrants for federal authorities, some supervisors told the San Jose Mercury News that they felt blindsided.
In an editorial the next day, the Mercury News said the conflict had gone "nuclear" and criticized Smith and Rosen for issuing their opinions "annoyingly late."
In an interview with the Peninsula Press, Smith said she had given her views as a member of the task force drafting the new policy. She disagreed with some of the provisions but "was willing to go along with" a less restrictive proposal. "I don't believe minor offenders should be deported," she said, but the policy approved by the supervisors doesn't give law enforcement the "latitude to consider things like whether the person has committed violent crimes."
Smith downplayed the level of tension with county officials and said they are working together to find ways to modify or work with the plan.  Supervisor George Shirakawa agreed, taking a moment during a recent public meeting to state "for the record" that the conflict had been overblown.
For the most part, the county has avoided the departmental infighting that accompanied crushing budget deficits elsewhere in the state. The sheriff's budget and staffing levels have remained relatively stable in recent years, with about 1,260 sworn deputies serving the contract cities of Saratoga, Cupertino and Los Altos Hills, unincorporated communities including Stanford, and the Valley Transportation Authority.
Deep roots
Smith — who lives in San Jose with her husband Brannan, a retired San Jose police officer — has spent her entire career with the Sheriff's Office, having joined in 1973 after moving to California from Michigan.
Over the next 17 years she served in numerous departments, from jails and patrol to vice and narcotics. In 1990 she was promoted to assistant sheriff, and eight years later she was elected to replace retiring Sheriff Charles Gillingham.
She was a known quantity within the department when she took the helm, but her first meeting with the California State Sheriffs' Association was another story. She was not exactly nervous, she said, "but you don't know what to expect" when you're in uncharted territory.
It was undoubtedly a boys club, and her fellow sheriffs welcomed her with the same kind of ribbing they gave one another — but she said the jokes were never gender-related. They gave her a hard time because "I didn't have the jails," she said, explaining that most sheriffs also run their counties' jail and coroner offices.
In 2007, she was elected president of the association. If any of her peers were still teasing her by that time, the jokes stopped in 2010 when county supervisors put the jails under Smith's jurisdiction.

Smith had been lobbying for years to take over the jails and coroner's office, mergers that have doubled her operations. She attributes the expansion to "the confidence and trust that the Board of Supervisors and the county has in management." When asked if trust in management ultimately meant trust in her, Smith said no, "it's the team."
That group mentality resonates with many on her staff.
"I love the sheriff!" said Michelle Covarrubias, a manager in the Records Division. Covarrubias just graduated from a county government leadership academy and said she was grateful for the opportunities the sheriff had opened up for her.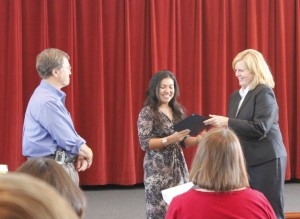 The admiration was mutual. "She's perfect," the sheriff said of Covarrubias, an energetic young woman who Smith said was exhibiting leadership skills before she was selected for the academy.
Since taking over the jails, the sheriff has entertained ideas for improving inmate-training programs. Elmwood Correctional Complex in Milpitas has big plans for its shiny new laser-engraving machine — plaques, pencils, signs, personalized wine bottles, maybe even tilework.  The wall is lined with samples bearing the Sheriff's Office logo, but once the operation gets in full swing, it will take orders from other local agencies.
On a tour of Elmwood's bustling kitchen, Smith chatted with Food Services Director Karen Candito about more ways to make use of the facilities.
"I would love to have some kind of a culinary training program," Candito said.  "I would too," the sheriff said, nodding, "I would too." They discussed potential benefits and pitfalls, and agreed to have lawyers and consultants look into it.
There's plenty of time to try it out; Smith has three years left in her term and plans to run again in 2014.
[youtube]XdrokBOBaVE[/youtube]