Normally, the San Jose Credit Union is closed on weekends. Yesterday was anything but a normal Saturday.
Branches like the one on Asbury Street opened for business from 9 a.m. to 2 p.m., offering food, prizes, balloon decorations and a children's area. A promotional campaign touted "fee-free" debit cards and gave customers chances to win cash or an iPad 2.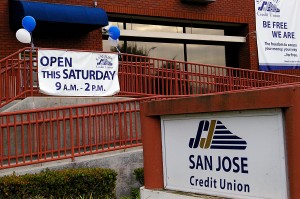 Like their counterparts around the Peninsula and across the country, the credit union's leaders saw the Facebook-fueled "Bank Transfer Day" as an unparalleled marketing opportunity. Stanford Federal Credit Union offered $100 to the first 100 people to open a checking account yesterday. Star Community Credit Union in Chico marked the day by entering everyone who opened an account into a drawing for a $50 gift card, and giving $25 to those who referred a friend.
"I'm very proud of the credit unions who took advantage of this opportunity to say, 'Hey, we are here, we have always been here,' and make known to people what we have to offer," said Sara Karam Holtz, the marketing manager for San Jose Credit Union.
"This grass-roots effort has helped credit unions, who have been gearing up for years to try and be competitive with banks in the market," she added.
The idea — encouraging people to transfer their accounts from big banks to local credit unions by Nov. 5 — came from a 27-year-old Los Angeles woman, who created a Facebook page to promote it. The date was chosen for symbolism; on Nov. 5, 1605,  a British rebel named Guy Fawkes and his band of plotters tried and failed to blow up Parliament.
"Together we can ensure that these banking institutions will always remember the 5th of November," the Facebook page declared. That statement is a play on the English children's rhyme for Guy Fawkes Day, "Remember, remember, the 5th of November."
There are indications that the effort has made an impact. In the last four weeks, more than 650,000 people in the country joined credit unions, according to the Credit Union National Association. An average month would see membership growth of 80,000.
On average, the San Jose Credit Union opens 60 memberships a month. In the last two months, officials say, the credit union opened approximately 200. On Saturday, they had signed up 15 new members by 1:30 p.m.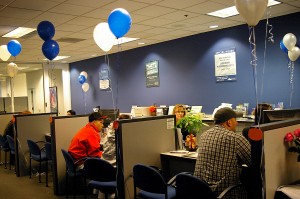 Nationwide, the spike in credit union membership began with Bank of America's Sept. 29 announcement of a new $5 monthly debit card fee. Bank Transfer Day creator Kristen Christian not only switched from Bank of America to a local credit union, but encouraged her friends to do so as well.
Christian then invited people to join her through Facebook; the event received more than 85,000 RSVPs.
The Occupy Wall Street and Anonymous movements support the cause, but Christian has said that while she appreciates the backing, she is not affiliated with these movements.
"This is not about bringing down the Fed, it's not anarchy. … It's shifting the money to a company people respect the practices of. It's like, if you don't like Wal-Mart's practices, shopping at a local grocery store instead," Christian said in an interview with the Village Voice.
In response to public backlash, Bank of America retracted its planned fee.
"We have listened to our customers very closely over the last few weeks and recognize their concern with our proposed debit usage fee," David Darnell, Bank of America's co-chief operating officer, said in a Nov. 1 statement. "Our customers' voices are most important to us. As a result, we are not currently charging the fee and will not be moving forward with any additional plans to do so."
Chase, Wells Fargo & Co., Sun Trust and Regional Financial also shelved plans to charge extra fees.
Father Eduardo Samaniego, the pastor at Most Holy Trinity Catholic Church in San Jose, is one of the bank customers who decided to switch to a credit union in the past month. He switched both his parish and its school's accounts from Bank of America to the Micro Branch Self-Help Federal Credit Union.
He cited unhappiness about the bank's dealings with parishioners who needed home-loan modifications and what he called "unmoral practices that banks have found to nickel and dime us to death."
"I think that an institution that all of the sudden starts to lose money has to open its eyes to what it is doing wrong," he said.