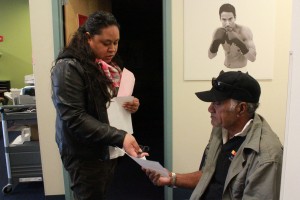 A pattern of arrowheads encircles Tiffany 'Uhilamoelangi-Hautau's right wrist, and a larger Samoan tattoo adorns her leg on the same side. From getting into fistfights during college to teaching her 6-year-old daughter about being a Pacific Islander in the United States, 'Uhilamoelangi-Hautau is fiercely proud and protective of her heritage.
"These tattoos remind me of who I am," she said.
So does her job as a community health worker at Ravenswood Family Health Center, where the 28-year-old — half-Samoan and half-Tongan — works to improve access to health care for Pacific Islanders in East Palo Alto, the community she grew up in. The clinic serves some of San Mateo County's most impoverished residents, many lacking health insurance. About 950 patients at Ravenswood suffer from diabetes, and 20 percent of those are Pacific Islanders.
'Uhilamoelangi-Hautau works in the chronic-disease management program and with a nonprofit organization, Collective Roots, to promote healthy cooking and eating while staying true to Tongan and Samoan cuisines.
She views her patients as extended family.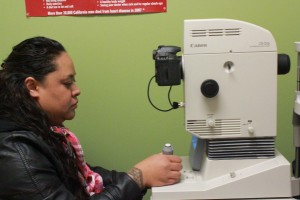 "It's really important for me to show … emotion to my patients," 'Uhilamoelangi-Hautau said recently after performing a retina scan on a diabetic patient. "Once they see that, they know I'm not just some regular case worker or government official trying to get them to change their behaviors. … I relate a lot of the things I do with patients to my own family."
This passion for community comes from a long tradition of activism within her family. From a young age, she attended East Palo Alto city council and school board meetings with her mother, Appollonia Grey-Uhilamoelangi, and father, Senita Uhilamolang. Her parents co-founded the community organization Pacific Islander Outreach.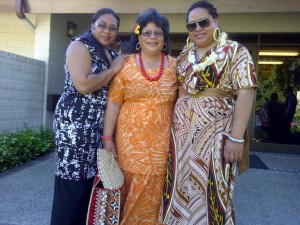 At a time when the city's streets were rife with drugs and related crime, her parents would invite troubled youth into their home, where they started after-school programs and runaway shelters. 'Uhilamoelangi-Hautau remembers that she and her siblings never had their own rooms growing up. Often they gave up their beds so runaway children could have a place to sleep.
"[My parents] said to me, 'Don't ever get tired of doing good for others.' That right there really hit home. Sometimes there are days when I want to get out of here. But that quote right there … I can never leave this job," she said, choking back emotion.
After attending college at Jackston State University, 'Uhilamoelangi-Hautau started at Ravenswood Family Health Center in 2005 as a patient services assistant. Quickly she rose through the ranks and, in 2008, became a health navigator at the request of Luisa Buada, the center's chief executive. A health navigator steers patients through the U.S. health-care system by speaking their native languages and being sensitive to cultural differences.
Pacific Islanders make up 9 percent of the approximately 9,000 patients at the clinic. 'Uhilamoelangi-Hautau is one of two Pacific Islander health navigators.
Through talking to her patients and getting to know the intimate details of their lives, she has discovered many barriers to health care — some as basic as not having a car. "Why can't you get to appointments? 'I don't have transportation. I don't have a babysitter.' We tackle all these issues before even getting to the health care front," 'Uhilamoelangi-Hautau explained.
In addition, navigators perform outreach, health education, home and clinic visits and other services. Ravenswood officials monitor the effectiveness of the program, which began as a pilot project.
"The impact so far is that patients have better health outcomes, especially chronic patients (with) diabetes," said Will Cerrato, manager of the center's Chronic Disease Program. "Patients also find the health-care system more user-friendly, which is reflected in the decreased no-show rate among patients who receive the intervention."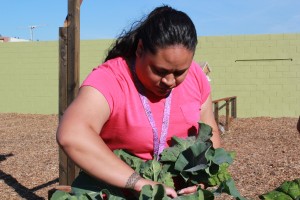 As part of the program, chronic disease patients attend weekly workshops on topics ranging from gardening and cooking to choosing healthy, inexpensive foods at the supermarket.
"I start to do it at home now," said Akosita Vaiomounga, an elderly Tongan immigrant who takes part in the workshops. "It's hard to do because our food is different and we cook it differently. But this is the way that is best. We save money and it's good for health. [Tiffany] is a wonderful one … she really tries to help us."
The job of patient navigator parallels what 'Uhilamoelangi-Hautau's parents did for her – connecting Pacific Island culture with community institutions in East Palo Alto that seemed foreign. When she was in elementary school, 'Uhilamoelangi-Hautau said, her parents started Polynesian clubs and taught Tongan dance lessons to educate her predominantly African American classmates and their families.
Appollonia Grey-Uhilamoelangi speaks with pride about her daughter's profession and views it as a continuation of the family's tradition in community work.
"I support Tiffany 100 percent in what I do as an activist," she said, adding, "I am passing the torch … and she's running with it."
[youtube]dcW0bLccQSs[/youtube]