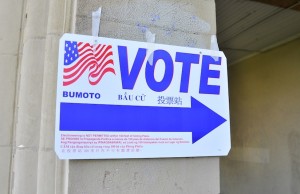 California polls have now closed, and Peninsula voters today cast ballots on a slew of local measures, including the third time in 10 years that the San Mateo Community College District has tried to raise construction funds through a tax hike.
Palo Alto voters await results on the fate of Measure D, which seeks to give the city more control over labor and pay negotiations with its firefighters and police officers, and Measure E, which aims to replace 10 acres of a 126-acre park with a compost facility.
The Peninsula Press has now activated its live blog, which will report election results and provide context for what's at stake. You can join in the discussion by commenting and asking questions as we bring you the latest updates.
Click here to open the liveblog in a new tab/window, or you can follow it below. If you only see a white space below, try refreshing the page.