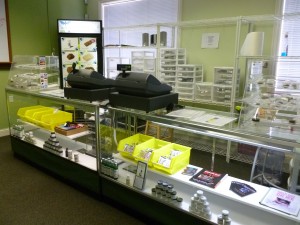 For 15 years, medical marijuana dispensary owners in California have struggled to find their legal footing amid federal, state and local rulings.
Lynette Shaw is the owner of Marin Alliance for Medical Marijuana. Since 1997, she said, she has worked with the town of Fairfax to develop rules for the dispensary, which town officials credit for helping to reduce street-corner marijuana dealers.
But three weeks ago, Shaw's landlord received a letter from federal prosecutors, stating that if the dispensary did not shut down in 45 days, he and Shaw could face property seizure and criminal charges for drug trafficking. The letter is part of a new initiative to target large, for-profit medical marijuana shops in California that, according to U.S. attorneys, violate federal law even though they comply with state regulations.
"What we are finding is that people are using the cover of medical marijuana to make enormous amounts of money — in short, to engage in drug trafficking," said Melinda Haag, U.S. Attorney for San Francisco, at a news conference early this month.
"I have decided to focus initially on stores that sell marijuana and allow people to smoke marijuana very close to schools, parks and other places where children learn and play," Haag said. During her announcement, she did not comment on Shaw's business, which is near a public park.
Until recently, the Obama administration has been conservative in prosecuting licensed dispensaries in the 16 states that allow medicinal marijuana. Dispensary owners say they are uncertain why the administration has chosen to crack down now.
"I'm not a grower. I'm a patient and my health is already suffering from all of this," Shaw said. "We have obeyed every rule for 15 years. … We're in the top 10 for the town of Fairfax sales-tax contributors. We're the smallest licensed dispensary at 600 square feet, that's it. We are not a huge cartel, not a huge operation. We lost money last year when the recession hit, just like any other business."
Shaw said she plans to take her case to the U.S. Supreme Court, if necessary. "We will have a hell of a fight," she said.
The story of legal battles over the decriminalization of medical marijuana is an ever-changing one. In 1996, California voters passed Proposition 215, permitting marijuana usage for medical patients with their doctors' recommendations. It was not until 2009 that the industry flourished in the state. The same year, U .S. Attorney General Eric Holder stated that the federal government would not prosecute medical marijuana users living in states whose laws allow it.
To this day, federal law classifies the selling or possession of marijuana as a crime.
Dr. Keith Humphreys, former drug control policy advisor to the Obama administration and current professor of psychiatry at Stanford, questions whether the enforcement efforts will be effective because of resource limitations. "Only one in six law enforcement agents are federal," he said. "If states decide they don't want to do something, the federal government is really limited in what they can do."
Federal prosecutors "are probably picking egregious cases where they're sure they can win to try and send a message to everyone else," Humphreys said. "I suspect that when that's done, there will still be medical marijuana dispensaries."
Americans for Safe Access (ASA), a medical marijuana advocacy group, is preparing dispensaries for what could happen in the days ahead. The organization is conducting raid preparedness training and opening phone lines to dispensaries and their landlords to provide information on rights and responsibilities, according to Kris Hermes, a spokesman for ASA.
While federal versus state battles are going on, officials in some cities are reevaluating existing local regulations. In San Jose, home to at least 140 medical marijuana dispensaries, the City Council passed an ordinance effective Oct. 29 that allows 10 dispensaries to remain open. The ordinance states that the city only will permit businesses that grow and make their products on site.
"Limiting to 10 collectives would mean 10 mega facilities," said Dave Hodges, owner of the All American Cannabis Club and previous owner of San Jose's first medical marijuana dispensary, the San Jose Cannabis Buyers Collective. "Each of those facilities would definitely have to grow more than 1,000 plants all on site."
Dispensaries handling this volume of medical marijuana could be more likely to be targeted by the new federal initiative.
"The community in San Jose has really come together" to collect signatures in hopes of qualifying a referendum that would block the city's new rules, Hodges said.
Perhaps only after the Supreme Court accepts a medical marijuana case — if it ever does — will the hazy legal boundaries be clarified, according to Humphreys. "I think it is possible that what will happen is this entire issue will be jumped by straight legalization," he said. "You will have on the ballot in 2012 initiatives in a number of states to legalize marijuana for recreation … then you'll have a federal state fight and supreme court judgment about whether or not states can do that."
[cincopa AIKASvK_3bOZ]
[youtube]vd9RBcymn-I[/youtube]