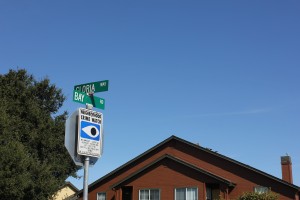 Three weeks have passed since 6-year-old Sioreli Torres Zamora was struck and killed by a car while crossing Bay Road on her way to school. Her mother and two siblings were just steps behind. Stunned and angered, many East Palo Alto residents are pressing elected officials to make the city safer for pedestrians.
More than 100 people packed St. Francis of Assisi Church for an informal community meeting with City Council members and other officials. Those who spoke at the Oct. 12 gathering said they were frustrated by traffic conditions they considered dangerous.
The meeting came almost two weeks after at least 100 people, including children, marched to the East Palo Alto Police headquarters, holding pictures of Sioreli.
Community members were also invited to express their views at an Oct. 4 City Council meeting. Eighteen speakers, given two minutes each, called for a variety of steps: the installation of pavement-activated lights and more traffic-safety signs, the hiring of additional crossing guards in school zones, and stepped-up police enforcement.  "We have to go back in history and figure out where we made a right, when we should have made a left," said Leland Francois, one of the speakers.
Cristina Pulido, a city resident for more than 30 years, showed council members a petition signed by 400 people. Pulido, who continues to collect signatures, said she is still scarred by memories of being hit by a car when she was 5. Sioreli's death touched her deeply, she said.
Fellow resident Loraine Holmes told of the time, nine years ago, when a car struck her granddaughter at the intersection of Pulgas Avenue and East Bay Shore Road.
"How many more people have to die before the city is held accountable?" Pulido asked. She said a 2010 traffic-safety study done for city planners by the Institute of Transportation Studies at UC Berkeley had documented dangers at the intersection of Bay Road and Gloria Way. Four "pedestrian injury collisions" happened at the intersection between 2000 and 2009, the study found.
Planning Division Manager Brent Butler said the study was posted on the department's website to inform the public, but its findings were not presented to the City Council for action. Councilman David E. Woods said the council was not told about the document.
City Engineer Kamal Fallaha said extensive measures have been taken to improve pedestrian safety over the past three years, such as well-defined crosswalks and newly constructed sidewalks. The study identified Bay Road and Gloria Way as a problem area and made general suggestions citywide, which could not be adopted immediately, he said.
"We asked them to conduct the study in light of our application for a Safe Routes to Schools federal grant," Fallaha said. The city received the grant this week.
City guidelines call for adding a stop sign at a location if more than three accidents had occurred there within a year. While the intersection of Bay Road and Gloria Way has not reached that level, Fallaha said officials are determined to be "proactive" and not risk another death or injury.
A traffic engineer was assigned to investigate the feasibility of a stop sign at Bay and Gloria, and the council was informed on Tuesday that a sign was not warranted. But Fallaha added that a final decision has yet to be made. "We will conduct a more in-depth analysis about pedestrian patterns and … have a more comprehensive idea in a few weeks," he said.
Stop signs are not a cure-all and could even encourage speeding between signs, Fallaha cautioned.
"Given that Gloria Way sees little traffic, the 25-mile speed limit, for which a sign is placed every two blocks on Bay Road, allows drivers to yield to pedestrians in the crosswalk," he said.
Police Chief Ronald Davis said that any good traffic safety plan needs three components: design, enforcement and community education. Since his department reinstated its traffic unit in 2010, Davis said, there have been 126 traffic stops and 19 citations within a two-block radius of Bay and Gloria. Those numbers suggest that more motorists need to slow down and obey the speed limits, he said.
Several members of the community have demanded that additional crossing guards be stationed along Bay Road to protect children who attend both Green Oaks academy, where Sioreli went to school, and Cesar Chavez Academy.
Superintendent Maria De La Vega of the Ravenswood City School District said in an interview that the district places crossing guards at intersections closest to schools. Despite budget cuts, she said, children's safety was never compromised.
[youtube]rggQN2S4s40[/youtube]