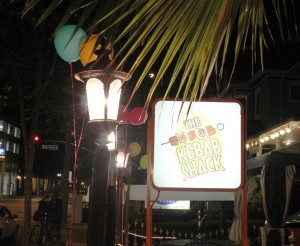 Maryam Khair, owner of The Kebab Shack in downtown San Jose, wants to extend her hours of operation past midnight for two reasons: to increase revenue and to advance her vision for night life in the city.
"I think there are a lot of families that are out watching movies or concerts, and they want to have a nice place to come and eat late at night," she said.
Her goals are straightforward, but little has come easy for Khair since she went into business on the 300 block of S. Third Street more than five years ago. Her first try was a small yogurt shop, only to find competition became too fierce. She closed the shop last year and came back with a new idea, a Mediterranean/Middle Eastern-inspired restaurant. Now she is bumping up against bureaucratic barriers.
Khair's request for a city permit to stay open until 3 a.m., initially filed six months ago, was lost amid a downsizing of San Jose's planning department staff.
"Since we've cut back on staffing, it takes businesses longer to get the permits they need to operate," said Jenny Nusbaum, a planner for San Jose. The current staffing level is comparable to early 1980s numbers, she said, while the city's population has increased by 52 percent since then.
Open since February, The Kebab Shack prides itself on serving all meals cooked to order, which can mean a longer wait than usual at times. Inside are iPod docking stations and a pool table, free of charge. For students from nearby San Jose State University who are "tired of burritos," as one customer said, the restaurant offered a new location to relax and enjoy a meal.
"It has been a success so far," Khair said, "but as a restaurant, it's still hard to survive. That's why we're trying to get that late night—that little amount of time (from midnight to 3 a.m.) can help out a lot."
The city Planning Commission held a meeting to hear community comments on Khair's application for a special-use permit on Oct. 11. No one showed up.
The San Jose Police Department also was asked to weigh in. Taking into account neighborhood crime and safety issues related to a business extending hours past midnight, SJPD took a "neutral" stand — as is often the case when it determines the potential risks are speculative, said Sgt. Jason Dwyer, public information officer.
"The businesses are legitimate. It's not them we're concerned about," Dwyer said. "What we worry about are areas of congregation for people coming out of clubs with nothing to do."
From Sept. 3 to Oct. 3,  17 crimes were reported between 10 p.m. and 4 a.m. within this two-block area around The Kabob Shack: between Santa Clara Street and E. San Salvador Street, and 4th Street and Market. Eleven of those occurred between midnight and 3 a.m.; eight were classified as assaults, according to police records.
Dwyer said that businesses staying open late can be a positive force, offering a chance for bar patrons to sober up for a couple of hours before they head home. The Kebab Shack does not sell alcohol, but, if open until 3 a.m., it could act as a venue for after-hours lingering after bars close, Dwyer said.
Whenever drunken people gather, he said, fighting is a concern.
The 300 block of S. 3rd Street has three other businesses open past midnight — Hoagie Steak Out, Iguanas Burritozilla, and La Victoria Taqueria. Both La Victoria and Iguanas have been open past midnight since 1998 and 1999, respectively. According to the FBI's annual crime statistics, cases of aggravated assault have dropped by 40 percent over the past 12 years in San Jose.
Nusbaum said she believes that, for where The Kebab Shack is located, "staying open until 2 is a good thing because the police know there's a defined entertainment area they can plan to patrol… [making] it easier to support a safe environment for people to enjoy partying."
The city expects to rule on Khair's request by the end of next month.
[youtube]FqZyHeFn1vM[/youtube]