[youtube 878PNCiNpNA]
"There ain't nothin' fake about these scissors," says Shakira, a senior at East Palo Alto Academy, holding up shears the length of her forearm.
She is surrounded by 3-D printers, laser and vinyl cutters and a chemical hood for pouring and setting polymers. The drawers in front of her are full of circuitry and sensors, wheels and LEDs. Out of plastic shopping bags and fishing line, she is building a parachute for an egg.
Every Thursday morning, Shakira and her classmates build and experiment in the Transformative Learning Technologies Lab at Stanford University. The lab's director, Assistant Professor Paulo Blikstein, believes that hands-on activities and powerful machinery will prove a more engaging window into traditional academic material.
The weekly visit to the lab is part of the charter school's new physics curriculum.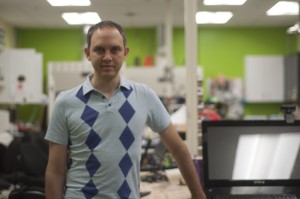 At 6 feet, Blikstein towers over most of the students. He is a fair-skinned, clear-eyed Brazilian in a pastel polo, sailing through a room teeming with urban youth in dark, over-sized clothing. He hangs over their shoulders and peeks in on their projects, asking questions and offering suggestions.
Blikstein said he sympathizes with young people who show little enthusiasm for school. He grew up in an alternative education system in Sao Paolo, Brazil. There, he developed a deep love of learning without the influence of grades or exams or textbooks. At 14, when he entered a regular high school, the experience was shocking. "I didn't understand why you would do that to people," he recalled thinking.
Blikstein's lab is dedicated to exploring alternatives to conventional classroom education. It is a place for what's known as digital fabrication; the machines allow students to easily and cheaply create things they design on computers.
"You have to make science to learn science. There's no way to learn science just listening to a person talk," he said. "You can't teach people how to swim if you don't have a swimming pool. A classroom is a terrible place to teach science."
The fabrication lab — or fablab — movement arose out of Massachusetts Institute of Technology in 2001 when Blikstein was a student there. He estimates that 60 such labs now exist around the world for non-academic uses and that many others operate on college campuses.
Blikstein's contribution to the movement is the push to integrate fablabs into primary and secondary education. He calls this project FabLab@Schools and has been giving talks about it worldwide.
He opened a recent talk in Los Angeles with tongue-in-cheek self-effacement: "I can't tell any jokes, I have a funny accent and I have a terrible memory, so I might forget some of what I want to say."
The speech, captured on videotape, hinged not only on his humor and personality, but also on fabrication success stories he has witnessed in education. A Russian boy engineered an experiment to determine the coefficient of gravity. A Brazilian girl invented a robotic stroller, for her sister, to detect a crying baby and rock him back to sleep.
The teenager from an impoverished neighborhood went on to build the stroller, but the development Blikstein illuminates in her story is non-technical. He is more interested in the shift in her world view — "not looking at technology as something magical, but looking at technology and science as a tool to improve the lives of others."
Bringing such students into existing fab labs is just half of his plan. He is also working to help elementary, middle and high schools integrate fabrication onto their campuses. Castilleja, a private, 6-12 girls' school in Palo Alto, expects to open its fablab in January.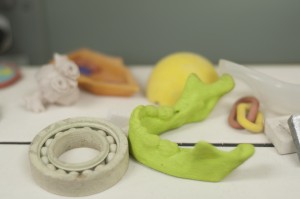 "The Bourn Idea Lab will become in essence a 'lab school,'" the Castilleja Head of School, Nanci Z. Kauffman, said in a news release in September. "Interns will teach faculty and students how to design, tinker, prototype and build and also how to use hands-on projects to support curriculum, teaching and learning."
Named for the school's deceased robotics instructor, Doug Bourn, the lab is dedicated to innovation and experimentation.
Blikstein said he has heard from schools in Southern California, Russia, Brazil and India, all interested in installing fabrication labs. He has had to turn many schools away because his project is not yet big enough to accommodate them.
"There is a recognition and a sense of urgency that we have to be more radical in education," he said. "A lot of what we've been doing in research is optimizing a system that doesn't really work."
Though Blikstein called the changes he proposes "radical," he said the idea of fabrication education is not entirely new. "If you look at the history of science education, you'll see that decades ago we had a lot more hands-on education."
As the funding for project-based education evaporated, it was replaced by "more-theoretical science where you just sit and listen," he said.
Over the past decade, schools across the country have eliminated traditional fabrication courses like wood shop. In Palo Alto, as in many cities, those shops and machinery, idle during the day, are appropriated at night by adult school programs.
Three nights a week, the vast and otherwise unused Palo Alto High School wood shop comes to life with local parents and professionals, sawing and planing and clamping away, making things they need and use.
"There's something that is very rewarding, especially in the digital age," said Marcus Miller, an adult school wood shop instructor said. "Where everything is on the computer screen, you can see it but it's not tangible." He gestures at an end table one student is assembling: "Here's something you can put your hands on."
Miller holds a master's degree in chemistry, and by day works as a chemist. His assistant is a computer scientist, and among the students are legal scholars and retired mathematicians. Though they appreciate the creativity and problem-solving skills wood shop allows them to exercise, these adults said they understand why traditional fabrication education in high schools suffered its sharp decline.
"The students at Palo Alto High School are more concerned with what's going to get them across the street onto (the) Stanford campus," Miller said.
Miller touches upon a problem in education that Blikstein is trying to address.
"Some kids know that school is just a means to an ends," Blikstein said. "So even if it's completely boring, they go through the motions."
This is not so for many low-income students, he said. "They might not even want to get into college. If school is not motivating and interesting to low income kids, they have no reason to be there so they just drop out."
There is a strong social justice component to Blikstein's work. He has long admired the work of Paulo Freire, a Marxist-inspired philosopher of education, author of Pedagogy of the Oppressed. "The effect of low-motivating education is much worse on low income kids," he said.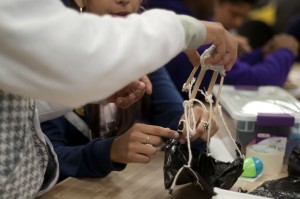 He shared an anecdote about a 9-year-old who responded unenthusiastically when she was shown an illustration of a window-washer and asked how she might improve his situation. After a two-hour workshop she was asked again, and produced a detailed schematic.
"Going from 'I don't know' to a cleaning robot with five arms, I think is pretty remarkable," Blikstein said. "Just imagine if they start to have this kind of experience of invention and creation since 9 or 10 years old."
In the Los Angeles talk, Blikstein showed two rudimentary schematics of a hypothetical thermostat system. He then revealed that one was produced by a 9-year-old, and another by a university student.
"In 10 years, you see almost no difference," he said.
He sees education innovation as a big opportunity for a society to redesign its culture.
"I wonder what would happen," he said at the end of the talk, "if instead of waking up every morning and going to school to learn yet another formula, kids would wake up every day to invent something new. And I wonder what would happen with the country that would do it first."