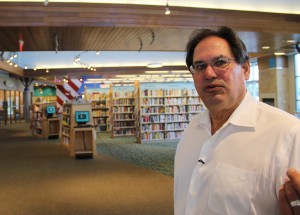 There is still an hour to go before the Redwood Shores branch library opens, but the Sea Link Café inside is busy serving freshly brewed coffee. Out of context, it could be mistaken for a Starbucks, with a wide selection of java, pastries and early morning customers.
"It was always a dream of mine to have a café in a library," Dave Genesy said. "To me, it just kind of connects everything together."
Genesy, Redwood City's library director since 2004, sits in the café on a recent Monday and swaps ideas with a graphic design consultant, envisioning how new signage could make the 3-year-old branch even more like a retail store. Already, there are checkout scanners and bookshelves strategically positioned to create a feeling of openness. Large windows offer panoramic views of the nearby lagoon.
"Libraries shouldn't look like warehouses full of books that are quiet and full of rules," he declared. "(They) should be engaged and active."
At a time when public libraries across the country have been hit by a barrage of budget cuts, Genesy not only refuses to admit defeat but also remains a bit of a dreamer. Growing up in the East Bay city of Orinda, his mother dragged him to the local library every Saturday. He worries that the same opportunity might not be available to families someday.
In Redwood City, Genesy and an army of volunteers are fighting back. In the past fiscal year, more than 1,400 community members donated their time — 110,000 hours collectively — to help staff various library programs such as Project READ, which promotes literacy, and "Traveling Storytime," a reading initiative at preschools and day-care centers.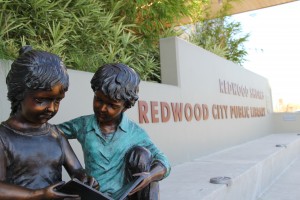 Volunteers with two organizations, the Redwood City Library Foundation and Friends of the Redwood City Public Library, have raised millions of dollars. Genesy said an $850,000 gift from the foundation, for example, paid for the books, DVDs and CDs in the Redwood Shores branch. Of the 168 library systems in California, he believes Redwood City can boast the highest number of volunteer hours.
Genesy — whose compensation ranks in the top 3 percent of city employees, according to state data — has written his share of personal checks, too. Over eight years, he has donated more than $50,000 to Project READ. He said he also donates as much as he can to the Library Foundation or "anything that has to do with kids and learning and getting our families that need our help, some help."
Four branch libraries make up the Redwood City system that Genesy oversees, including the flagship downtown library. The annual budget, not counting donations, is slightly more than $7 million. With the exception of one year, resources and budgets for the system have shrunk consistently for the past nine years.
There are the equivalent of 37 full-time library employees who provide the core services. They are supplemented by volunteers.
Dr. Stuart Bair, a volunteer with Project READ,  said demand for the program is so strong that there's a waiting list.  "It's wonderful to see the kids light up because you can see the improvement in their reading," Bair added.
Genesy, 58, still remembers details from his childhood visits to the library in Orinda. He'd try to read every sports biography in the children's section before moving on to the adult section.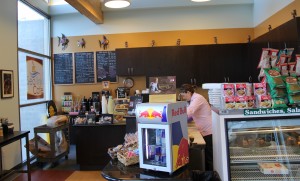 After graduating from Chico State with a bachelor's degree in English, he began a career as a school teacher, but realized he didn't like the confines of a classroom and soon found his way into retail — eight years as a Kmart store manager. His interest in the aesthetic appeal of library spaces comes from that background. Walk through the Redwood Shores branch or the downtown library and Genesy's touch for a clean, bookstore-like space can't be mistaken.
After being a stay-at-home dad for a few years ("hardest job I ever did"), Genesy began searching for a new career. Even in the Silicon Valley, where technology was turning reading into a virtual experience, he saw the untapped potential for libraries to still connect communities and bridge digital divides.
He started as a children's librarian in San Jose, got his master's degree in library science from San Jose State, and eventually moved up to a library management role. Then eight years ago, Genesy accepted his current job in Redwood City. As director, he works on the strategic mission of the libraries, allocates resources and interacts with the city council, city manager and the community.
"What I love about this job is that from my level I can affect a lot more change and affect a lot more children and families, and get more and more people to feel that the library is an essential part of a community's health," he said.
Kathy Endaya, the director of Project READ, said Genesy's depth of commitment is inspiring.
"He'll brainstorm with me (on) how do we get things done, where many, many people in his position might just say, 'Oh that can't be done, we can't do it,'" Endaya said. "He's just thinking out of the box all
the time, and really trying to figure out how do we kind of get rid of the obstacles."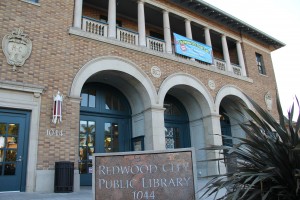 Project READ and Redwood City Friends of Literacy recently presented Genesy with the "Fueling the Fire of Hope Award." The award recognized "both his vision for a literate community, and his implementation of a literacy-centered library."
Genesy said the challenge in this economic climate is not just to survive, but to thrive.
"In some ways not having money really brings creative people to the forefront, and it makes you really rethink what you're doing," he said.
Back at the café on an autumn Monday, Genesy remains connected to his schedule on his iPad. He also carries along a paperback—"Rain Gods," by James Lee Burke. Mostly he reads fiction and is partial to detective novels in which the hero tries to "do the right thing in an amoral evil world, and kind of a knight-in-shining-armor sort of a thing, with great writing."
As an executive, Genesy misses the direct interaction with library patrons, especially children.
"I think after I retire, I want to go back and kind of do something like that – read to kids with my guitar and stuff."
[youtube]dmGrMmWXZFU[/youtube]