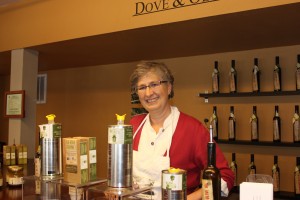 "I'm not Israeli. I'm not Palestinian. I'm Polish-American, from Detroit."
A middle-age engineer with cropped gray hair and a penchant for dangly earrings, Donna Baranski-Walker doesn't fit the profile of a Middle East peace advocate. But that's exactly what she is doing out of an office in a sleepy San Mateo neighborhood.
Baranski-Walker devotes most of her waking hours to the Rebuilding Alliance, a nonprofit organization she founded in 2003. While myriad organizations and agencies promote peace in the troubled region, Baranski-Walker said her focus is a bit different than most: She tries to foster tangible signs of stability through rebuilding projects.
The effort began by bringing together Israeli and Palestinian non-governmental organizations and volunteers to rebuild playgrounds and houses in Gaza, the West Bank and East Jerusalem. Over the past six years, the organization received more than $100,000 from the Global Giving Foundation — an organization that connects donors with grass-roots projects — and from individuals to help rebuild a community of homes, playgrounds and schools in Al Aqaba, a West Bank village in the Jordan Valley.
Born and raised in a Detroit neighborhood, Baranski-Walker grew up surrounded by a close-knit, extended family. Her grandmother lived in Poland during World War II and would tell stories of the underground resistance against Nazi Germany. A mentally disabled sister, who passed away when she was 11, stirred in Baranski-Walker a sense of tolerance and compassion for others.
Seeing communities come together — combined with a drive "to go to bed exhausted each day to be sure I fully lived" — led her to work for peace first in Poland, then in Iraq and now in the Middle East.
It all began some 30 years ago. Struggling to find her purpose in life, she joined efforts to support the Solidarity Movement after returning from a college study-abroad program in Poland. Last year at a Gdansk shipyard, Baranski-Walker received a Medal of Gratitude from Lech Walesa, the Nobel Laureate and former president of Poland, for her work as a young woman.
"I didn't think twice about that work," she said. "It was strange to me and remarkable that they gave me the medal of gratitude. But it was really interesting, too, because by nature I was drawn to organizing that support effort."
In the three decades since, Baranski-Walker spent much of her time working an engineering job, with stable pay and hours. But global involvement was never far from her mind. In 1990, she authored "Small Lights in the Darkness," an op-ed article published in the New York Times that detailed her ideas for peace before the first Gulf War. She also found herself drawn to the turmoil in Israel and the occupied territories of Gaza and the West Bank.
"The transition became noticing what had happened in Poland and applying it to questions of peace in the Middle East," she said. "The evolution of that process would lead me to … bring people together around something very essential in villages that had been damaged and were trying to rebuild."
She founded the Rebuilding Alliance out of her house, bringing in volunteers to help. Baranski-Walker said her daughter Andrea once commented that she never knew who was going to be at the house when she woke up in the morning. Baranski-Walker, a mother of two, spends seven days a week trying to grow her nonprofit.
Grants like the one from the Global Giving Foundation have allowed her to build countless structures in the West Bank and Gaza. Last fall, Baranski-Walker was able to move operations to Dove and Olive Works, a space in San Mateo shared by a social justice learning company called Reach and Teach.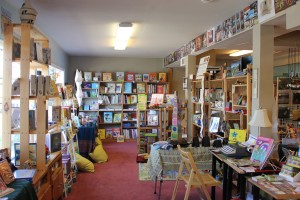 Located in a small commercial pocket between quiet residential neighborhoods, Dove and Olive Works provides a place for people to gather and learn about ways to promote peace. The shop hosts free events, from movie screenings to book signings, and offers local groups a meeting space. A bar in the center of the room offers tastings of olive oil and spices from the Palestinian territories, while books and toys from Reach and Teach fill every nook and cranny.
The space has also allowed Baranski-Walker to expand Rebuilding Alliance's volunteer force by adding 15 interns. Rudolfo San Miguel, an intern before stepping in to the Global Giving Coordinator position, said Baranksi-Walker becomes a mentor for younger people trying to effect change in what seems to many an unchangeable part of the world.
"I learned just about every component of fundraising through Donna. She's really developed this organization with little to no other people," he said. "She works pretty much 24 hours per day. It's her everything. She's mentored a lot of people"
Baranski-Walker comes across as patient and affable, but beneath the surface is a dogged determination. Intern Meghan Wrublewski said, "I'm blown away. It seems almost pessimistically like a futile cause. For her to be so positive and just keep working toward her cause, it's just very inspiring."
Baranski-Walker, however, simply sees her work as essential.
"It's not a hurricane, it's not a tornado. These are man-made disasters," she said.
Devoting so many hours to rebuilding projects has taken its toll. Baranski-Walker spends months away from home traveling in Israel and the occupied territories, speaking with officials and selecting communities for rebuilding. Her son, Marc, recalls telephoning his mom to say he was thinking of coming to visit the Bay Area, only to have her say she was in the West Bank.
Disengaging completely from her work is difficult, she said. She tried to join a age 50-plus water polo team in Menlo Park to force herself to take a mental break, but she was so bad at swimming she was asked to leave.
"I laugh because I didn't tell them why I was there, so that I could take my mind entirely off work," she remembered. "It's not about the war and peace side of work.  It's how do you make a little nonprofit sustainable? That part is far harder than the things we love to do, the building projects themselves. So I really loved the water polo because it took my full attention."
Editor's note:  A previous version of this story incorrectly stated that Rebuilding Alliance received more than $100,000 this year. The organization has received more than $100,000 over six years.