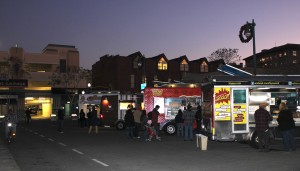 From Alice Waters to Michael Mina, the San Francisco Bay Area has become a mecca for innovative chefs and the food connoisseurs who follow them. But when it comes to one culinary trend, the area is still catching up.
Food trucks — already popular alternatives to brick-and-mortar restaurants in cities such as Los Angeles, Portland and Washington, D.C. — are rolling into parking lots and plazas in San Francisco and across the Peninsula in increasing numbers.
Talk to diners and many gush over mobile delicacies that range from baked empanadas to Asian burritos. Talk to restaurant owners and many say the trucks are not only noisy but also add to downtown congestion. Local governments have been left scrambling for ways to accommodate the popular trucks while addressing the concerns of critics.
Nancy Couperus is co-founder of the Menlo Park Downtown Alliance, a collection of residents, merchants and property owners who oppose the city's downtown redevelopment plans. She believes food trucks do not belong in close proximity to restaurants. "The last thing the city should be doing is bringing food trucks in to compete with existing businesses, especially in hard times," she said in an email interview.
Whether parked at San Francisco's United Nations Plaza or at the Transit Center in downtown San Mateo, the trucks often draw crowds seeking unusual takes on street foods like tacos. "You can go to any part of the world in one block," said Devin Krizwold, an employee of Off the Grid: San Francisco, a company that runs mobile food markets throughout the Bay Area.
On a recent Monday evening at the transit center, lines of people snaked around a variety of trucks participating in Off the Grid: San Mateo, an expansion of Off the Grid: San Francisco. The offerings were as diverse as cupcakes and curry.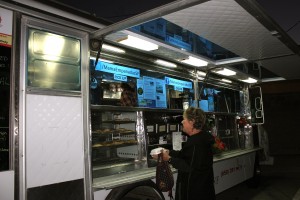 "I love food," said Nancy Bee, a regular attendee of the event, which began in July and ran through mid-December. "Normally I can come with $10 and spend no more than seven or eight."
Off the Grid works by forming agreements with food trucks, usually for six months, and developing relationships with different properties and then acquiring the permits needed to operate markets there, according to Alex Welch, a marketing manager for the company. Trucks pay a fee to participate and are assigned a few markets, depending on what works best for both parties.
Matt Cohen, the founder and owner of the company, launched his first Off the Grid event at Fort Mason in the summer of 2010. Since then, the company has expanded to include events as far away as Larkspur. Another company, Moveable Feast, which operates in much the same way out of the South Bay, recently hosted a series of markets at the San Mateo Events Center after officials there contacted the operator, Ryan Sebastian, about setting up an event.
Food trucks rely on modern technology to function. At the same time, they evoke in people a certain nostalgia for simpler, more communal times. Using social networking sites such as Twitter and Facebook to share their changing locations and hours with customers, the trucks and Off the Grid promote the events as a way for local communities to come together.
Sun Chang, owner of Hiyaaa!, a Vietnamese fusion food truck that opened in May, said: "I have a lot of regulars that come, and they're so excited because they run into their friends, high school buddies they hadn't seen in 10 years."
Aside from being a new experience for patrons, it is also a relatively new way of doing business for the truck owners and event organizers.
"I was looking for something new to do that was food-related, and I saw that it was a new trend that was doing well in Portland, Los Angeles and New York, and I felt it was about time for it to start in San Francisco," said Christina Galletti, owner of Mama's Empanadas, who launched her truck in February 2011. "It's better than a brick-and-mortar, I think, because I can go on holiday when I want to and the start-up costs are low."
Food trucks will return to San Mateo later this year, though the exact dates and location have not been determined. There are some local brick-and-mortar businesses that say the trucks have no place in the restaurant-saturated downtown area.
Gordon Conchac, owner of Rave Burger, a restaurant near the transit center, said the trucks have little to add to the food scene in San Mateo. "We have the same foods and the trucks only take away the revenue we could put back into the city and county," he said.
Galletti said that while she has heard some complaints, the public reception to food trucks has been mostly positive. Restaurant owners looking to expand into the mobile business have even asked her advice on getting started, she said, adding: "Sometimes it's not the same demographic. A person who goes to a food truck is not necessarily going to sit down and spend $200 at a fancy restaurant."
Rob Sanchez, an owner of The Melting Pot, a restaurant next to the Transit Center, supports the trucks.
"I go to a lot of Downtown Association meetings and hear other folks and their dislikes of it," he said. "For me, it's a positive thing. Most of our business is from reservations, and I can't imagine that anybody would come here and then walk away to have a burrito."
[youtube]OjFBd0LVLBI&[/youtube]