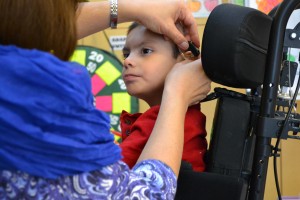 Students with special medical needs in Santa Clara County now have a school building to call their own: the McCollam School County Annex in East San Jose. The facility opened at the beginning of this school year, thanks to a $4.4-million grant from the state's Office of Public School Construction.
Although staff are excited to be in a new building, they had originally hoped to move into a building they designed specially for their special needs students. But due to state funding limitations, that plan was postponed, and the program moved into McCollam.
Peninsula Press visited the new facility to find out how teachers and students are adjusting and how they gauge awareness of disabilities in light of October being National Disability Employment Awareness Month.