The steroids era, Barry Bonds' home run chase, the 2010 World Series. Andrew Baggarly has covered much ground in his 15 years as a baseball beat writer, but his favorite memory stems from an interview he conducted when he was starting out.
In 1996, when Baggarly interned for the San Bernardino County Sun, and earned $80 a story to cover Los Angeles Dodgers and Anaheim Angels home games, he got a unique opportunity to pick any member of the Chicago Cubs to profile.
Baggarly, who grew up a Cubs fan in suburban Los Angeles, reached out to Harry Caray, the team's iconic broadcaster. Next thing he knew, he was interviewing Carey on the field before a game.
"One thing really stuck with me," Baggarly says now. "[Carey] said baseball is always going to be in great shape as long as the family of four can afford to come out to a game. He knew the game was about the fans … Too many people forget about that. It's a great reminder of who we all serve."
Seventeen years later, Baggarly finds himself without devotion to the Cubs but in the same profession as a baseball writer.
But as the journalism industry has changed, so has Baggarly's place in it.
Last year, the longtime print journalist became the "Giants' Insider" for Comcast Sports Net Bay Area. He still travels with the Giants and writes news stories, features and posts in his popular "Extra Baggs" blog, where he writes anecdotes that don't fit into his game stories. But he no longer hears about column inches or space concerns.
Baggarly's move from print to broadcast journalism is far from unprecedented. Several Bay Area newspaper writers made the move to CSN Bay Area before him, including the San Francisco Chronicle's columnist Ray Ratto, the Santa Rosa Press Democrat's football beat writer Matt Maiocco and, most recently, NFL writer Nancy Gay (formerly of the San Francisco Chronicle but most recently with FOXSports.com).
Baggarly acknowledges that he made the switch for the same reason as many other newspaper reporters: the uncertainty of the news industry. But Baggarly says despite the change, his job at CSN is much the same as before.
"I don't have to think so much about 'I have this many feature stories or column inches,'" Baggarly says. "I can write [at a length that] anything deserves."
Baggarly is conversational and matter-of-fact on camera, speaking not only of what happened between the white-chalk lines but off. The 36-year-old often wears collared shirts in his television reports, eschewing the suit and tie look of anchormen. He has a lanky build, slightly receding brown hair and an easy, dimpled smile.
Baggarly looks comfortable in front of the camera, whether he's doing live reports or pretending to look after Giants pitcher Madison Bumgarner's cow in an ad for CSN. This comes as no surprise to his older sister Sue Seline, a former television anchor in Nebraska.
"He was always an entertainer," Seline says. "As a little kid he'd do Steve Martin skits and had a Ronald Reagan impression."
Baggarly, the sixth of eight children, was born in Naperville, Illinois, about 30 miles outside Chicago. His family moved to the Los Angeles area when he was three, carrying west its Cubs fanaticism.
"We didn't have cable so I cherished every scrap of information I could get," Baggarly says. "That helped inform my perspective as a reporter because I appreciated what I could learn about the team."
Baggarly returned to the outskirts of Wrigleyville for college, graduating with a degree in journalism from Northwestern University's Medill School of Journalism in 1997. He learned the ins and outs of journalism in the classroom, but says he received just as much of his education sitting in the stands at Wrigley Field.
"I definitely wanted to do something in baseball," Baggarly says. "[One year] I went to a Cubs' fan convention and brought my resume and clips and sought out the PR director."
Baggarly's baseball enthusiasm paid off. He landed his first full-time job with the San Bernardino County Sun in 1998 before becoming a beat writer for the Riverside-Press Enterprise, covering the Angels in 2000 and 2001, and the Dodgers the following year.
Baggarly's writing style took shape in the early years of his career. He synthesizes his reporting, even without the space limitations of print journalism, because he believes keeping a story "tight" keeps a reader engaged.
Henry Schulman, the Giants' beat writer for the San Francisco Chronicle, describes Baggarly as "more of a get-to-the-point man," but says he can "turn a phrase with the best of them."
This ability is evident in Baggarly's feature writing. Baggarly recently detailed Giants catcher Buster Posey's recovery from a horrific leg injury in 2011, beginning the piece in the hours after the incident as Posey tried to figure out how to climb the stairs to his home with his leg in a cast.
Baggarly wrote: "Before undergoing the first of two surgeries, before months of mindless rehab, before the daily daggers of stretching scar tissue and before he could even think about getting back on a baseball field, Buster Posey had to complete one obstacle. He had to get home."
In 2004 Baggarly moved to the Bay Area, and spent two years with the Oakland Tribune before being hired as Giants' beat writer for the San Jose Mercury News. Schulman, who had known Baggarly since his days as the Dodgers' reporter in Riverside, was happy Baggarly was moving north. At the same time, though, he realized he'd be "in for competition."
"One time I told him something that happened in the clubhouse that Barry Bonds had said," Schulman recalls. "It was funny but not something you'd put in the paper. Andy called me about two hours later and said 'Can I use that?' and I said no because it was off the record. But that told me he's always aggressive."
That competitive nature translates into hard work that goes into confirming a trade rumor or clubhouse riff. During Baggarly's time at the Mercury News, he started "Extra Baggs," which became extremely popular ("a monster," Schulman says) and remains active on CSN Bay Area's website.
Schulman believes this blog is evidence of Baggarly's work ethic since writing a blog entry and to game story often means that Baggarly remains in the press box long after the other sportswriters have gone home.
"We don't spend a lot of time [going out after work]," Schulman says. "He's said, 'I'm just not going to stay until 12:30 AM writing this blog,' but he always does."
This work ethic does not preclude Baggarly from having fun, however. He's known for his sense of humor, not one to shy away from swapping YouTube videos with fellow reporters in the press box. His social media presence displays his humorous side, with references to "The Simpsons" or quips about a player's eating habits. His Twitter profile picture is a photo of him with "Jeopardy" host Alex Trebek, a cowboy hat superimposed over Baggarly's head.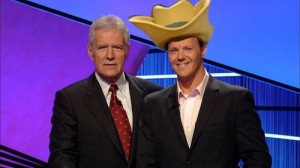 Baggarly accomplished a lifelong dream by appearing on "Jeopardy" last year, winning three times and going home with $60,000 in prize money. He correctly answered questions on a variety of topics, from beer to the Beach Boys to cuisine publications. The question that led to his defeat was, "Which sport was introduced in the 2000 Summer Olympics that was played on a raised area 16.5 feet long and 9.5 feet wide?"
Baggarly had wagered more than $11,000 on the answer: "What is sumo wrestling." The correct answer was: "What is trampoline."
"I feel like the high school quarterback from "Glory Days" — I'm going to be talking about 'Jeopardy' forever," he says. But Baggarly says the game show proved a rewarding experience, especially since it took him years of applying and taking trivia tests merely to get on the show.
The last few years of Baggarly's life have been busy. Besides appearing on "Jeopardy" and moving from newspaper to CSN Bay Area, he wrote a book about the Giants' 2010 World Series championship. Baggarly said the financial instability of the newspaper industry was a primary factor in his decision to move to broadcast.
"It's the ability to keep covering the team for an entity that's not in financial crisis," Baggarly says. "It gets deflating when you see good, talented people get laid off."
Bud Geracie, San Jose Mercury News executive sports editor, says the decision to leave the newspaper business, or journalism altogether, does not come easily for many, Baggarly included.
"It's so hard to leave newspapers … The whole craziness of it and the relentless hours becomes part of you," Geracie says. "I think Andy, as [with] others in the past, was concerned about crossing over [to television]."
The transition has been relatively seamless for Baggarly, though. Seline says her brother hasn't sought her advice much, other than a few conversations about the pacing of a day as a broadcast journalist and how to remove television makeup once the day is done. Seline sent Baggarly makeup removal wipes to tackle the latter challenge.
"By and large he didn't need my advice; he was well prepared," she says. "I'm proud of him no matter where he ends up."
Meanwhile, Baggarly says that although his job title has changed, his role as a storyteller – and the journalistic values that accompany that – remain.
"I don't root for the teams I cover; I root for quick games, no late lead changes and no rain delays. The only thing you root for is to find compelling stories … and baseball always gives you something to write about."