Proposition 30, an initiative backed by Gov.  Jerry Brown to raise income taxes on wealthy Californians to support public education, passed in a surprise victory despite trailing in the week leading up to the election.
With 100 percent of precincts reporting, voters approved Proposition 30 with 53.9 percent in favor of it.
Supporters said the passage would bring a sign of relief to economically weary school districts. At a post-election party in Sacramento, Gov. Brown said, "The core reason it brought people together was a belief in schools and universities and the capacity of government to make wise investments that benefit all of us," according to the San Jose Mercury News.
Had the measure failed, it would have marked the fourth straight year of state cuts to public schools,  triggering $6 billion in cuts on Jan. 1, most hitting K-12 education. It also would have resulted in over $800 million in reductions to higher education.
Meanwhile, competing tax measure Proposition 38, which would have raised income tax on all Californians for the next 12 years, fell to defeat. With 100 percent of precincts reporting, 72.3 percent of votes opposed the measure.
Proposition 38 was primarily advocated by wealthy civil rights attorney Molly Munger, who put $30 million behind the measure, and the Parent-Teacher Association (PTA). The initiative proposed higher income taxes for every Californian for the next 12 years, resulting in an additional $10 billion in annual revenues. Unlike Proposition 30, which earmarked a small portion of the $6 billion in revenue to go toward funding public safety, yield from Proposition 38 was to go exclusively to state schools and early childhood education programs. It would have allocated the same amount of money to each school site, but restricted how each site spent it. For example, they could not use the funds towards teacher salaries, but could use it to fund new classroom technology.
"From an individual school view, it's an odd situation because dollars would flow for the schools, but the state wouldn't have what it needs to get its budget balanced," said San Mateo County Schools Superintendent Anne Campbell in an interview before the election.
Additionally, had Proposition 38 passed over Proposition 30, Brown's trigger cuts would still have taken place. These trigger cuts would have come in the form of $5.35 billion to K-12 public schools and community colleges, $500 million to the UC and CSU systems, and about $100 million more in assorted cuts, primarily public safety.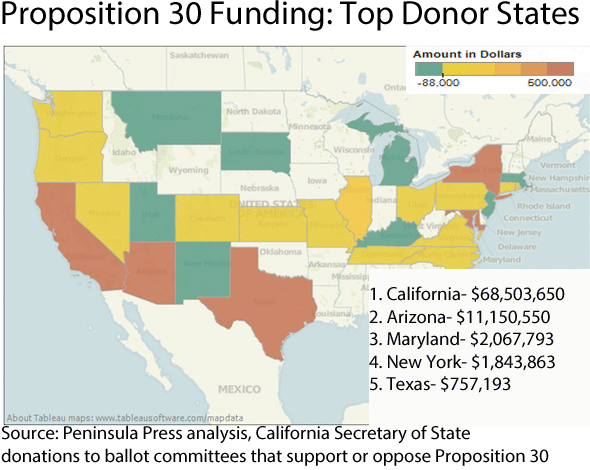 Brown campaigned actively for Proposition 30 in the final days before the election. His support for the measure emerged largely from educators (such as the California Teachers Association, or CTA), service employees and the Democratic Party. Among the largest donors were the CTA with over $11 million in campaign contributions, followed by service employee organizations and large corporations like The Coca-Cola Company. As of November 3, nearly $70 million had been raised in favor of Proposition 30, with over $50 million raised in opposition. This dissonance emerged from small business groups, the Republican Party and the  anti-tax Howard Jarvis Taxpayers Association.  A portion of the opposition's money came from a controversial $11 million donation to the Small Business Action Committee PAC, from Arizona-based advocacy group, Americans for Job Security, according to CBS and the Associated Press.
Before the election, Policy Analysis for California Education executive director and Stanford Professor David Plank characterized Proposition 38 as "doomed and pretty much always has been," describing the measure as "just a harder sell." Plank said: "It raises income taxes on virtually everyone in the state where 30 was targeted to high incomes."
Voter support for both propositions dropped in the months leading up to the election. Forty-eight percent of voters said they would vote yes on Proposition 30 in October, down from 52 percent in September, according to a survey released by the Public Policy Institute of California (PPIC). In September, voters were evenly split on Proposition 38 at 45 percent each, but that number declined to 39 percent last month.
Aside from Munger, the PTA was the primary proponent of Proposition 38. Neither the PTA nor the CTA would officially endorse the other's competing income tax measure, but both organizations encouraged that Californians vote for both propositions.
"Unofficially, people are saying 'Please just vote for both so something passes,'" said Nancy Krop, vice president of advocacy for the Palo Alto PTA Council in an interview conducted before Election Day. "At this point we just need something to pass."
Krop points to Proposition 13 as the primary reason for the funding crisis for California education. Passed in 1978, Prop 13 amended the state constitution so that residents pay no more than one percent of their home's overall value in property taxes.
"California was the model for education funding all the way up to Prop 13," Krop said. "Now we spend $3,000 less per student than the national average. California schools were top in the nation and now we're at the bottom."
Naomi Seid-Cronkite, a counselor at a non-profit Palo Alto organization called Kara, which provides counseling support for adults, said that while she benefits from Prop 13 as a homeowner, the consequence on education is shameful.
"I hate Proposition 13," Seid-Cronkite said. "When I moved here, California was the top state in education, it is now near the bottom. Imagine competing with places like Arkansas."
Although Proposition 30 passed, some education advocated cautioned that voters not get overly excited because the measure is not likely to improve the status of education in California, but simply maintain the status quo.
"Proposition 30 isn't a permanent fix," said Vincent Mendoza, a student trustee at De Anza College. "It's going to put a Band-Aid on a hemorrhaging wound."
Had Proposition 30 failed, the community college system would have been forced to make $338 million in reductions also to take effect on Jan. 1, 2013. For community colleges like Foothill and De Anza, that would have meant the elimination of 800 courses and room for 4,485 fewer students each year.
Krop shared similar sentiments as Mendoza, saying that the PTA did not officially endorse Proposition 30 because it is a temporary measure. She said there is nothing to fill the void when the income tax increase expires.
"Proposition 30 maintains us at the bottom," Krop said. "When our system is already at the bottom, how much lower can we go? We're the eighth largest economy in the world, [but] there's no way you can maintain that if you stop investing in education like we have."
Peninsula Press staff writer Sam Fisher contributed to this report.