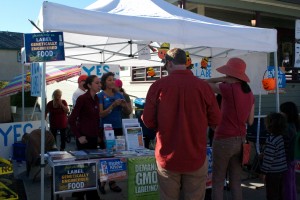 Proposition 37, a statewide initiative to require labeling of genetically modified foods, was defeated yesterday with 53.1 percent opposed to the measure and 46.9 percent in support.
The losing measure was favored by a close margin among voters on the Peninsula, though. It received nearly 52 percent support in San Mateo County and 51 percent in Santa Clara County.
"I'm excited," said Jonalee Henderson, a Colusa County conventional almond and walnut farmer who submitted arguments against Prop. 37.  "The No on 37 campaign has done a lot to get the facts out. It's great to see all their hard work generating results. I'm excited at the fact that the facts have gotten out and… people really researched the bill before going to the voter booth."
Despite the failure of Prop. 37, supporters remain committed to their cause. "We absolutely think we've changed the conversation on science, food and agriculture, permanently," said Dave Murphy, a spokesperson for the Yes on Prop. 37, or Right to Know, campaign. "It was a powerful grassroots movement and millions of Americans across the country now have a growing concern about this. We're going to go on."
Support for Prop. 37, initially widespread, had plummeted in recent weeks. A California Business Roundtable/Pepperdine University Poll taken on Sept. 27 revealed that 66.9 percent of voters supported Prop. 37. The same poll taken on Oct. 11 had 48.3 percent of voters backing the initiative, a figure that slid to 39.1 percent as of Oct. 30.
The No on Prop. 37 campaign sponsored an advertising effort estimated to cost over $40 million. The past month saw a barrage of television commercials from opponents. The pro-Prop. 37 Right to Know campaign launched its first commercial just over a week ago.
Henderson credited No on Prop. 37's outreach efforts for their campaign victory. "The significant amount of advertisements and mailers to educate people about the bill was key here," she said.
Prop. 37 would have required the labeling of genetically modified foods and prohibited them from being labeled as "natural." The initiative listed some exceptions, including foods made or processed with small amounts of genetically engineered materials and food sold for immediate consumption, such as in restaurants.  Certified organic food, which already excludes the use of genetically modified ingredients, would also have been exempt from the labeling requirement.
The term "genetically modified" can encompass many techniques used in breeding food plants and animals. The most notable of them involves taking a useful gene or genes from one species and adding it to the genome of another. These introduced genes are still used almost exclusively in plants, not in food animals. They add some kind of benefit to crop plants, such as making them toxic to insects or resistant to herbicides, drought or disease, for example.
The passage of Prop. 37 would have made California the first state to require labeling of genetically engineered foods.
Walter Falcon, Deputy Director of Stanford's Center on Food Security and the Environment, said that the initiative's language made anticipating its impacts difficult, however.  "It's not clear what it does and doesn't do, what it includes, what it excludes," he said in an interview before election day.  "That's without respect to whether one is in favor of labeling or not labeling. I think it's a really badly written proposition."
Safety was a core issue in the Prop. 37 debate. On its website, the Yes on Prop. 37, or Right to Know, campaign said that, "Genetically Modified Organisms (GMOs) are linked to allergies, organ toxicity, and other health problems." Meanwhile, the No on 37 campaign states that the American Medical Association (AMA), World Health Organization, National Academy of Sciences and the U.S. Food and Drug Administration have all deemed foods made with genetically engineered ingredients to be safe. This is true, for foods currently available. However the AMA and other organizations also recommend better and more extensive safety testing of GMO foods. "Putting scary sounding labels on foods [would] mislead consumers," said the No on Prop. 37 website.
Evan Underwood-Jett is a 21-year-old voting in his first presidential election and helps sell California-grown avocados at the Palo Alto Farmer's Market each weekend. He planned to vote in favor of the labeling.
"I think people should be informed," he said. "I don't think it's too much to ask that labeling be put on there. But personally, I don't think genetically modified foods are that bad."
Taylor Connor, a 23-year-old marketer for a family-owned gluten-free business at the Palo Alto Farmer's Market, was also in favor of the labeling. She sees a lot of interest from her customers in knowing what is in their food.
"I definitely get a lot of questions about GMOs," says Connor. "It's a concern I've heard people voice before here at the market."
Falcon pointed out that most genetic modification occurs in corn and soybeans, staple crops found "in everything," which defeats the purpose of labeling. "How much is one going to require labeling?" he asked. "How far does it go?"
Genetically modified varieties have become the norm for several key food crops. According to the U.S. Department of Agriculture Economic Research Service, 88 percent of all corn and 93 percent of soybeans planted in the U.S. this year were genetically engineered. Most fresh fruits and vegetables, as well as wheat and other staples, are still not genetically modified. But because corn and soy ingredients are pervasive in packaged foods, a majority of food products in a typical grocery store likely would have carried the GMO label.
Charles Hawkins, 69, a private practice lawyer who regularly shops at his Menlo Park Safeway, voted in opposition of the measure in an absentee ballot he mailed ahead of time for travel reasons.
"I'm getting tired of the intrusion of government in our lives. I want no more of this administrative garbage that's going on," Hawkins said.
The No on Prop. 37 campaign claimed that the initiative's passage would have cost California farmers and food producers $1.3 billion a year. The group also said that it would increase families' grocery costs by $400 a year.
Rebecca Spector, West Coast Director of the Center for Food Safety, a supporter of the initiative, was incredulous. "It's pretty mind-boggling to see where they're getting this information," she said before the election. "There's no evidence to show that this will increase the cost of food."
Falcon agreed. "I'd be pretty suspicious of those numbers, but I do believe it will add costs," he said before the election. "At the end of the day consumers have to pay for those costs."
Alexis Baden-Mayer, Political Director of the Organic Consumers Fund, which supported the initiative, blames the opposition's tactics for Prop. 37's defeat. "Consumers have been told a lot of lies about how Prop. 37 would be implemented," she said before Election Day. "Everything they've said about the initiative is untrue. The Organic Consumers Fund is an organization focused on grassroots lobbying for organic and sustainable food and farming. Many of its members and supporters are organic farmers and people who eat organic food.
Altogether, agribusinesses and big name food companies poured $41.3 million into defeating the labeling initiative. Supporters of Prop. 37, mainly individual donors and small organic food companies, like Clif Bar & Company, raised a total of $7.3 million.
The opposition camp received the largest contributions of this initiative fight. As of Oct. 27, E.I. Dupont De Nemours & Co. and the Monsanto Company, both manufacturers and sellers of genetically engineered seed, donated about $4.9 million and $7.1 million respectively, to No on Prop. 37. The Organic Consumers Fund and Mercola.com Health Resources LLC made the biggest contributions to the Yes on Prop 37, or Right to Know, campaign. Both groups donated more than $1 million individually.
Even with Prop 37's defeat, the push to label genetically modified foods appears set to continue. "I think we still need to continue educating the public," Henderson said. "There's a lot of misconceptions about genetically engineered products."
Murphy said that the Right to Know campaign has laid down the groundwork for future efforts to get similar initiatives on the ballot in other states. "California is just the first state in a long-term plan at the national level," said Murphy. "We may have lost today, but we have won a big victory of bringing together a coalition of so many groups."
"We're not giving up," he said.
Peninsula Press staff writers Ian Yakob and Connor Huchton contributed to this report.