Hear more about this story and the facts behind Proposition 35 on the Peninsula Report podcast.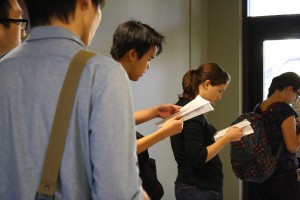 In a state that has become a crossroads of human trafficking, Californians showed overwhelming support for Proposition 35, legislation built to crack down on the burgeoning industry.
The measure cruised to an emphatic victory, as 81 percent of the more than 9 million votes cast favored enacting the legislation. The support in Santa Clara and San Mateo counties parallels statewide numbers.
Human trafficking has "exploded in our state," said Stephen Wagstaffe, San Mateo District Attorney, and a strong supporter of the measure. Wagstaffe believes the bill allows for a crucial distinction in the prosecution of prostitution versus forced trafficking of minors. Against repeat offenders of the latter,  he said his office will  "come down with a hammer and seek the long sentence."
Veronica Monet, a former sex worker turned sex-worker's-rights advocate, was disappointed by the result and what it could mean for prostitutes and others in the sex industry.
"I can't say I'm surprised," she said, adding, "It could be enforced in a way that could be incredibly oppressive."
Former Facebook executive Chris Kelly, the measure's primary financial contributor, said in a statement that by passing the measure, voters ""made the internet a safer place for children, gave prosecutors the tools to go after human traffickers, and provided victims with greater access to services that will help them get a second chance at life."
" I'm proud to stand with law enforcement, prosecutors, survivors, advocates, and millions of Californians to say 'enough is enough' to human traffickers in our state," Kelly added.
Human trafficking is the world's second largest criminal industry behind drug trafficking, and continues to grow at an alarming rate.
California has been at the center of that rise in the U.S. as home to three of the nation's top 13 child sex trafficking centers – San Francisco, Los Angeles, and San Diego.  According to  the National Human Trafficking Resource Center (NHTRC),  16 percent of  human trafficking reports come from California, the most of any state in the nation.
Even so, the state had just 18 convicted human trafficking offenders in its prions in March 2012.
The legislation aims to rectify that imbalance with better law enforcement training, greater protection for minors and victims in court proceedings, and tougher fines and sentences  for convicted traffickers. Proposition 35 increases the potential penalty for being convicted of sex trafficking of a minor, for example, from eight years to a life sentence.
The initiator of Proposition 35,Daphne Phung, was spurred to action by a MSNBC documentary "Sex Slaves in America," which aired in December 2008. Phung, founder and director of California Against Slavery, a non-profit advocacy group created to strengthen the state's anti-human trafficking laws, said the documentary's vivid portrayal of human trafficking across the nation and world, and revelations about the legal and judicial system's inability to protect victims, moved her to "profound anger."
As a result, the Fremont resident joined forces with Alameda County District Attorney Nancy O'Malley to draw up the measure that would become Proposition 35.
Under U.S. federal law, human trafficking is defined as "Sex trafficking in which a commercial sex act is induced by force, fraud, or coercion, or in which the person induced to perform such an act has not attained 18 years of age" or the "recruitment, harboring, transportation provision, or obtaining of a person for labor or services…"
Proposition 35 will come down hardest on the forced sex trafficking of minors, upping fines for the forced sex trafficking of a minor from $100,000 to as much as $1.5 million. It also places those convicted of human trafficking on the state's registry of sex offenders, and forces them to provide local police or sheriff's departments their Internet accounts and online identities.
At a panel discussion at Stanford University last month, O'Malley said the state's current sentences and fines for sex trafficking offenses amount to a "slap on the wrist" whereas the more stringent punishments of Proposition 35 "raise the societal unacceptability of trafficking."
"[Prop.35] is making the boldest statement that we can make as a state, as a society," O'Malley said, "that if you traffic an individual for sex, for exploitation, for labor trafficking, you will be held accountable and you will be punished."
As  the Proposition 35 victory became clear, Lieutenant John Vanek, a former San Jose police officer and vocal opponent of the measure, said "It's unfortunate because it will be harmful."
" Proponents took a highly complex issue and framed it in a very emotional manner," said Vanek, who works as a consultant assisting police, prosecutors and non-profit organizations in the fight against human trafficking.
 The initiative, known as the Californians Against Sexual Exploitation Act (CASE Act), at first seemed unlikely to secure the 504,760 signatures required to reach the ballot. Phung had tried to place an anti-human trafficking measure on the state ballot in 2010 but couldn't secure the funding necessary to spur the gathering of signatures.
But this time Kelly contributed $2.36 million, which proponents used to accumulate signatures and advertise the initiative. Among the more than 400 individual contributors to Proposition 35, Kelly provided the lion's share.
No money was given to oppose the measure.
But Proposition 35 sparked significant vocal opposition, much of it from the sex workers it was designed to protect, including prostitutes and others in the pornography industry. Those workers, as well as victims' advocates, did not participate in the drafting of the the measure.
Opponents of Proposition 35 say the measure's broad language might cause more harm than good.
Monet, the sex workers' advocate, said the threat of being placed on the state's sex offender registry would scare prostitutes and other sex workers who need rescuing from seeking help for fear of associating themselves, or their customers, with the bolstered trafficking laws.
"Prop. 35 criminalizes the lives of sex workers to such a degree," Monet said, "that the friends that I still have that are working [as prostitutes], I will be afraid to let them make phone calls from my house. I will be afraid to give them a ride in my car. I'll be afraid to accept money from them for gas," for fear that even the smallest association with any sex worker might implicate her as a trafficker.
"Human trafficking has been conflated with the term prostitution," Monet said, adding that the only way a prostitute could avoid punishment as a human trafficker under the new law would be to self-designate as a victim of human trafficking, thereby incriminating pimps and customers as traffickers.
Monet's concern highlights what Proposition 35 opponents view as ambiguity in the measure's language, which they fear will give prosecutors leeway in how they interpret it in the courtroom. Even O'Malley, who helped write the legislation, admitted that much of the measure's effectiveness will be determined by "prosecutorial discretion."
Another point of contention centered on the measure's increased criminal fines.
Proposition 35 directs criminal fines collected from traffickers to the Victim-Witness Assistance Fund, with 70 percent going to agencies working on behalf of victims and 30 percent to law enforcement and prosecution of the industry.
But Kathleen Kim, author of California's current human trafficking laws, said at last month's Stanford panel that she believes all of the money should go to victims – and quickly – rather than getting tied up in bureaucracy, and then trickling down in smaller percentages. Victims would be able to sue for civil compensation regardless of whether the measure passed or not.
Both sides agree that California's current anti-trafficking laws need strengthening.
Shared Hope International, a non-profit based in Vancouver that advocates for sex trafficking victims around the globe, grades every U.S. state on its sex trafficking laws. Shared Hope endorsed Proposition 35, which may help California address the weaknesses in its laws that earned the state an "F" with only 40 points out of 100 in the organization's 2011 report card.
According to Taryn Mastrean, Shared Hope's director of communications, California's low rating was due in part to its lack of laws protecting victims and criminalizing those buying their services. She said that this void would be filled by the strict statutes in Proposition 35, which would afford victims the same protection that rape victims receive under state law, and would omit make past commercial sexual exploits – forced or not – inadmissible as an attack on victim credibility in trial.
Sergeant Holly Joshi of the Oakland Police Department, a Proposition 35 supporter, said the measure's provisions for increased law enforcement training and heavier sentencing will also allow California law enforcement to better combat human trafficking.
The more time a convicted trafficker or pimp is incarcerated, Joshi said, "the more victims that I am able to protect because we are talking about people who operate in a way that is almost sociopathic.
"Every single day they wake up," Joshi added, "and their number one job is to find vulnerable women and children they can put on the streets of America and sell their body over and over and over and over again for sex."
Peninsula Press staff writers Kristina Krohn and Dylan Malloy contributed to this report.