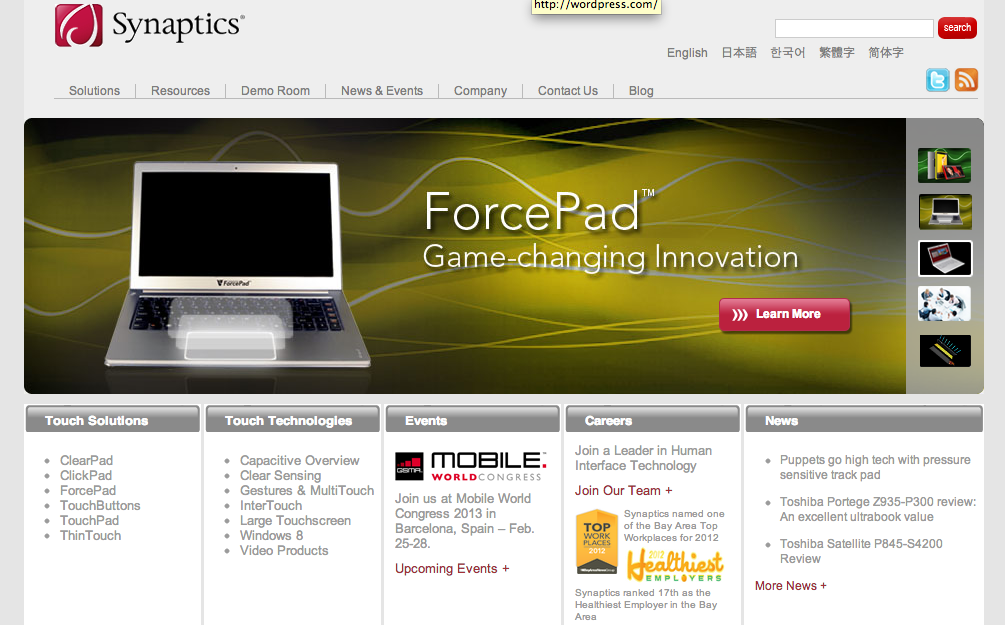 Synaptics, Inc. (NASDAQ: SYNA) reported better-than-expected second fiscal quarter earnings on Thursday, an indication that the upward trend in the global mobile market may have been enough to offset stagnant PC growth.
Santa Clara-based Synaptics manufactures custom-design touch screen and touch pad technology that is incorporated into personal computers, notebooks, smartphones, tablets and other electronic devices.
The company reported net income for the second quarter of fiscal 2013 ended Dec. 31, 2012 of $11.1 million or 33 cents per diluted share, down from $17.4 million, or 51 cents per diluted share, reported for the comparable quarter last year.
Excluding one-time acquisition and compensation-related charges, the company reported adjusted earnings of $17.6 million, or 53 cents per share, compared to $23.1 million, or 68 cents per share.  Analysts had expected earnings of 45 cents per share, according to a consensus reported by Thompson Reuters.
On Friday, Synaptics' shares jumped more than 10 percent closing at $36.43 on the NASDAQ Stock Market. Since then, the stock has dropped slightly. Monday, the share price closed at $35.76. Today, Synaptics' shares sold at $35.32 at the 4 p.m. close of trading  on NASDAQ.
Synaptics' President and Chief Executive Officer Rick Bergman noted in a conference call with analysts that the company's positive performance in the mobile industry has cushioned the company from a serious downturn in PC sales.
Bergman called the mobile market, a "green-field opportunity."  He pointed to research from Information Handling Services, Inc., which showed the smartphone market hit 660 million units in 2012 and anticipated it will grow to over one billion units in the next two years.
Synaptics', like its competitors Cypress Semiconductor Corp. (NASDAQ: CY) and Amtel Corp. (NASDAQ: ATML), has suffered with the flatlining of the PC market.
Bergman has pushed the company to create very thin touch screens for mobile, ultrabooks and tablets – technology that he thinks will allow Synaptics to differentiate itself from its competition, especially in China. He said during the earnings conference call that he anticipates a boost in sales once the company's ThinTouch keyboard is more widely integrated with TouchPad technologies in PCs.
The company also anticipates improved sales as Microsoft's new Windows 8 and touch-based Windows RT operating systems catch on.
Some analysts share that view. "The company has mentioned earlier last year that they're probably not in the first wave of Windows 8 designs. But I think they're going to be in the second wave," said Kevin E. Cassidy, analyst director from Stifel Nicolaus Financial, in a telephone interview. "The second wave of Windows 8 designs are going to have more touch capabilities and I think they're going to be more successful in the market."
The company reported revenues of  $143 million, a drop from the $145.5 million reported for the comparable quarter of fiscal 2012. The company's revenues were driven by the mobile market, which accounted for 57 percent of sales, followed by PC products, at 43 percent.
The company hopes a broad portfolio of products, and penetration in domestic and international markets will buoy its position.
It is investing heavily in R&D and last year made two acquisitions: Pacinian Corp., which brought the ThinTouch technology to Synaptics, and the Video Display Operation division of Integrated Device Technology, Inc. (NASDAQ: IDTI).
At the recent 2013 Consumer Electronics Show in Las Vegas, Synaptics received the Innovations design and Engineering Award for its ForcePad, which detects varying levels of finger pressure applied to the touch pad.
Bergman in the conference call pointed to a laundry list of the latest  mobile devices that carried Synaptics technology: including the Google Nexus 4 from LG, Verizon's Droid DNA, Huawei's new phone the Ascend with Magic Touch – announced at CES – and the Sony Xperia T, featured in the new James Bond movie, among others.
Bill Rajvindra, senior analyst at Needham & Co., said of the quarter: "They sound very confident and they saw a lot of growth last quarter. Q4 mobile business is up 26 percent sequentially. Going into the March quarter, it's going to be up 5 percent to 10 percent sequentially. So they're gaining share and those are the good things." But he pointed out in the telephone interview, "The PC segment is probably going to be down again sequentially. That market is a tough market. There's no way to escape that."
Looking ahead, the company said in a post-conference call that it expects third quarter adjusted earnings of 53 cents per share on $143 million in revenue. That prompted  analysts at Cowen and Oppenheimer to upgrade their calls on the stock.
Rob Stone, a Cowen analyst, wrote in a disclosure after the conference call that Cowen is planning to raise "earnings per share about 23 percent, upgrading from Neutral to Outperform" and sees a "20 percent upside relative to the market in a year."
The company used $28.7 million of its $292.5 million cash on hand to repurchase 1,155,299 shares of common stock.  Last quarter, Synaptics also entered into a contract to purchase a new building to relocate its headquarters. The company has not yet released a statement about where the new headquarters will be located.
Synaptics' Chief Financial Officer, Kathy Bayless, plans to present at the Stifel Nicolaus Annual Technology Conference to the investment community on Thursday, Feb. 7 in San Francisco. The company said in a statement that its presentation may include "forward-looking information."