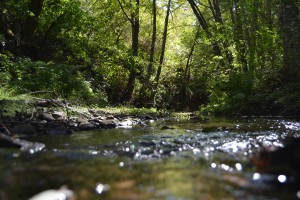 Gazos Creek runs roughly 12 miles to the ocean, through redwood groves, pasture land and foggy coastal plains. Like many watersheds in San Mateo and Santa Cruz counties, the endangered coho salmon once swam along its length, returning to spawning grounds to breed. The coho salmon are a unique visitor to California's central coastal waters thanks to their limited range, which extends only from Alaska to Monterey Bay.
Today, only one watershed south of San Francisco remains an active coho spawning ground: Scott Creek, in Santa Cruz County. Salmon continue to spawn there thanks to the efforts of conservationists, landowners, fishermen and volunteers who help sustain a hatchery on its tributaries.
Listen to the podcast below, in which community members involved in the conservation of the coho salmon explain why they work hard to preserve this ancient fish.
[soundcloud url="https://api.soundcloud.com/tracks/115719155″ width="100%" height="166″ iframe="true" /]
See the map below for the locations of Scott Creek and Gazos Creek:

View Saving The Coho in a larger map
Listen to reporter Matthew Hansen explain the story behind the story on KZSU Stanford's "Peninsula Report" radio show with host Eliza Ridgeway (begins at 9:38):
[soundcloud url="https://api.soundcloud.com/tracks/118130176″ width="100%" height="166″ iframe="true" /]