[soundcloud url="https://api.soundcloud.com/tracks/115992648″ width="100%" height="166″ iframe="true" /]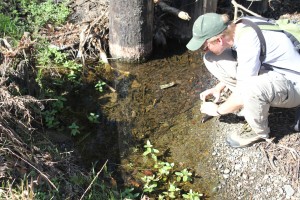 A local park turned into a data hub, as smartphone-wielding citizen scientists converged in a frenzy of knowledge gathering. Using iNaturalist — an app designed by Cal alum Ken-Ichi Ueda — dozens of locals (and non-locals) descended upon San Mateo's Laurelwood Park on Oct. 5 to carefully label the park's local flora and fauna.
The event drew 47 people, who used their smartphones to take pictures and label their findings before uploading the data via iNaturalist. The results? In just one day of data collection, there were 834 observations of 180 species.
The event, which has taken place in the past at parks like McLaren Park in San Francisco, is a joint venture between the California Academy of Science, the Sequoia Audubon Society and Nerds for Nature, an organization that focuses on environmental science and technology.
Check out a map of the results, and listen to the podcast above to hear more about this unique event.
Listen to reporter Emiliano O'Flaherty-Vazquez explain the story behind the story on KZSU Stanford's "Peninsula Report" radio show with host Eliza Ridgeway:
[soundcloud url="https://api.soundcloud.com/tracks/118130155″ width="100%" height="166″ iframe="true" /]