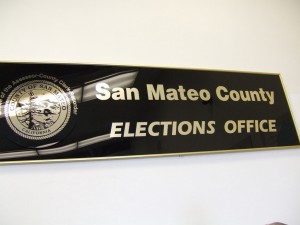 San Mateo County filed a motion on June 13 to dismiss a lawsuit over what the plaintiffs claim is a violation of voters' rights.
The Lawyers' Committee of Civil Rights, a San Francisco-based non-profit working to defend the legal rights of minorities and refugees, sued San Mateo County in April after Asian and Latino residents complained that at-large ballots—whereby voters elect the Board of Supervisors in countywide, rather than district-based, races—left county politics racially polarized. San Mateo is the only county in California that has not adopted a district-based voting system.
Asians and Latinos each make up a quarter of San Mateo's population of 720,000. But the county's Board of Supervisors has only had one Latino and no Asians in office since 1995, according to the lawsuit.
James M.Wagstaffe, an attorney representing the county, said that San Mateo's at-large election is allowed under the state constitution and that minority interests may better be served by reforms in other areas.
"I think they're focused on the wrong issue; I think that's a good argument for changing finance reform," Wagstaffe said. He added "The California constitution expressly allows charter counties to practice at-large voting—there can't be anything illegal [about that]."
But the plaintiff's lead counsel, Robert Rubin, said that he is "confident that no court will agree with that notion." He added, "[The county] needs to understand the chilling effect of an old point system, that it's hostile to their interest."
Voters approved an at-large balloting system in three different elections. However, the last time the issue was raised at the polls was in 1980. A review committee suggested bringing the voting system up to another electoral vote in July last year. According to Board of Supervisors President Carole Groom, the supervisors unanimously vetoed that suggestion.
"I think the system works fine the way it is," Groom said. "By having countywide elections every one of us has to worry about every resident—I spend as much time trying to figure out jobs for poor people as I do anything else. If you only have to represent your own district, you wouldn't really have to care about some of the controversial things we deal with."
Despite the plaintiffs' claims, San Mateo has not been without minority politicians. Ruben Barrales became the first Latino supervisor when he was elected in 1992 and again in 1996. Barrales was followed by Rich Gordon, the first openly gay supervisor who served for 13 years after he won in 1997. Rose Jacobs Gibson, an African-American appointed in 1999, currently represents the fourth district.
County officials and lawyers say that campaign finance reforms will better address these issues.
"[It] would be a large help—all over the state of California—in getting more people involved not just minorities because of the price of the media, the price of direct mail," Groom said. "But if we had some sort of campaign finance reform, everyone would be at a more even playing field."
Running for office in San Mateo comes at a hefty price, and most candidates make significant personal investments in their own campaigns. The top fundraiser in the most recent election for county supervisors last May, current supervisor Dave Pine, raised more than $320,000 after loaning himself $200,000.
But, Rubin, the plaintiffs' lead counsel, said that switching to district-based elections, would also impact the financial end. Candidates, who currently rely on television, radio and direct mail to reach constituents across the whole county could campaign door-to-door if they were running in smaller districts, Rubin explained.
Rubin said the plaintiffs filed their lawsuit in order to bolster minority representation on the ballot.
"Just because someone can win an election doesn't mean that there's not a diluted effect from the at-large system,: Rubin said, "it doesn't mean that the system is fair." The suit contends, Rubin explained, that the majority white community voting as a bloc consistently defeats the electoral voices of minority communities.
Some political hopefuls, Rubin said, are even afraid to step forward and express interest in running for office let alone take steps to become candidates.
"We are not saying that only Latinos can represent Latinos, and Asians represent Asians," Rubin said, "but those specific communities have the right to elect candidates of their choice in at least some measure commensurate with their numbers."
San Mateo will argue for dismissal of the lawsuit in a court hearing in October.