Tonight in San Francisco, the monthly Silicon Valley New Technology Meetup starts at 7 p.m. at the offices of DLA Piper, 555 Mission St. Suite 2400, in the SoMa district. The meeting will feature product demos, pizza, beer, wine and the opportunity to schmooze with over 200 entrepreneurs, investors and tech writers. Details on this and other meetings and talks can be found at this site.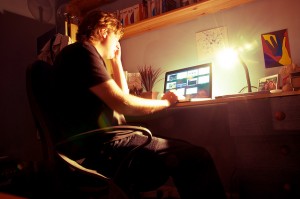 The New Technology Meetup event is one of dozens of similar groups that meet regularly in the Bay Area, sharing drinks, snacks and new media or technology ideas. One of the most well known is Hacks/Hackers, which pairs journalists and techies to brainstorm and prototype new journalistic tools and strategies. It has 25 chapters in seven different countries.
Hacks/Hackers co-founder and former Associated Press foreign reporter Burt Herman spoke at Stanford University in February about why he wanted to start the group.
He spoke of hearing media giant Rupert Murdoch criticizing groundbreaking technologies like Google, using terms such as "tapeworms" and "leeches."
Herman considered that uniting the two sectors, "hacks," which refers to the reporters who make up the media industry, and "hackers," which refers to programmers and other technology innovators, would be a more productive solution than watching them push each other away.
"The fundamental idea behind this is that ink is to newspapers as code is to the web," said Herman of Hacks/Hackers.
Kelsey Williams, a Peninsula Press reporter who attended Herman's event and has worked on a digital media venture herself shared these reflections about the value of these popular technology meetup groups.
Perhaps when you think of tech entrepreneurs, you see an image of relatively unkempt computer science nerds with nothing but junk food and the faint glow of the computer code to keep them company. An image of the enigmatic Mark Zuckerberg — who in your mind looks like actor Jesse Eisenberg — in his Harvard dorm creating "the Facebook" in a coding marathon pops into your mind.
But, to successfully get your start (read money) in Silicon Valley, going fully hermit is far from the norm. A valley entrepreneur's social calendar, filled with monthly meet ups, seminars and dinners  is in some ways as essential as the hours he puts in at the desk.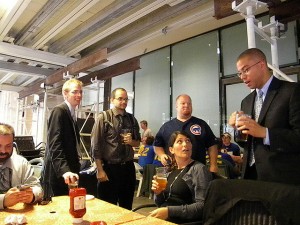 The reason being, entrepreneurs need both networking and pitch practice, with the latter perhaps holding more weight than the former.
Sure, techie #1 may know how to speak fluent Java, but when it  comes to explaining his or her product and business plan in plain English (the language of the people with the money), the practice learned in social situations is invaluable.
In any given conversation, tech entrepreneur #1 may have about two minutes to get out the basics before losing the audience. This teaches him or her to be succinct and engaging, which, on Sand Hill Road, could win a coveted second meeting with an investor.
Dave Hornik, successful venture capitalist with August Capital and writer of "Venture Blog"  explained to Stanford students last spring that he needs to be sold on the person before he is sold on an investment.
The work done behind the scenes — the bleary eyed midnight coding marathons — is still essential too. No one will care if an entrepreneur can talk about his or her great website or application that doesn't exactly work or looks like a class project in computer science 101. To make in this Valley, now and even in the days before social media, social and tech go hand in hand.