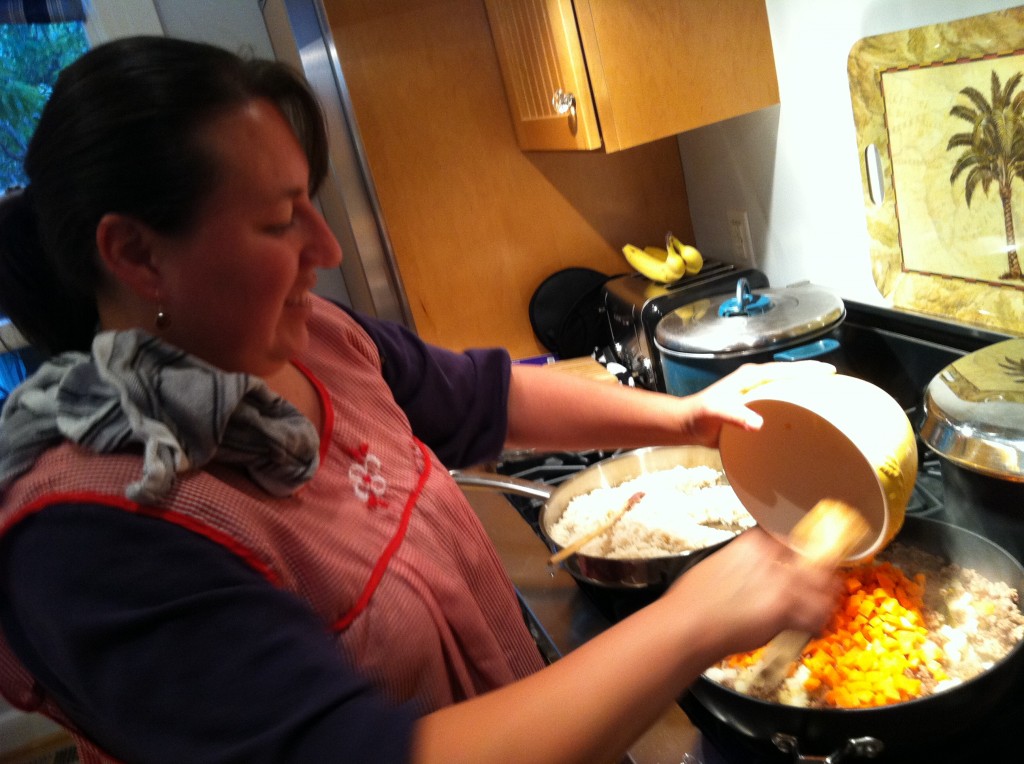 Paloma Salazar stood poised, knees slightly bent, tension in her arms, a look of concentration etched in her generally round genial face. The East Palo Alto special needs teacher and mother of three who immigrated from Mexico in 1995 had done this hundreds of times, the quick flipping of a perfectly cooked flan from its cooking bowl to the serving plate.
More often than not, the beautifully domed flan emerges stunningly perfect from the bowl coated in the warm, luscious flowing caramel. Still, she knows — as does every home cook — that sometimes recipes just don't turn out. Even with a tradition of blessing the pot with a cross and a prayer, sometimes the flan emerges from the bowl not as a perfect dome but as a still tasty but otherwise less elegant mess.
Today Salazar has said an extra prayer. It is her second class as a cooking instructor for the burgeoning Silicon Valley start-up, Culture Kitchen, and a group of eight students and the two heads of the company are watching her technique with rapt attention.  With one swift motion, Salazar turns the bowl onto the plate, and with an internal sigh of relief, she sees the decadent caramel sauce pour down on top of the fully intact custard.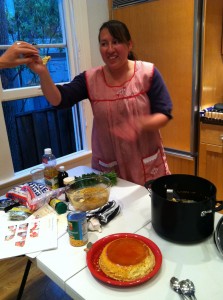 Perhaps at this moment, a professional chef would think about garnishing the dessert, but Salazar passes around spoons so the class can join in her favorite part of making flan — eating the small caramelized bits of custard and sauce that stuck inside the flan bowl. Smiling with childlike satisfaction, Salazar and the rest of the class take a moment to enjoy the less sophisticated sweet treat, a moment that feels familiar – even to those who had never had flan.
The basic idea behind Culture Kitchen is to have exceptional home cooks who specialize in the cuisines of their home countries teach their secrets, recipes and culture to eager local cooks wanting to try something new. The instructors, most of whom have never had formal training, are immigrants, or the children of immigrants, who have literally been cooking their family recipes and cultural staples since childhood.
As an instructor, Salazar is still getting the hang of things. When asked how large to cut the potatoes for the main dishes she responds not with exact measurements but with, "Three small, and three not so small."
But perfect technique and exact recipes are not the point of the classes, say Culture Kitchen founders Abby Sturges, 29, and Jennifer Lopez, 24. "There are so many ways you can be an expert in cooking," Lopez said.
"People want to learn to make Vietnamese," Sturges said, "Now you can have a Vietnamese grandmother teach you."
"These women are experts of their culture and their cuisine," Sturges added.
For Sturges and Lopez, the venture is not just about cooking but about connecting people and cultures.  They strive for moments in the kitchen, like licking the flan spoons, to which everyone can relate.
Sturges and Lopez, who both graduated in June from Stanford's graduate program in design, first came up with the Culture Kitchen concept after each of them spent time abroad in the spring of 2010. Sturges studied in Myanmar and Lopez visited Kenya.
When they returned from their trips, the pair realized that, despite thousands of miles distance with separate projects and on separate continents, they had each had a common experience with the local women.
"They laid out the food, and then they opened up, and it was this critical sharing moment," Lopez said.
"We saw so many similarities between the women we met and the women we knew here," Sturges added.
From that dinner, Sturges and Lopez said they hatched the idea that became Culture Kitchen and decided to make it their master's thesis projects at Stanford.
Now, over a year later, Culture Kitchen has evolved a great deal from their original musings that evening. As one of the companies in the second accelerator class at the Mountain View incubator 500 Startups, Culture Kitchen has been developing the company and the class experience in the testing stages with most classes held in small community kitchens in Palo Alto.
On August 16, Sturges and Lopez will pitch their company to a panel of venture capitalists at the close of their summer at 500 Startups.  They hope that they can find funding to officially launch and develop a regular class schedule in larger markets as well as begin offering private events.
Last spring, Sturges and Lopez began recruiting local chefs through Craigslist and local non-profit organizations that work with immigrant groups. Through their inquiries, they found chefs to teach Nicaraguan, Mexican, Ukrainian, Thai and Columbian cooking, and they say they are always on the lookout for more chefs to add to the team.
Once they had chefs on board, Sturges and Lopez advertised classes through friends, classmates and various start up events coordinated through Stanford or 500 Startups. At one entrepreneurship meeting at Google, Sturges and Lopez said they attracted several employees of the tech giant who wished to learn how to cook ethnic comfort food.
Each instructor brought different cuisines, cultures and methods to classes, but Sturges and Lopez quickly realized one common issue they would have to resolve.
For the past several months, they have been working on a way to translate "home-cook," the deeply comforting but utterly perplexing language of cooks from around the world, whose methods have become so ingrained that they don't even think about details like measurements or technique.
Learning to translate Salazar's "three small and three not so small" instruction for potato cutting into a workable recipe for students without cramping Salazar's charm or flair is a balancing act that Sturges and Lopez quickly learned they would have to master with all their chefs if they planned to give customers real recipes and skills to take home.
"This summer we have really been focusing on user experience, " Sturges said.
To solve this problem, Sturges and Lopez have the cooks give them a trial-run demonstration for each recipe. By walking through each step with the chefs, they are able to write out complete recipes and create fully illustrated packets with precise measurements that students can use as a reference guide during and after the class. They've found this guide also allows the chefs to pause and share their own stories and culture during classes without having to explain every minute detail of the cooking process.
Lopez explained, "Our first chef — Maria Lourdes — when she had her first class, the thing she was most excited about when she left was the fact that she knew the students in her class were going to go home and cook these dishes for their friends. So her Nicaraguan food wasn't going to stop with her family. It was going to keep going… "
Salazar shared her similar but even more personal satisfaction from the classes. Before she moved to the Bay Area and got caught up with starting a family and teaching special needs in schools, she had been studying to be a chef in Mexico.
"I always had that feeling of what if I had gone back and finished becoming a chef," Salazar said.  At 16, she remembers the recipes she created and the meals that she imagined she would serve as a chef in a kitchen like the grand one in the Hyatt in Mexico.
"Hopefully, now with this, part of the dream will come true—cooking for somebody and especially teaching them to cook my meals."