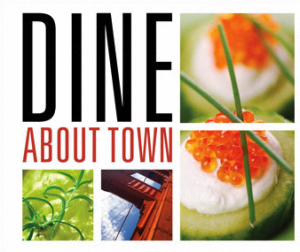 When it comes to restaurant deals in the Bay Area, it seems the prevailing sentiment of diners is, "the more the merrier."
With multitudes of online daily deal sites like Groupon, LivingSocial  and Facebook Deals handing out dining coupons, organizers of restaurant week events in the Bay Area said they wondered if patrons would still feel compelled to come out during the specific weeks of the city-wide events this June.  However, a survey last week by online reservation company, OpenTable during this June's Dine About Town event show that the enthusiasm for restaurant week events is only getting stronger.
The survey, commissioned by the San Francisco Travel Association, the office that hosts the semi-annual Dine About Town events, indicated that reservations for this June's Dine About Town increased by 17 percent year over year, according to Lynn Bruni, director of consumer marketing for the association.
Restaurant week events conceived in New York City 20 years ago, were originally designed as a marketing event to increase business in restaurants during slower dining seasons. Participating restaurants offer three-course prix-fixed menus at a lower price than the menus would cost during the rest of the year. Over the years, the concept has caught on in cities across the country. San Francisco started its own version, Dine About Town, seven years ago which lasted throughout the month of January. Now Dine About Town is a semi-annual event lasting for two weeks every January and June.
Part of the draw of the events is the exclusivity of the deals during the specific weeks of the events.  Many diners plan special dining events or group outings around these weeks to take advantage of the discounts at the multitude of restaurants.
However, with the rise of daily deal sites like Groupon, founded in 2008, dining deals with savings up of up to 50 and even 75 percent have been regularly delivered to deal subscribers inboxes year round.  According to Groupon spokeswoman Kelsey O'Neill, Groupon alone offers between  one and four restaurant deals to their thousands of subscribers in the area.
"We were initially concerned that [daily deals] might impact Dine About Town," Bruni said. For that reason, she added, the association asked OpenTable to survey whether diners participating in Dine About Town also used daily deal sites regularly. According to the survey, diners said they did use daily deals, but it had no impact on whether they chose to participate in the restaurant week.
Rick Jenson, communications director for the San Jose Downtown Association, which just wrapped up that city's Dine Downtown event on Sunday, said he did not expect the daily deals to impact Dine Downtown participation but he was interested finding out more.
"When we download with the businesses later," Jenson added, "we are going to ask them that."
Still, Jenson said he thinks that there is more to the restaurant week event than just a lower-priced meal.
"This event is different because we are building community down here and a lot of our businesses recognize the need to build community," Jenson said. "I think [participants] like the spirit of the downtown and the energy that the downtown event brings."
"With some of those online deals you have only a few restaurants, but with Dine About Town, you have over 100 restaurants twice a year," Bruni said. "It creates a special event around dining and a special occasion around it."
"From our own survey," Bruni added, "a lot of people responded that they participate to support their local restaurants. It gives an opportunity for locals and visitors to be a part of our local foodie scene."
One of the restaurants that participated in the San Jose event was famed chef Michael Mina's, Arcadia, which is located in the downtown San Jose Marriot. Joel Costa, director of sales and marketing for the Marriot, said, "We think it is important to showcase what we do here and be a part of the community."
Another benefit for restaurants to participate in the semi-annual city-wide events as opposed to offering regular daily deals is the influx of revenue that the events bring in. Bruni said that in past years the Dine About Town event has generated about  $3 million in incremental revenue between the January and June events.
When a restaurant offers an online daily deal however, often the influx in business from the deal is not enough to cover the cost of the deal to restaurants. Instead, it is more of a marketing expense with restaurants sometimes giving up to half of the proceeds from the coupon sales to the deal sites. In this system, some restaurant owners hope to increase exposure to their establishment and build repeat business rather than increase revenues during a specific time period.
For this reason, many of the restaurants that participate in online deals are those that need to increase exposure. Many of the restaurants that participate in restaurant weeks, however, already have strong followings. Some restaurants that have participated in Dine About Town include famed seaside venue the Cliff House, One Market restaurant near the Ferry Building and the popular Union Square Italian restaurant, Kuleto's.
Still, O'Neill said that it's not a question of one deal type or the other.
"The audience for restaurant weeks and Groupons are similar in that they tend to be people looking to explore and try new places in hopes of finding a new favorite restaurant and expanding their palettes," O'Neill said. "They aren't competitive in nature, but instead two unique types of restaurant offers that residents will continue to be excited to explore."